Varicose Veins & Diet: Recipes for Healthier Veins
It is well known that people with varicose veins can benefit from healthier dietary habits, but it is not always easy to come up with recipes for tasty dishes that are also rich in vein health boosting nutrients. We've put together this recipe collection in order to inspire people with varicose veins to create meals and dishes that are naturally rich in vitamin C, flavonoids, fiber and other nutrients that promote healthy veins and capillaries. If you are new to our Diet Guide to Fighting Varicose Veins Naturally and are not yet familiar with how these nutrients help prevent varicose veins, you may want to check out the Diet Tips section of this guide before you start exploring the recipes in this section.
Once you're ready to get started with the recipes, simply select one of the recipe categories below: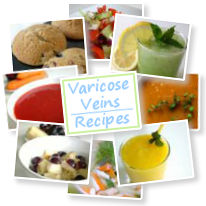 Inspire Others by Sharing This Collection of 'Vein-Friendly' Recipes!
Why not pass on the benefits of vein health promoting recipes by letting your friends and loved ones know where they can find this recipe directory? Feel free to email a link to this page or use the share buttons below: