Guide to Preventing Bruising ( Home | Diet | Foods | Recipes )
Dessert Recipes Featuring Bruising-Fighting Ingredients (2/2)
Not only are these desserts downright delicious, they are also full of nutrients that can help prevent excessive bruising.
Note: This is the second recipe page focused page of bruising-fighting desserts. In case you missed the first page, you can view it by clicking here.
Whole Wheat Brownies
Scientists have found the seeds of the cacao plant to contain significant amounts of flavonoids, mainly catechins and procyanidins. Flavonoids have been shown to possess properties that help control bruising. What's particularly exciting about this brownie recipe is that it calls for dark, less processed cocoa powder—the type of cocoa that typically boasts the highest levels of flavonoids.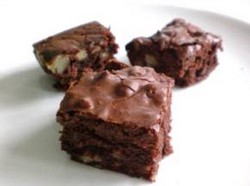 Ingredients

3 tbsp low-sodium butter
1/2 cup brown rice syrup
10 tbsp dark cocoa powder, unswtnd
1 tsp vanilla
2 eggs
1/2 cup whole wheat flour
1/2 cup pecans, chopped

Directions
| | |
| --- | --- |
| | Preheat oven to 350°F (175°C, gas 4). |
| | In a medium saucepan, melt butter over low heat. Stir in brown rice syrup, and whisk in cocoa powder. Continue whisking until well blended. |
| | Remove from heat and blend in eggs. |
| | Add in vanilla, whole wheat flour, and pecans, and stir well. |
| | Lightly grease 8x8-inch baking pan and pour in batter. Bake for 30 minutes or until a toothpick comes out clean. |
| | Let cool and cut into squares. Serve. |
Scandinavian Blueberry Soup (Blåbärssoppa)
Serves 3
In the Scandinavian countries, blueberry soup is a popular treat that can be served warm as an appetizer or chilled as a dessert. But the benefits of blueberry soup extend far beyond its culinary use. Blueberries are crammed with flavonoids and vitamin C which help form collagen, a key structural component of the skin. The flavonoids in blueberries also help strengthen the walls of capillaries weakened by bruises.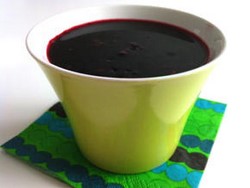 Ingredients

4 cups blueberries
2 cup water
1/2 cup sugar
4 tbsp potato starch

Directions
| | |
| --- | --- |
| | Place blueberries, sugar, and water into a saucepan and bring to a boil. |
| | Mix potato starch with a few drops of cold water and stir into blueberry mixture. Continue stirring over low heat until soup thickens. |
| | Pour into a serving dish and serve immediately. Alternatively, you can sprinkle soup with a bit of sugar, cool it in the fridge, and serve chilled. |
Did you know?
To fully benefit from the antioxidant powers of blueberries, it is best to eat blueberry dishes without dairy. In a recent study, volunteers were given 200 grams (7 ounces) of blueberries with either 200 ml (0.8 cups) of water or 200 ml milk. Those who consumed blueberries with water had a significant increase in their plasma antioxidant capacity. Interestingly, this effect was not found in those volunteers who ingested blueberries with milk. The study authors believe that the ability of milk to impair the antioxidant powers of blueberries may be a result of blueberries' natural affinity for milk protein.
Carrot Muffins
Yields 12 muffins
Carrots are well known for their high concentration of beta-carotene, but did you know that they also contain significant amounts of vitamin C and vitamin K, both of which are great at fighting bruising.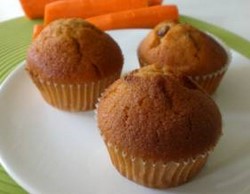 Ingredients

1 egg
1 cup rice milk
4 tbsp canola oil
2 cups quinoa flour or other gluten-free flour
1 tsp guar gum
1 tbsp flaxseed meal
3 1/2 tsp gluten-free baking powder
1/2 tsp salt
1 tsp cinnamon
1/4 cup brown sugar
1 cup organic carrots, grated
1/4 cup raisins

Directions
| | |
| --- | --- |
| | Preheat oven to 400 degrees F (200 degrees C, gas mark 6) |
| | Beat together egg, rice milk, and canola oil. Combine dry ingredients in a separate bowl. |
| | Add liquid ingredients to dry ingredients and mix until just blended (do not over-mix). Fold in grated carrots and raisins. |
| | Fill 12 paper muffin cups with batter (about two thirds full). Bake for 20 minutes. |
Buckwheat Crepes with Bananas
Serves 2 (8 crepes)
Buckwheat is a superb source of rutin, a flavonoid that has been shown to be effective at controlling and preventing bruising. Ingredients

2 eggs
1 1/4 cup rice milk
2/3 cup buckwheat flour
1/3 cup quinoa flour
1 Tbsp canola oil
1/2 tsp salt
Vegetable cooking spray, for frying
2 large bananas, sliced
Brown rice syrup, to serve

Directions
| | |
| --- | --- |
| | Beat eggs in a medium bowl. Add rice milk, buckwheat flour, quinoa flour, canola oil, and salt, and whisk until well combined. |
| | Preheat a large nonstick skillet over medium heat. Spray with vegetable cooking spray. |
| | For first crepe, pour about 1/3 cup of batter into skillet, rotating skillet quickly until bottom is evenly coated. Cook crepe on medium high heat for 1-2 minutes until bubbles appear. Flip over and cook for another 30 to 60 seconds, then remove from skillet. |
| | Repeat previous step until batter is gone. |
| | Serve crepes with banana slices and brown rice syrup. |
Rice Pudding with Pears and Cinnamon
8 servings
Pears are a good source of vitamin C and vitamin K which help strengthen small blood vessels and therefore prevent excessive bruising. Ingredients

1 cup brown basmati rice
2 cups water
1/2 teaspoon salt
3 cups rice milk
1/3 cup brown sugar
1 tsp cinnamon, ground
1 tbsp potato starch
1 tsp vanilla extract
4 organic pears, peeled, cored, and sliced
Ground cinnamon, for garnish

Directions
| | |
| --- | --- |
| | Place rice, water, and salt in a medium saucepan and bring to a boil. Reduce heat to low, cover, and simmer, stirring occasionally, until water is fully absorbed, about 45 minutes. |
| | Add rice milk, brown sugar, and cinnamon, and stir well. Continue cooking, stirring occasionally, for 10 minutes. |
| | Mix potato starch with a few drops of water in a small bowl and stir into rice mixture. Continue stirring over low heat until mixture thickens and reaches consistency of pudding, about 5 minutes. Remove from heat. |
| | Transfer to a large bowl, cover, and refrigerate until cold, about 2 hours. Divide into serving bowls and top with sliced pears. Garnish with cinnamon. |
Want More Anti-Bruising Recipes?
For more recipes that can help control bruising of the skin, visit the main recipe directory of HealWithFood.org's Guide to Preventing Bruising.
For more general information on bruising and nutrition, check out the page Natural Food Remedies to Prevent Excessive Bruising (the home page of this Guide) as well as the section Diet Tips for People Who Bruise Easily. Be also sure to check out the list of Healing Foods That Reduce Bruising.