Milk Thistle Tea for Psoriasis Sufferers
Makes 1 serving
Check with your doctor before taking any herbal remedy for your psoriasis, especially if you are pregnant or breastfeeding, or are taking any medications.
Native to the Mediterranean region but now found throughout the world, milk thistle has a long history of use as a herbal remedy. In Europe, practitioners of herbal medicine often prescribe remedies and supplements derived from milk thistle seeds – such as milk thistle tea, powder or capsules – to support liver, kidney and gall bladder health, but naturopaths also frequently prescribe milk thistle tea for the treatment of psoriasis. Also several books covering psoriasis-fighting herbs and supplements, such as 100 Questions and Answers About Psoriasis by Kendra Bergstrom and Alexa Kimball, list milk thistle as one of the supplements you should look into if you suffer from psoriasis.
Milk thistle tea is believed to help fight psoriasis by supporting and strengthening liver function, reducing inflammation and slowing down excessive cell growth. The active ingredient in milk thistle seeds is a flavonoid complex that contains silybin, silydianin and silychrisin and that is collectively known as silymarin. In addition to being touted as a potent psoriasis-fighting ingredient, silymarin has been researched as a potential weapon in the fight against heart disease, alcohol-related liver disease, diabetes and even some types of cancer.
Incorporating Milk Thistle into Your Diet
If you suffer from psoriasis and would like to give milk thistle a try to see if it works for you, the easiest way is to consume in the form of a herbal tea (you can buy organic milk thistle tea here). Or, if the flavor of this herbal infusion is too bland for your taste buds, you might want to get milk thistle powder instead — you can buy it here — and blend it into smoothies or sprinkle over salads.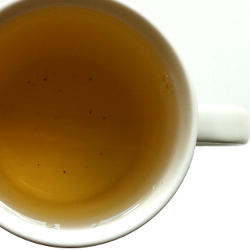 Ingredients
Directions
Place the tea bag in a cup and add the boiling water. Cover and steep for 15 minutes.
Squeeze the tea bag and remove it from the cup.
Useful Resources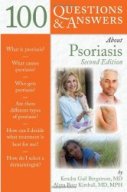 Offline
Written by two dermatologists specializing in the treatment of psoriasis, Kendra Bergstrom and Alexa Kimball,
100 Questions & Answers About Psoriasis
(pictured on the right) provides practical answers to common questions facing people with psoriasis. Presented in an appealing question-and-answer format, this authoritative guide covers everything from the development and diagnosis of the disease to common risk factors and treatment options. Throughout, you will also find "insider" advice from real patients. To learn more about this compelling book, go to
Amazon.com
,
Amazon.co.uk
or
Amazon.ca
.
Online FREE
Make it a habit to visit HealWithFood.org's online
Guide to Healing Psoriasis
on a regular basis. Updated once a week, the sidebar on the
home page
of the guide contains tons of links to interesting nutrition-related articles hand-picked for psoriasis sufferers. It also contains a weekly smoothie recipe featuring ingredients with psoriasis-fighting potential, as well as a book tip.