Bee's Wrap: An Alternative to Plastic and Silicone Food Wraps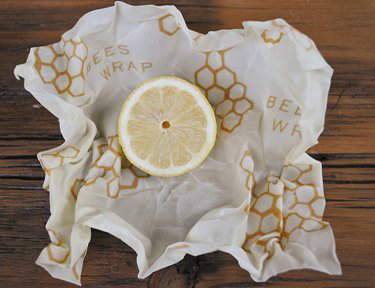 Meet Bee's Wrap, a toxin-free and eco-friendly alternative to plastic wrap! Invented by Sarah Kaeck, a stay-at-home mom from Vermont, Bee's Wrap has gained widespread attention not only in the US but also in Canada and the UK. This plastic-free, silicone-free food wrap has been featured in numerous magazines and blogs, including The Oprah Magazine, The Boston Globe, Saveur, The Kitchn, Epicurous, America's Test Kitchen, Bee Culture, and Real Simple. Read on to learn more about the food wrap that everybody is talking about (or use the links below to check it out on Amazon).
Bee's Wrap: The Long-Overdue Plastic-Free and Silicone-Free Food Wrap
Storing foods in plastic wrap is convenient, but regular plastic wrap has many features that have driven health-conscious, eco-minded and budget-conscious people to look for better alternatives. For example, plastic wrap is not reusable, it contains controversial chemicals similar to phthalates, and plastic does not decompose the same way organic material does. Reusable silicone food wraps, such as the famous as-seen-on-TV product Fresh and Clean, have some advantages over regular plastic wrap, but they have also received quite a few negative reviews on shopping sites like Amazon, with many people complaining about their usability and durability.
Now this is where Bee's Wrap comes in! Made with organic cotton, sustainably sourced beeswax, organic jojoba oil and tree resin, this plastic-free and silicone-free food wrap is a great sustainable replacement for plastic and silicone wrap, and you can use it to wrap everything from bread to vegetables, or to cover a bowl. The antibacterial properties of the beeswax and jojoba oil coating help keep your food fresh and allow you to use the wrap again and again.
How to Use Bee's Wrap
Unlike many reusable silicone food wraps, Bee's Wrap has scored high marks for ease of use in reviews on Amazon. Here's a step-by-step on how to use this plastic-free food wrap:
Use the heat of your hands to soften the wrap and fold it around the food or bowl. Note that the wrap may be a little stiff when new, but it will soften a bit with use.
Place the wrapped food or bowl in the fridge for storage. The wrap will hold its shape when it cools, creating a seal.
After use, clean the wrap by washing it in cool water with a mild dish soap (do not use hot water – it will cause the wax to melt).
Hang to dry; then fold and store in a drawer. Or, if you prefer, roll and store vertically in a container on the kitchen counter.
Problems and Shortcomings
It is not recommended for storing meat
Since Bee's Wrap cannot be washed in hot water or sterilized, it is not recommended for use with meat. If you need a plastic-free alternative for storing raw meat that can be washed in hot water to kill bacteria, there are plenty of glass containers without plastic lids that are suitable for storing meat.
It smells of beeswax (but the scent will fade)
When you first open your package of Bee's Wrap you will notice they smell of beeswax. Many people like the scent, but some people may find it less appealing. The good news for those who don't like the natural smell of beeswax is that the scent will fade after the first uses and washes.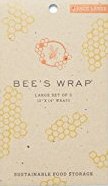 Where to Buy
So, you think it's time to swap plastic wrap for a more eco-friendly alternative? Head to
Amazon.com
or
Amazon.ca
if you want to buy Bee's Wrap online and have it shipped directly to your home. Live in the UK? Not to worry: You can also buy this plastic-free food wrap on
Amazon.co.uk
.