UTI-Preventing Recipes: Salads
Making healthy salads rich in anti-UTI nutrients is easy with these inspiring recipes. The UTI-preventing salad recipes included below feature carrots, goji berries, salmon and a number of other foods that can help keep your urinary tract infection-free.
But first, before you start whipping up tasty UTI-fighting salads, check out the other sections of this online guide, including Diet For Preventing UTIs and Best Foods for Preventing UTIs, which explore the role of diet in the prevention of urinary tract infections from a more general perspective.
UTI-Fighting Carrot Fennel Cucumber Salad
4 servings
This summery salad works like magic to soothe your soul — and urinary tracts. Carrots are loaded with beta-carotene, an important anti-UTI nutrient, while fennel acts as a natural diuretic and helps the body eliminate uric acid and bacteria that cause urinary tract infections.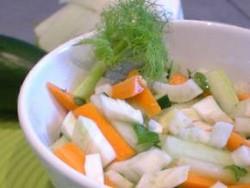 Ingredients
6
organic carrot
, thinly sliced
1 fennel bulb, thinly sliced
1 cucumber, thinly sliced
1/2 cup fresh mint, chopped
3 Tbsp canola oil

Directions
Combine carrots, fennel, cucumber, and mint in a large bowl. Pour canola oil over salad and toss gently. Pour canola oil over salad and toss gently.
Romaine and Smoked Salmon Salad
Serves 2
This salmon salad features romaine lettuce and carrots, both of which are rich in beta-carotene. The body converts beta-carotene into vitamin A which in turn helps promote healthy surface linings in the urinary tracts. The radishes in this wonderful salad have diuretic properties and they help fight inflammation, which makes them an excellent vegetable for preventing UTIs.
Ingredients
1 small head organic romaine lettuce
5 ounces smoked salmon, thinly sliced
2 tomatoes, diced
4 radishes, thinly sliced
1 organic carrot, diagonally sliced
1/2 cucumber, peeled and diced
Juice of half a lemon
1 tsp fresh ginger root, peeled and minced
1 tbsp canola oil

Directions
Arrange romaine lettuce on two plates. Top with salmon, tomatoes, radishes, carrots, and cucumber. Shake lemon juice, canola oil, and minced ginger in tightly covered jar. Pour over salad.
Apple and Carrot Salad with Goji Berries
Serves 4
Carrots, apples, and goji berries store a goldmine of nutrients. Carrots and goji berries are particularly rich in beta-carotene, which the body can convert into vitamin A. Vitamin A helps promote healthy surface linings of the urinary tracts. In one study, 12 patients with recurrent UTIs were exposed to vitamin A supplementation in addition to antimicrobial treatment. The control group, also consisting of 12 patients, received a placebo. During the first 6 months of the study, the infection rate of the group who received the vitamin A supplement reduced from 3.6 to 0.8, while the infection rate in the control group stayed at 2.8.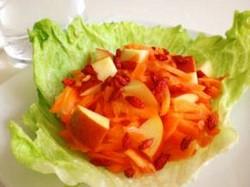 Ingredients
2 cup apples, diced
2 cup organic carrots, grated
1/2 cup Tibetan goji berries, soaked
8 tbsp apple juice
2 tsp fresh ginger, minced
4 tbsp extra-virgin olive oil
Lettuce leaves

Directions
Combine apple dices, carrots, and goji berries in a small bowl. Mix apple juice, ginger, and olive oil in a separate bowl and drizzle over salad mixture. Toss gently and serve on lettuce leaves.
Want More Recipes?
For more recipes that can help you prevent UTIs, visit the main recipe directory of HealWithFood.org's Guide to Preventing UTIs.