Soup Recipes for Fighting UTI
Are you struggling to find free UTI-fighting recipes for women (and men) that are prone to getting urinary tract infections? Then look below for inspiration! In this section, you can explore a bunch of soup recipes that rely on ingredients that deliver generous amounts of UTI-fighting nutrients.
But first, before you dive into the world of uti-fighting soup recipes, you may want to have a look at the diet section (see The Anti-UTI Diet) and the food section (see Best UTI-Fighting Foods) of this online guide in order to learn to basics of how a woman's dietary habits may affect her risk of getting urinary tract infections.
Apple and Onion Soup
6 servings
This anti-UTI soup recipe features apples and onions, two of the best natural sources of quercetin. Quercetin is a bioflavonoid that possesses strong anti-inflammatory properties, making this soup great for those who want to prevent urinary tract infections. However, if you are currently suffering from an infection, you should avoid irritant foods such as onions.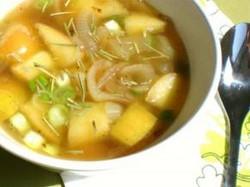 Ingredients
1 tbsp canola oil
2 medium yellow onions, sliced
1 small leek, chopped
1/2 tbsp fresh rosemary, chopped
1/2 tbsp fresh thyme
3 organic apples, cut into small dices
6 cups fat-free, low-sodium vegetable broth

Directions
Heat oil in a medium saucepan over medium heat. Add onions and sauté until golden. Pour in the broth and bring to boil over medium-high heat. Add apples, and reduce heat to medium-low. Simmer for 10 minutes. Season with salt and pepper, if desired. Ladle into soup bowls and serve.
Wholesome Winter Pea and Watercress Soup (Dairy-Free)
6 servings
This delicious anti-UTI soup with a wonderful velvety texture is great at preventing urinary tract infections as both watercress and green peas are packed with carotenoids. Also the onion featured in this soup is can be helpful due to its anti-inflammatory properties. Ingredients
1 large onion, chopped
1 garlic clove
6 cups vegetable or chicken stock
1 large potato
30 oz frozen peas
3 oz watercress
Salt and pepper, to taste

Directions
Peel and crush garlic and set aside. Leaving crushed or minced garlic for at least 5-10 minutes after crushing helps maximize its health-protective effects. While health-promoting compounds are forming in crushed garlic, peel and dice potato and chop onion. Sweat onion and garlic in 2-3 tablespoons of chicken or vegetable stock. Add potato chunks and pour in rest of stock. Bring to boil and simmer for 15 minutes or until potato is just cooked. Add frozen peas and simmer for 3 minutes. Add watercress and simmer for another minute. Remove from heat and let cool for a few minutes. Process with a hand held blender until smooth. Season with salt and pepper.
Nettle Soup
4 servings
In Germany, the Commission E (the German equivalent of the American Food and Drug Administration) has approved the use of nettle — the star of this intriguing jade green soup — for the treatment of a variety of conditions and diseases, including urinary tract infections. Also yoghurt, which is used to garnish this soup, may be helpful as it contains live cultures of probiotic bacteria which have been shown to reduce the risk of recurrent UTIs. Ingredients
6 oz young nettle tips
4 oz fresh spinach
2 tbsp olive oil
2 shallots, chopped
2 cups water
2 cups skimmed organic milk
3 tbsp flour
Dash of ground white pepper
Dash of ground nutmeg
Salt to taste
Yoghurt containing probiotic bacteria, for garnish

Directions
Wash nettle and spinach thoroughly. Drain and chop coarsely. Heat olive oil and sauté onion in a large saucepan until golden brown. Add water, nettle, and spinach, and bring to a boil. Cook until nettle and spinach are tender. Blend with a hand held blender until smooth. Whisk cold milk and flour together in a small bowl. Pour into saucepan and whisk to blend thoroughly. Bring to a boil and simmer for a few minutes, until thickened. Season with salt, white pepper, and nutmeg. Remove from heat. Pour soup into serving bowls and garnish with a swirl of yoghurt. Serve.
Note: As nettles are rich in nitrates, they should not be consumed by young children, people with gout, or other people with a condition that requires a low-nitrate diet.
Want More Recipes?
For more recipes that can help you prevent UTIs, visit the main recipe directory of HealWithFood.org's Guide to Preventing UTIs.