HealWithFood.org's
Online Guide to Cardiovascular Health
Healing the Heart With Food: Nutrition Advice and Diet Tips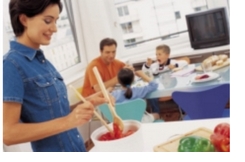 This online guide provides nutrition news, daily diet tips, food recommendations and recipe ideas for people who are interested in the natural approach to healing the heart with food and to preventing cardiovascular disease by adopting healthier eating habits. Cardiovascular disease (CVD) — which refers to any of the diseases that affect the heart and/or blood vessels (arteries and veins) — is the leading cause of death in the United States. Cardiovascular diseases include coronary heart disease (including heart attack), heart failure, cerebrovascular disease (including stroke), raised blood pressure (hypertension), peripheral artery disease, rheumatic heart disease, heart valve disease, and congenital heart disease.
Despite their prevalence, cardiovascular diseases and problems can be easily prevented. In fact, by influencing certain lifestyle factors — such as smoking and physical activity — and by following a balanced, heart-healthy diet you can greatly reduce your risk of cardiovascular disease!
HealWithFood.org has created this Online Guide to Cardiovascular Health to set you on the right path to good heart health! To make the most of this guide, bookmark this page right now and come back every week to learn the latest nutrition and diet tips for preventing cardiovascular problems!
Important notice: The information below and elsewhere on this website is not intended or implied to be a substitute for professional medical or health advice. Always seek the advice of a professional health care provider.


There are plenty of reasons to incorporate more mushrooms into your diet. Not only are mushrooms packed with cholesterol lowering fiber, they are also easy to season as nearly all seasonings pair well with mushrooms. If you're serving mushrooms as a side dish, use seasonings that go well with the main dish.

To add variety to your heart healthy diet, add more unusual foods such as black salsify to your food repertoire. Black salsify, also known as scorzonera, contains inulin, a type of prebiotic fiber that promotes the intestinal absorption of health promoting minerals. Furthermore, black salsify is a very good source of potassium which may help fight high blood pressure.

Did you know that zucchini blossoms are edible and that they are delicious and nutritious, too? They are also versatile and can be eaten sauteed, roasted, stuffed, or steamed. In Mexico, zucchini flowers are also commonly used in soups. Before using zucchini blossoms in your recipes, be sure to remove pistils from female flowers and stamens from male flowers.


Learn the health secrets of the Kitavan people who have managed to stay free of degenerative diseases such as CVD.

See Article
Health-conscious people tend to shy away from 'E numbers', but should
all
E numbers be avoided?

See Article
What are the differences between wheat allergy, celiac disease and wheat intolerance?

See Article
Learn why celebrities eat asparagus before important events.

See Article
How to grow garden cress, a powerful heart health promoting food, indoors during winter months.

See Article
How avocados can help prevent obesity, a risk factor for cardiovascular disease.

See Article
HEART-HEALTHY FOODS IN SEASON THIS MONTH
Don't forget to make the most of the heart-healthy seasonal foods December has to offer! The tables below show which heart health promoting veggies, fruits and other foods are currently at their peak in the selected regions. Please be aware that the tables may be incomplete and partially inaccurate for some regions due to unpredictable changes in weather conditions and other factors.

| | | | | |
| --- | --- | --- | --- | --- |
| The harvest is still plentiful in the UK and Ireland in December. Heart-healthy locally-grown veggies that are available in December include chard, Brussels sprouts, cauliflower, potatoes, kohlrabi, leeks and onions. Other locally-grown foods that help promote cardiovascular health and that can be found at farmers markets this month include mushrooms, swedes, chicory, cabbage, apples, carrots, celery, celeriac, chestnuts, Jerusalem artichokes, quinces, raspberries, garlic, beets, spinach and kale. | | If you live in Australia, December is the time to eat broad beans, beets, kohlrabi, peas, carrots, celery, daikon radishes, squash, radishes, zucchini, watercress and cabbage, all of which are packed with heart health promoting nutrients. Also many antioxidant fruits and berries are at their peak this month, including oranges, pineapples, strawberries, lemons, bananas, limes, raspberries, loganberries, lychees, blackberries, boysenberries, blueberries, currants, gooseberries, grapes, cherries and apricots. Healthy herbs in season incluce basil, thyme, marjoram, mint, parsley, garlic, dill, chives, oregano, sage and rosemary. | | Here's a list of heart-healthy foods that are in season in the Northeast U.S. and Ontario this month: beets, apples, cranberries, parsnips, turnips, pears, garlic, onions, carrots, cabbage, arugula, sprouts, winter squash, leeks, and mushrooms. |

| | | | | |
| --- | --- | --- | --- | --- |
| Heart-healthy veggies and other foods currently in season in this region include mushrooms, squash, apples, onions, carrots, parsnips, cabbage, potatoes, cauliflower and turnips. | | In the Southern and Southeastern states of California, Texas, and Arizona, December brings a harvest of juicy oranges, grapefruits, pomegranates and lemons. Other heart-healthy foods currently in season in this region include Brussels sprouts, leeks, mushrooms, carrots, cabbage, kohlrabi, kale, cauliflower, celery, radishes, squash, arugula, lettuce, sweet potatoes, green onions, cucumbers, turnips, broccoli, peppers, chard and beets. | | In December, Florida heralds in many heart health protecting fruits including papaya, limes, grapefruits, tangerines, passion fruits, tomatillos and tomatoes, strawberries, oranges and guava. Other hearty foods currently in season in the sunshine state include mushrooms, fennel, beets, cabbage, cauliflower, Chinese cabbage, celery, carrots, lettuce, onions, cucumbers, radishes, lemongrass, parsley, broccoli, avocados, peppers, thyme, oregano, squash, green beans, okra, chard, leeks and zucchini. |