Heal Your Body With Food!
Want a healthier and longer life free of common diseases and conditions? Your best line of defence, as well as offence, may line up in the kitchen. Making a switch to the right foods can reward you and your family with great health benefits and turn back the clock on aging. HealWithFood.org provides condition-specific nutrition guides (see the blue menu on the left) as well as general healthy eating tips to help you make that switch.
HEALTH FOOD of the week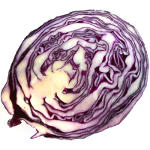 White cabbage is good for you, but red cabbage may be even better! Red cabbage contains anthocyanins, the same flavonoid pigments that give blueberries their intense color – and legendry health benefits. In addition, red cabbage is loaded with vitamin C (it contains even more vitamin C than oranges), vitamin K, and glucosinolates. To learn all about how the nutrients in red cabbage can boost your health, read the article Health Benefits of Red Cabbage.
SMOOTHIE of the week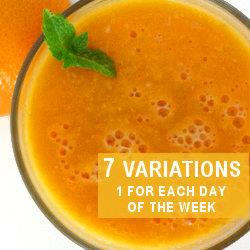 Citrusy Power Smoothie
This bright smoothie features freshly-pressed orange juice, mandarines and lemon juice, all of which are loaded with vitamin C. The recipe also calls for turmeric powder, which further intensifies the gorgeous yellow color (and health benefits) of this refreshing citrus smoothie. Click on the link below to view the complete ingredient list and instructions, as well as the beloved Tweak It! box which allows you to create a new variation of the basic recipe for every day of the week!
KITCHEN GADGET of the week

Non-Teflon Frying Pans
Non-stick frying pans made of Teflon have many benefits: they allow cooks to use less oil to prepare low-fat meals, they are easy to clean, and they are lighter than cast iron pans. On the flipside, the manufacturing process for Teflon cookware uses a chemical called PFOA which has been shown to promote the development of tumors in laboratory animals. The good news is that there are actually alternatives to Teflon frying pans, some of which even have non-stick properties. To learn more about this controversial chemical and the options that exist for home chefs who want to avoid Teflon frying pans, check out this week's in-depth article:

Non-Toxic Alternatives to Teflon Frying Pans
BOOK of the week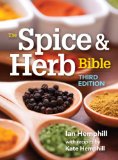 The Spice and Herb Bible (by Spice Guru Ian Hemphill)
Spice up your life with the third edition of the award-winning book The Spice and Herb Bible! In this definitive reference book on herbs and spices, the spice guru Ian Hemphill and his daughter Kate, a chef and food writer, demystify the art of combining spices and herbs. In addition to providing invaluable information about each herb and spice, the authors also provide an impressive selection of tempting recipes to try your hand at. Available from

Amazon.com and

Amazon.co.uk.