Heal Your Body With Food!
Want a healthier and longer life free of common diseases and conditions? Your best line of defence, as well as offence, may line up in the kitchen. Making a switch to the right foods can reward you and your family with great health benefits and turn back the clock on aging. HealWithFood.org provides condition-specific nutrition guides (see the blue menu on the left) as well as general healthy eating tips to help you make that switch.
SUPERFOOD of the week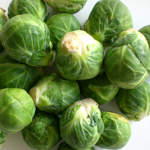 Brussels sprouts have so many health-boosting properties that you'd think this Brassica vegetable shows up on top of every 'superfood list'. Brussels sprouts contain more glucosinolates than any other common crucifer, more vitamin C than oranges, and almost twice as much vitamin K as red cabbage! However, for some reason, this unsung superfood has not got the attention it deserves from health foodies. To learn all about Brussels sprouts, see Health Benefits of Brussels Sprouts.
SMOOTHIE of the week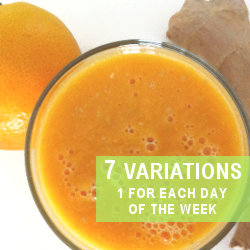 Gingery Fruit Smoothie with Banana and Orange
This week's smoothie recipe uses bananas, oranges and ginger to create an invigorating smoothie that will make your taste buds dance. Chia seeds, loaded with anti-inlammatory omega-3 fatty acids, are added to the blend to further boost its nutritional value. Click on the link below to view the complete ingredient list and instructions, as well as the beloved Tweak It! box which allows you to create a new variation of the basic recipe for every day of the week!
KITCHEN GADGET of the week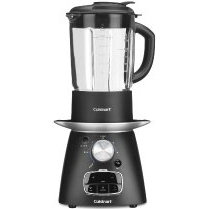 Soup Maker – A Blender That Also Cooks
No question about it, regular blenders and smoothie makers are a great addition to any healthy kitchen. But why get a regular blender, which only creates cold drinks/meals, if you can get a blender that also cooks? As electric soup makers come with both a blending mechanism and a heating element (which can also be turned off), they easily beat most regular blenders in terms of versatility. Despite being labeled as soup makers, these multi-purpose kitchen appliances are also perfect for making sauces, cold smoothies, baby food, and salad dressings, and some models – such as the Cuisinart's SBC-1000 soup maker pictured above – can even crush ice! To learn more about these multi-functional kitchen gadgets, check out this week's special feature:

Choosing an Electric Soup Maker
BOOK of the week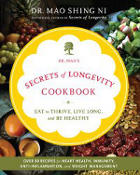 Dr. Mao's Secrets of Longevity Cookbook
This inspiring guide and cookbook written by Dr. Mao, best-selling author and one of Hollywood's most famous doctors of Chinese Medicine, is jam-packed with super-healthy recipes designed to increase longevity and keep illnesses at bay. Easy-to-make, Dr. Mao's anti-aging recipes are accompanied with information about the potential health benefits of each dish, allowing you to pick the recipes that best match your health goals. This all-in-one longevity guide and cookbook is available from Amazon.com

and Amazon.co.uk

.