Heal Your Body With Food!
Want a healthier and longer life free of common diseases and conditions? Your best line of defence, as well as offence, may line up in the kitchen. Making a switch to the right foods can reward you and your family with great health benefits and turn back the clock on aging. HealWithFood.org provides condition-specific nutrition guides (see the blue menu on the left) as well as general healthy eating tips to help you make that switch.
HEALTH FOOD of the week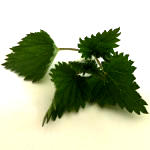 In folk medicine, the young edible leaves of stinging nettle have been used to treat everything from rheumatoid arthritis, allergies, and hair loss to anemia, urinary problems, and diarrhea. In recent years, also the scientific community has begun to recognize the medicinal properties of this unsung superfood. To learn more, see Health Benefits of Nettles.
SMOOTHIE of the week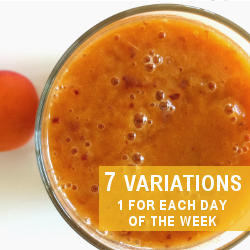 Apricot, Carrot and Banana Smoothie
This week's smoothie combines apricots and carrot juice, two of the world's best sources of beta-carotene. As you may know, beta-carotene is a powerful antioxidant that helps combat free radicals, unstable molecules that have been linked to the development of many degenerative diseases. The nutritional value of this vibrant smoothie is further boosted by the addition of flaxseed, a source of anti-inflammatory omega-3 fatty acids. Click on the link below to view the complete ingredient list and instructions, as well as the Tweak It! box which allows you to create a new variation of the basic recipe for every day of the week!
KITCHEN ACCESSORY of the week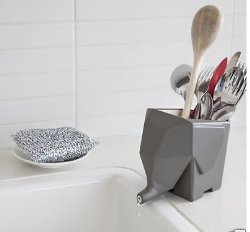 Elephant That Drains Excess Water from Wet Cutlery Through its Trunk
Stocking your kitchen with smart accessories can save you time, money and sanity. If you are on a mission to smarten up your kitchen, make sure you check out Peleg Design's Jumbo Cutlery Drainer. Available in select gift shops and through the online retailer Amazon here, this cutlery draining elephant drains excess water from your wet cutlery through its trunk. And, when you place the elephant caddy right next to your kitchen sink, all excess water will drain straight into the sink. To learn more about this ingenious little elephant, check out this week's special feature:

Jumbo – The Cutlery-Draining Elephant
BOOK of the week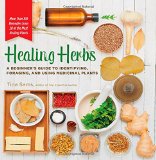 Healing Herbs: A Beginner's Guide to Identifying, Foraging, and Using Medicinal Plants
Tina Sams, the editor of The Essential Herbal magazine, has distilled her knowledge into an informative book on the healing properties of common herbs. Featuring 20 herbs, including common friends like garlic, ginger, chamomile, mint, basil, thyme and nettle, as well some less common herbs like chickweed and yarrow, this reference guide provides details about the potential and purported healing properties of each culinary or medicinal herb, plus tips on how to turn these herbs into effective remedies. An essential reference for the beginning herbalist, this beautifully illustrated resource is available through

Amazon.com,

Amazon.ca and

Amazon.co.uk.