Heal Your Body With Food!
Want a healthier and longer life free of common diseases and conditions? Your best line of defence, as well as offence, may line up in the kitchen. Making a switch to the right foods can reward you and your family with great health benefits and turn back the clock on aging. HealWithFood.org provides condition-specific nutrition guides (see the blue menu on the left) as well as general healthy eating tips to help you make that switch.
HEALTH FOOD of the week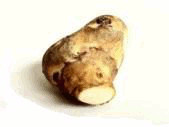 Forget those prebiotic fiber supplements! Instead, eat a couple of steamed Jerusalem artichokes – whole or pureed into mashed potatoes. Jerusalem artichokes, also known as sunchokes, contain inulin, a type of prebiotic fiber that stimulates the growth of friendly gut bacteria. They also contain thiamine, which can further promote intestinal health, as well as plenty of potassium, iron, copper and vitamin C. To learn more about this often overlooked root vegetable, check out the in-depth article Health Benefits of Jerusalem Artichokes.
SMOOTHIE of the week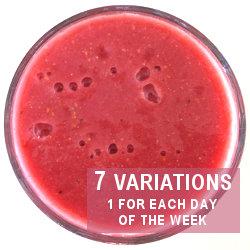 Super-Healthy Millet and Strawberry Smoothie
The strawberries and red grape juice in this smoothie are loaded with flavonoids, which are thought to help prevent or slow down the development of age-related diseases and other signs of aging. The millet adds B vitamins, protein, and minerals to the mix, while the flaxseed boosts the fatty acid profile of this super-healthy smoothie by delivering healthy omega-3 fatty acids. Click on the link below to view the complete ingredient list and instructions, as well as the Tweak It! box which allows you to create a new variation of the basic recipe – for every day of the week!
KITCHEN GADGET of the week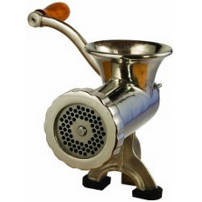 Meat Grinder – A Must- Have Tool for Those Who Want to Have More Control Over Their Food
Grinding meat at home, instead of buying pre-packaged ground beef, is a great way to have more control over the type and origin of your food (a serving of pre-packaged beef can contain meat from dozens if not hundreds of animals). Now, while it's possible to grind meat in a food processor, you might want to consider getting a standalone meat grinder if you plan on grinding meat on a regular basis. You can choose either a hand-crank meat grinder, such as LEM Product's manual meat grinder pictured above, or one of the more modern electric models. If you have a KitchenAid stand mixer at home, you could also just get one of the compact meat grinder attachments designed to fit KitchenAid mixers in order to save some storage space. To learn more about meat grinders and their benefits, check out this week's special feature:

Why Get an Old-Fashioned Meat Grinder
BOOK of the week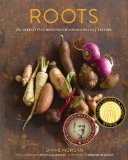 Roots: The Definitive Compendium with More Than 225 Recipes
In Roots, acclaimed culinary expert and author Diane Morgan takes us on an eye-opening tour of the world of roots and tubers, the underdogs of the vegetable world. From old friends like beets, carrots and sweet potatoes to the more exotic jicama, salsify and burdock root, this comprehensive reference book covers the full spectrum of root vegetables. But it is much more than just a culinary encyclopedia: this award-winning book is also a 225-plus recipe cornucopia jam-packed with mouthwatering recipes showcasing both familiar and unfamiliar root vegetabes. Whether you're looking for rooty salads, soups, side dishes, main courses, drinks or desserts, this is the book to turn to. Available in North America through

Amazon.com and

Amazon.ca, and in the United Kingdom through Amazon's regional site

Amazon.co.uk.