Heal Your Body With Food!
Want a healthier and longer life free of common diseases and conditions? Your best line of defence, as well as offence, may line up in the kitchen. Making a switch to the right foods can reward you and your family with great health benefits and turn back the clock on aging. HealWithFood.org provides condition-specific nutrition guides (see the blue menu on the left) as well as general healthy eating tips to help you make that switch.
HEALTH FOOD of the week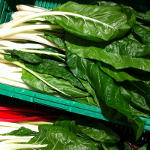 Swiss chard, which is used much in the same way as spinach, is a real superfood with wide-ranging nutritional benefits. Its gorgeous green leaves and juicy stems are packed with vitamin K and carotenoids, but this often-overlooked green leafy vegetable also has a number of other properties that can make it a healthy addition to your diet. To learn more, see Health Benefits of Swiss Chard.
SMOOTHIE of the week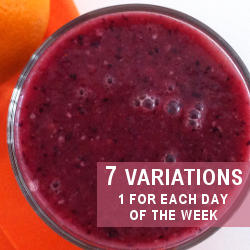 Blueberry Spinach Mango Smoothie with Chia Seeds
All of the key ingredients in this week's smoothie – including spinach, mango and blueberries – are packed with health-boosting compounds. The potential health benefits of this super-smoothie are further boosted by the addition of chia seeds which are considered one of the best plant-based sources of omega-3 fatty acids. Click on the link below to view the complete ingredient list and instructions, as well as the Tweak It! box which allows you to create a new variation of the basic recipe for every day of the week!
KITCHEN TOOL of the week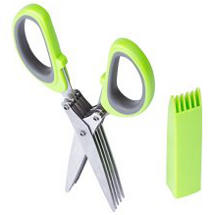 Multi-Blade Kitchen and Herb Scissors with Cleaning Tool
Stocking your kitchen with smart tools can be a lifesaver if you lead a busy lifestyle. But that doesn't mean the tools have to be big to have a big impact – in fact, in many cases, the smallest kitchen tools are the mightiest. Take the multi-blade kitchen and herb shears, for example. Typically equipped with 10 blades (5 top and 5 bottom), these smart scissors cut your favorite herbs in a fraction of the time it would take you to chop the herbs using traditional kitchen shears. To order a pair of Dynamic Cook's herb scissors, pictured above, visit Amazon.com. Or learn more about what you can do with this multi-blade scissors by checking out this week's special feature:

Why Get a Pair of Multi-Blade Scissors
BOOK of the week

Greens + Grains: Recipes for Deliciously Healthful Meals
Did you know that green leafy vegetables and whole grains are among the most nutrient-dense foods out there? In Greens + Grains, these unsung superfoods come together, creating wholesome dishes that both your body and palate will love. The 45 recipes included in this terrific cookbook feature common grains and greens like as rice, barley, chard and spinach, as well as less common – but super-nutritious – foods like farro, kale, mustard greens, quinoa, spelt and buckwheat. A great resource for home cooks who like to eat healthy without compromising flavor, Greens + Grains is available through Amazon.com, Amazon.co.uk and Amazon.ca.