Heal Your Body With Food!
Want a healthier and longer life free of common diseases and conditions? Your best line of defence, as well as offence, may line up in the kitchen. Making a switch to the right foods can reward you and your family with great health benefits and turn back the clock on aging. HealWithFood.org provides condition-specific nutrition guides (see the blue menu on the left) as well as general healthy eating tips to help you make that switch.
HEALTH FOOD of the week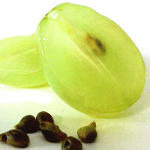 Although not particularly tasty, grape seeds are edible, and scientific evidence suggests that they are good for you, too. Packed with essential fatty acids, amino acids, and flavonoids, these crunchy seeds have been associated with a whole slew of health benefits, ranging from improved cardiovascular health and reduced leg swelling to weight loss benefits and protection against cancer. For details, see Health Benefits of Grape Seeds.
SMOOTHIE of the week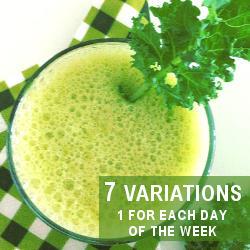 Green Smoothie Featuring Kale, Kiwi, Grapes and More!
Don't be intimidated by the kale in this vibrant green smoothie – the pineapple juice, banana, green grapes and kiwi do a great job masking the somewhat earthy flavor of kale! Before throwing the grapes and kale into the blender, make sure you rinse them thoroughly as both kale and grapes typically contain high levels of pesticides. Click on the link below to view the complete ingredient list and instructions, as well as the Tweak It! box which allows you to create a new variation of the basic recipe – for every day of the week!
KITCHEN GADGET of the week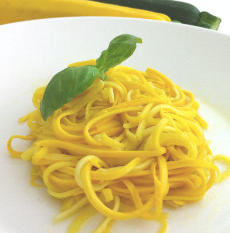 Meet the Spiralizer – The Latest Must-Have Kitchen Gadget
Vegetable 'pasta' makers, or spiralizers, are revolutionizing the way we eat our veggies. These ingenious kitchen gadgets turn firm vegetables – such as zucchini, carrots, potatoes – into attractive, spaghetti-shaped vegetable ribbons that can be eaten the same way as real pasta. Made of unprocessed whole vegetables, these imitation noodles are typically low in simple carbs, free of gluten, and rich in vitamins, which makes them a wonderful addition to anyone's diet. To learn more, check out this week's in-depth article:

Why Get a Vegetable 'Pasta' Maker (Spiralizer)
BOOK of the week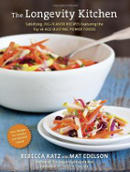 The Longevity Kitchen: Satisfying, Big-Flavor Recipes Featuring the Top 16 Age-Busting Power Foods
In The Longevity Kitchen, nationally-recognized health food expert and chef Rebecca Katz shares over 100 mouthwatering recipes featuring some of the world's most powerful superfoods with proven health benefits (think asparagus, basil, dark chocolate, sweet potatoes, wild salmon, and kale, for example). Rather than addressing a specific illness, the recipes in this inspiring, science-based cookbook have been designed to promote long, healthy life by fighting the most common chronic conditions and health risk factors affecting the Western population. A must-have for anyone interested in culinary medicine or eating for longevity, this gem of a book is available through

Amazon.com and

Amazon.co.uk.