Heal Your Body With Food!
Want a healthier and longer life free of common diseases and conditions? Your best line of defence, as well as offence, may line up in the kitchen. Making a switch to the right foods can reward you and your family with great health benefits and turn back the clock on aging. HealWithFood.org provides condition-specific nutrition guides (see the blue menu on the left) as well as general healthy eating tips to help you make that switch.
SUPERFOOD of the week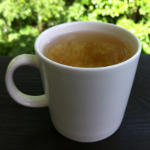 Blackberry leaf tea is made by infusing dried young leaves of the blackberry plant in hot water. In folk medicine, this caffeine-free drink has been used to treat everything from disorders of the nervous system to high blood pressure. But in recent years, also the scientific community has begun to recognize the medicinal properties of this drink. To learn more, see Benefits of Blackberry Leaf Tea.
SMOOTHIE of the week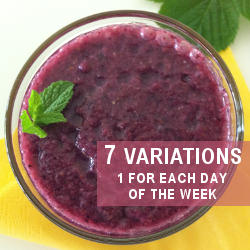 Banana Blueberry Smoothie
This smoothie recipe pairs banana and orange with frozen blueberries to create a refreshing and nutrient-packed smoothie. The nutritionbal value of this frosty treat is further imporved by the addition of ground flaxseed, which is one of the best plant-based sources of omega-3 fatty acids. Click on the link below to view the complete ingredient list and instructions, as well as the Tweak It! box which allows you to create a new variation of the basic recipe for every day of the week!
KITCHEN TOOL of the week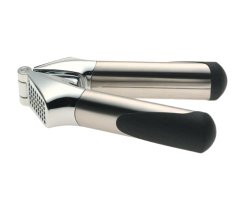 Garlic Press with a Self-Cleaning Mechanism
A good self-cleaning garlic press is an indispensable tool for anyone who loves to cook with garlic. Not only does a garlic press speed up food preparation, it is also a breeze to clean, provided that you get a model with spikes that help push garlic residue out of the holes of the press. OXO's large-capacity garlic press (pictured on the right) has a built-in self-cleaning mechanism, so you won't have to worry about the plate with the cleaning spikes getting lost. To learn more about this ingenious kitchen tool, check out this week's special feature:

A Must-Have Kitchen Tool: Self-Cleaning Garlic Press
BOOK of the week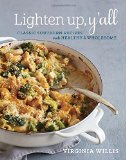 Lighten Up, Y'all: Classic Southern Recipes Made Healthy and Wholesome
Born in Georgia, chef Virginia Willis has cooked with Julia Child in France, prepared lunch for Bill Clinton, and authored best-selling cookbooks focused on Southern cuisine. In Lighten Up, Y'all, chef Willis teaches the reader how to make Southern dishes without unhealthy ingredients and massive amounts of fat. From Shepherd's Pie to Corn Bread to Pecan Waffles, all the classics are covered in this inspiring cookbook. Available through Amazon.com, Amazon.co.uk and Amazon.ca.