Heal Your Body With Food!
Want a healthier and longer life free of common diseases and conditions? Your best line of defence, as well as offence, may line up in the kitchen. Making a switch to the right foods can reward you and your family with great health benefits and turn back the clock on aging. HealWithFood.org provides condition-specific nutrition guides (see the blue menu on the left) as well as general healthy eating tips to help you make that switch.
HEALTH FOOD of the week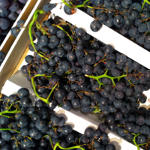 The Concord grape is a dark purple grape variety commonly used to make beverages such as red wine and grape juice. But the whole grapes are also delicious, eaten alone as a snack or added to fruit salads, and they have some wonderful health benefits, too! To learn all about the beneficial effects of resveratrol, anthocyanins, and other healthy compounds found in Concord grapes, see Health Benefits of Concord Grapes.
SMOOTHIE of the week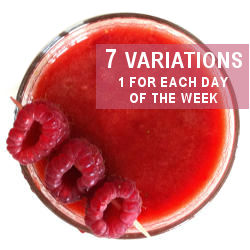 Antioxidant Superhero Smoothie with Grape Juice and Raspberries
This week's smoothie features red grape juice and raspberries, both of which are touted for their antioxidant, anti-cancer and cardioprotective properties. Sunflower seeds – which are packed with protein, vitamin E, minerals, essential fatty acids and B vitamins – and turmeric powder – which is lauded for its anti-cancer, anti-inflammatory and anti-bacterial qualities – are added to the mix to further boost its healing power. Click on the link below to view the complete ingredient list and instructions, as well as the Tweak It! box which allows you to create a new variation of the basic recipe for every day of the week!
KITCHEN GADGET of the week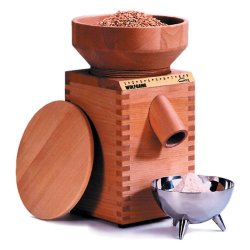 Countertop Grain Mills – Your Gateway to Superior Flour
Just like homemade juice fresh from the juicer, flour ground at home is considered superior to its commercial counterpart, both in terms of nutrient content and flavor. This week, we take a look at wooden countertop grain mills (such as KoMo's Fidibus mill – see picture). Not only do these easy-to-use mills help you prepare more nutritious and flavorful food at home, they can also add a touch of rustic charm to your kitchen! To learn more, check out the in-depth article:

Wooden Grain Mills for Making Flour at Home
BOOK of the week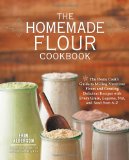 The Homemade Flour Cookbook
Here's a real gem of a cookbook for anyone interested in using alternative flours in both sweet and savory cooking. This practical guide covers the full spectrum of wholesome flours, from the more common barley, spelt and whole wheat flours to gluten-free flours – such as quinoa, buckwheat, millet flours – to protein-packed bean, pea, lentil and nut flours. Whether you use store-bought organic flours or home-milled flours, the dishes you make using the easy-to-follow recipes offered in this inspiring cookbook will be nothing short of flavor! If you live in the US or UK, check out the reader reviews here (

US residents) or here (

UK residents).