Heal Your Body With Food!
Want a healthier and longer life free of common diseases and conditions? Your best line of defence, as well as offence, may line up in the kitchen. Making a switch to the right foods can reward you and your family with great health benefits and turn back the clock on aging. HealWithFood.org provides condition-specific nutrition guides (see the blue menu on the left) as well as general healthy eating tips to help you make that switch.
HEALTH FOOD of the week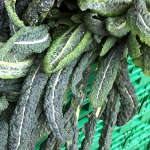 Also known as cavolo nero, black Tuscan kale is full of nutritional goodness. Aside from being a wonderful source of carotenoids such as lutein and beta-carotene, this green leafy superfood provides plenty of glucosinolates which are precursors to cancer-fighting isothiocyanates. To learn more about how this brassica vegetable can help boost your health, see Health Benefits of Black Kale.
SMOOTHIE of the week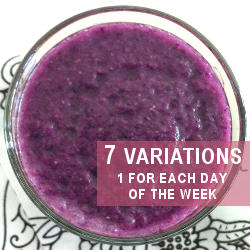 Creamy Blueberry & Yogurt Smoothie
A frosty smoothie made with frozen blueberries, whole-milk yogurt, banana and orange is a treat even though it's packed with wholesome nutrients. To maximize the health benefits of this creamy treat, use organic yogurt and fruit instead of regular yogurt and conventionally grown fruit. Click on the link below to view the complete ingredient list and instructions, as well as the beloved Tweak It! box which allows you to create a new variation of the basic recipe for every day of the week!
KITCHEN GADGET of the week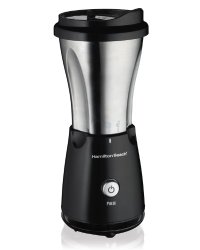 Single-Serve Blender with Stainless Steel To-Go Cup
Meet the Hamilton Beach 51108 smoothie maker, a single serve blender ideal for busy, health-conscious people who love fresh, nutritious smoothies. As this compact gadget allows you to blend directly in the same container you drink from, you won't have to bother with pouring a drink from one container to another, which also means fewer dishes to wash! Made of naturally BPA-free stainless steel, the travel cup is perfect for those on the go – you can take it to work or the gym, or practically anywhere else you go. To learn more about this compact and portable blender, check out this week's special feature:

Personal Blender with a Stainless Steel To-Go Cup
BOOK of the week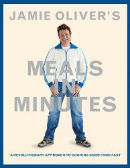 Meals in Minutes by Jamie Oliver
Celebrity chef Jamie Oliver has a mission: to get people cook their dinners rather than eat out. In Meals in Minutes, he teaches the reader how to prepare good meals fast, making home-cooking as attractive as ever. Clocking in at nearly 300 pages, this bestselling cookbook is packed with easy-to-follow recipes, beautiful photographs and invaluable tips from one of the world's most recognizable chefs. Order a copy of this inspiring book for yourself or as a gift at

Amazon.com,

Amazon.ca or

Amazon.co.uk.