Heal Your Body With Food!
Want a healthier and longer life free of common diseases and conditions? Your best line of defence, as well as offence, may line up in the kitchen. Making a switch to the right foods can reward you and your family with great health benefits and turn back the clock on aging. HealWithFood.org provides condition-specific nutrition guides (see the blue menu on the left) as well as general healthy eating tips to help you make that switch. So, enjoy our latest updates and features, and be sure to check back often as new tips, in-depth articles, and recipes are posted on a regular basis!
EXPAND YOUR FOOD HORIZONS
It is easy to get stuck in a food rut and eat the same foods over and over again. Yet, a balanced diet that incorporates a wide variety of nutritious foods has been consistently shown to reduce the risk of disease and promote overall health and vitality. So why not expand your food horizons and try something new this week? Here are a few ideas: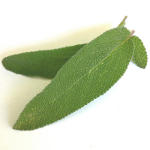 Despite their small size, herbs have been credited with many health benefits. Sage, for example, has been shown to alleviate sore throats and coughs, reduce sweating and hot flashes, and to fight mental disorders such as impaired memory and depression. To learn all about what this aromatic culinary and medicinal herb can do for you, check out this week's in-depth article Health Benefits of Sage.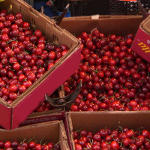 When it comes to vitamin C rich fruits, acerola is right there on top of the list. Ounce-for-ounce, this exotic superfruit has been shown to provide 25 times as much vitamin C as oranges, and it contains even more vitamin C than baobab fruit or sea buckthorn berries! In countries like the US and UK, dried acerola is available in many health food stores in powdered form. To learn more about this nutritional powerhouse, check out the article Health Benefits of Acerola Fruit.
Become a Superfood Genius!
Make introducing new foods into your diet a habit! Come back next week when we'll be introducing more nutrient-packed superfoods that have been largely overlooked.
THIS WEEK'S MULTIVITAMIN SMOOTHIE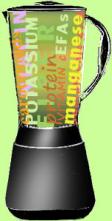 Banana, Kiwi and Sage Smoothie
To make 1-2 servings of this super-nutritious smoothie, simply add the following ingredients to a high-speed blender, such as a
VitaMix
or
NutriBullet
, and blend until smooth:
1 kiwi, peeled and diced
1 small banana, broken into chunks
1 cup fresh baby spinach, rinsed
3 fresh sage leaves
1/2 cup orange juice
2 Tbsp sunflower seeds
5 ice cubes
What Makes This a Multivitamin Smoothie?
Kiwifruit provides tons of vitamins C and K, plus a hearty helping of potassium Banana is supercharged with vitamin C, vitamin B6, potassium and manganese Spinach is jam-packed with carotenoids, vitamin C, vitamin K, B vitamins (including folate), calcium, iron, magnesium, and potassium, and it even contains quite a bit of vitamin E!
Sage
is supercharged with vitamin K and health-benefiting phytochemicals Orange juice provides plenty of vitamin C Sunflower seeds are packed with protein, vitamin E, thiamin, riboflavin, niacin, vitamin B6, folate, iron, magnesium, potassium, phosphorus, zinc, and copper
Tweak It!
Keep it interesting by tweaking this week's multivitamin smoothie recipe to create a new culinary experience for every day of the week. Try replacing the banana in the original recipe with 4 ounces (about 110 grams) of one of the following ingredients:






HEALTHIFY YOUR KITCHEN
Upgrade Your Kitchen with a Heavy-Duty Vegetable Dicer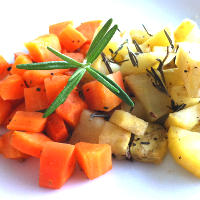 With one quick motion, most hand-operated vegetable dicers let you cut avocados, cucumbers and bananas into nice, equal-sized pieces. However, if you're looking to dice or chop harder vegetables – such as raw potatoes, carrots, fennel, onions or celeriac – you might want to invest a few extra dollars to get a sturdy, commercial-quality dicer. To learn more, check out this month's special feature on
heavy-duty vegetable dicers
.
Other Invaluable Kitchen Tools:

Choosing the Right Non-Plastic Water Bottle for You

Yogurt Maker with Glass Cups

Non-Plastic Electric Kettles

Plastic-Free Lunchboxes

Stainless Steel Food Dehydrator

Non-Toxic Frying Pans

Manual, Non-Plastic Citrus Squeezers

Stainless Steel Popsicle Molds
BOOK OF THE MONTH
National Geographic's Guide to Medicinal Herbs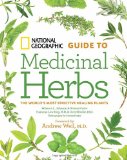 Looking for a well-researched guide on medicinal herbs from qualified botanical and medical experts?
This compelling book published by
National Geographic
provides invaluable information about the health benefits of 72 of the world's most common and powerful medicinal herbs, covering both information about their traditional medicinal uses and findings of modern scientific studies. Available from
Amazon.com
or
Amazon.co.uk
.