Heal Your Body With Food!
Want a healthier and longer life free of common diseases and conditions? Your best line of defence, as well as offence, may line up in the kitchen. Making a switch to the right foods can reward you and your family with great health benefits and turn back the clock on aging. HealWithFood.org provides condition-specific nutrition guides (see the blue menu on the left) as well as general healthy eating tips to help you make that switch.
HEALTH FOOD of the week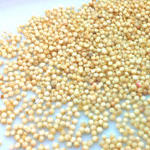 Amaranth, a bushy plant native to South America, is today cultivated around the world for its edible grains and leaves. Both the grains and leaves of this ancient plant are highly nutritious, which is why amaranth should not be left off the superfood list. To learn more, see Health Benefits of Amaranth.
SMOOTHIE of the week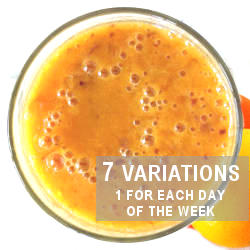 Gingery Carrot and Orange Smoothie
This week's smoothie recipe pairs fresh carrot juice and sweet oranges with zesty ginger to create an invigorating smoothie that will make your taste buds sing. Ground flaxseed, rich in anti-inlammatory omega-3 fatty acids, is added to the mix to further boost the nutritional value of this power smoothie. Click on the link below to view the complete ingredient list and instructions, as well as the beloved Tweak It! box which allows you to create a new variation of the basic recipe for every day of the week!
KITCHEN ACCESSORY of the week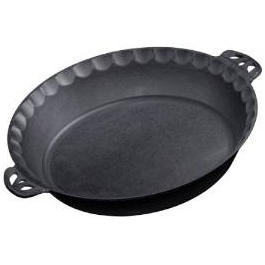 Pie Pan Made of Cast Iron
If you think cast iron is just for frying pans and Dutch ovens, there's a whole new world for you to discover. Cast iron can be used to make all sorts of cookware and bakeware, including traditional round-shaped pie pans! In addition to being durable, cast iron pie pans (such as Camp Chef's pie pan pictured here) are also a great alternative for those who are concerned about of the safety and durability of PTFE-coated non-stick bakeware. To learn more, check out this week's special feature:

Quest for a Cast Iron Pie Pan
BOOK of the week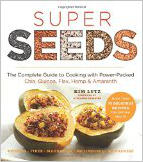 Super Seeds: The Complete Guide to Cooking with Power-Packed Chia, Quinoa, Flax, Hemp and Amaranth
Created by Chicago-based author and vegan food blogger Kim Lutz, Super Seeds provides a slew of mouthwatering recipes featuring four seeds that pack a serious nutritional punch: chia, hemp, flax and amaranth. Whether you're looking for seed-licious vegan or gluten-free recipes for breads, soups, salads, sides, mains or desserts, this is the book to turn to. Taco-Seasoned Quinoa Stuffed Avocados, Hemp Seed Hummus, Blackberry Chia Jam, Amaranth Cornbread and Lemon Basil Quinoa Salad are just a few of the exciting recipes you'll find in this cookbook. To learn more, or to order a copy today, go to

Amazon.com,

Amazon.co.uk or

Amazon.ca.