Heal Your Body With Food!
Want a healthier and longer life free of common diseases and conditions? Your best line of defence, as well as offence, may line up in the kitchen. Making a switch to the right foods can reward you and your family with great health benefits and turn back the clock on aging. HealWithFood.org provides condition-specific nutrition guides (see the blue menu on the left) as well as general healthy eating tips to help you make that switch.
HEALTH FOOD of the week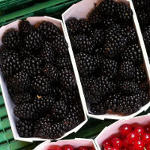 Whether you go for wild or cultivated blackberries, you will surely be giving yourself a health boost by eating these juicy berries loaded with health-protecting anthocyanins and ellagic acid. To learn how anthocyanins, ellagic acid and other phtochemicals found in blackberries can protect your health, check out the article Health Benefits of Blackberries.
SMOOTHIE of the week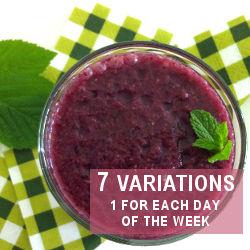 Blackberry and Raspberry Smoothie with Chia Seeds
This smoothie recipe calls for blackberries and raspberries, both of which are famous for their potential anti-aging, anti-cancer and cardioprotective properties. Loaded with omega-3 fatty acids, fiber and protein,chia seeds are added to the mix to further boost its nutritional profile. Click on the link below to view the complete ingredient list and instructions, as well as the Tweak It! box which allows you to create a new variation of the basic recipe for every day of the week!
KITCHEN GADGET of the week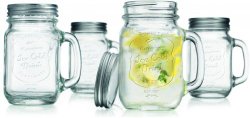 Add Charm to Your At-Home Smoothie Bar with Mason Jar Mugs!
Add a touch of rustic charm to your at-home smoothie bar by serving your favorite blends in mason jar mugs. And, if you get a set with lids, such as GFSmart's Clear Glass Set (pictured above), you can also use the jars for storing an unfinished smoothie in case you don't manage to slurp it down at one go! These sturdy glass mugs also make a fabulous gift for friends and family.
BOOK of the week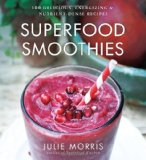 Superfood Smoothies by Julie Morris
Stuck in a smoothie rut? There's no better place to look for inspiration than Julie Morris' Superfood Smoothies! Morris gives her vegan smoothies an extra health kick by using some of the most nutrient-dense natural ingredients on Earth. Hemp seeds, cacao nibs, maca, lucuma, açai berries, chia seeds, chlorella, bok choy, maqui berries, flaxseed, sea buckthorn, mulberries, and goji berries are a few examples of the newly rediscovered superfoods that frequently pop up in this fascinating cookbook. Available from

Amazon.com and

Amazon.co.uk.