Heal Your Body With Food!
Want a healthier and longer life free of common diseases and conditions? Your best line of defence, as well as offence, may line up in the kitchen. Making a switch to the right foods can reward you and your family with great health benefits and turn back the clock on aging. HealWithFood.org provides condition-specific nutrition guides (see the blue menu on the left) as well as general healthy eating tips to help you make that switch. So, enjoy our latest updates and features, and be sure to check back often as new tips, in-depth articles, and recipes are posted on a regular basis!
EXPAND YOUR FOOD HORIZONS
It is easy to get stuck in a food rut and eat the same foods over and over again. Yet, a balanced diet that incorporates a wide variety of nutritious foods has been consistently shown to reduce the risk of disease and promote overall health and vitality. So why not expand your food horizons and try something new this week? Here are a few ideas: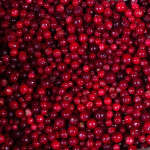 In Scandinavia, lingonberries enjoy a long history as both food and medicine. Also known as cowberries, these tart berries can be eaten raw or they can be processed into lingonberry jam or syrup. The health benefits of lingonberries have been attributed to quercetin, proanthocyanidins and a number of other phytochemicals found in these superberries. For details, see Health Benefits of Lingonberries.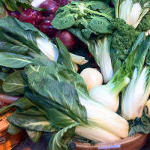 Bok choy is the most common type of Asian cabbage. The white stems and dark green leaves of bok choy are mild in flavor and rich in nutrients, making this green leafy Brassica vegetable a great choice for anyone. The very young leaves of bok choy can be eaten raw in salads, but more mature leaves are usually best briefly cooked. To learn more about this unsung superfood, check out the in-depth article Health Benefits of Bok Choy.
Become a Superfood Genius!
Make introducing new foods into your diet a habit! Come back next week when we'll be introducing more nutrient-packed superfoods that have been largely overlooked.
THIS WEEK'S MULTIVITAMIN SMOOTHIE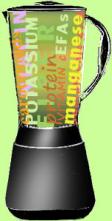 Powerful Berry Smoothie Featuring Lingonberry Juice
To make 1-2 servings of this super-nutritious smoothie, simply add the following ingredients to a high-speed blender, such as a
VitaMix
or
NutriBullet
, and blend until smooth:
1 ounce frozen raspberries, rinsed
1 ounce frozen blueberries, rinsed
1 large banana, sliced
10 red grapes, rinsed
1/4 cup lingonberry juice
2 Tbsp sunflower seeds
What Makes This a Multivitamin Smoothie?
Raspberries
are packed with vitamin C, fiber, ellagic acid, and manganese, plus they are a fairly good source of vitamin K Blueberries are loaded with antioxidants (especially anthocyanins) and manganese Banana is supercharged with vitamin C, vitamin B6, potassium and manganese Grapes are packed with vitamins C and K, and they provide quite some thiamin and copper, too
Lingonberry juice
provides tons of health-protecting flavonoids Sunflower seeds are packed with protein, vitamin E, thiamin, riboflavin, niacin, vitamin B6, folate, iron, magnesium, potassium, phosphorus, zinc, and copper
Tweak It!
Keep it interesting by tweaking this week's multivitamin smoothie recipe to create a new culinary experience for every day of the week. Try replacing the grapes in the original recipe with 1.7 ounces (about 50 grams) of one of the following ingredients:






HEALTHIFY YOUR KITCHEN
Time to Get One of Those Old-Fashioned Citrus Squeezers (Made of Non-Plastic Materials)?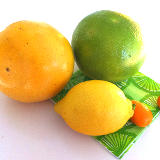 If you juice citrus fruit such as oranges, grapefruit, lemons, and limes only occasionally, there's no need to get a fancy electric juicer. Old-fashioned manual juicers will do the job just fine, plus they take very little space in your kitchen cabinet. To reduce the risk of potentially toxic chemicals leaching into your fruit juice, look for a citrus squeezer that is made of a non-plastic material such as glass or stainless steel. To learn more, check out this month's special feature on
non-plastic manual citrus squeezers
.
More Non-Toxic Kitchen Tools:

Choosing the Right Non-Plastic Water Bottle for You

Yogurt Maker with Glass Cups

Non-Plastic Electric Kettles

Plastic-Free Lunchboxes

Stainless Steel Food Dehydrator

Non-Toxic Frying Pans

Stainless Steel Popsicle Molds
BOOK OF THE MONTH
The Organic Cook's Bible: How to Select and Cook the Best Ingredients on the Market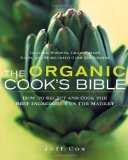 In this indispensable guide and cookbook, the organics guru Jeff Cox provides expert advice on more than 150 organic foods in a reader-friendly, alphabetically organized format. Each entry covers the nutritional profile of the food, comparison with the non-organic counterpart, as well as information about seasonality, various types, selection, storage, and preparation. You'll also find loads of delicious, approachable recipes to try your hand at! Check out the reader reviews and price information for this authorative book from a veteran organic gardener on
Amazon.com

or
Amazon.co.uk

.