Sugar Cravings and Diet: Recipes for Suppressing a Sweet Tooth
Have you been struggling to find easy-to-make recipes that can help curb a sweet tooth? This recipe collection has you covered! The recipes included in this collection call for foods that are among the best dietary sources of nutrients that help reduce sugar cravings. In addition to providing anti-craving nutrients such as chromium, zinc, tryptophan, and B vitamins, these dishes are a cinch to prepare. They also use common ingredients that are available at virtually every supermarket.
If you're new to this online Guide to Fighting Sugar Cravings Through Diet, you may want to check out the diet tips section and the best foods section before you get down to the anti-craving recipes in this section. If you already know how specific dietary habits and foods can help suppress that sweet tooth, go ahead and start exploring the recipes straight away by checking out the links below:


Drinks (0)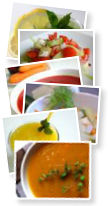 Inspire your friends by sharing this collection of anti-craving recipes!
Why not pass on the benefits of healthy, sweet tooth suppressing recipes by letting your friends know where they can find this recipe directory? Feel free to email a link to this page or use the share buttons below: