Smart Microgreen Starter Kit – No Windowsill Required!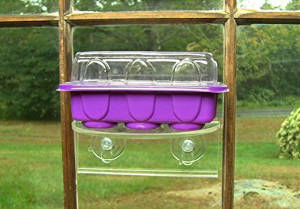 Not everyone has room for a garden, but you can still enjoy fresh home-grown greens by growing your own microgreens, the edible seedlings of vegetables and herbs. And, thanks to the innovative brains at Live Mulch, you can now have an indoor microgreen garden even if you don't have a windowsill or a plant grow light. You do need a window, though, but that's probably not going to be a problem. The MicroGreenz starter kit developed and marketed by Live Mulch comes with a smart suction cup shelf, called the Veg-Ledge, which can be instantly attached to a clean glass window. The shelf has been designed to hold 6 lbs, so it can easily hold the ceramic microgreen growing tray that is included in the kit when you buy it from Amazon.
What's Included in this Starter Kit?
The MicroGreenz kit includes a
stylish and sturdy shelf
that adheres to a window with suction cups, called the Veg-Ledge. In addition, this microgreen starter kit includes a
ceramic growing dish
, designed to perfectly fit the Veg-Ledge, four condensed coco powder discs that serve as the
growing medium
, a handy
spray bottle
for misting the plants, and a starter pack of mixed
microgreen seeds
. Note, though, that once the microgreens are ready to be harvested and you clip them, they don't grow back, so you will have to regularly stock up on microgreen seeds.
How Does the Suction Cup Shelf Work?
Veg-Ledge, the clear suction cup shelf included in this microgreen growing kit, works best on glass and tile surfaces. It is very important that the window, or whatever surface you are planning to attach the shelf to, is extremely smooth and clean before you press the suction cups against the surface because air behind the suction cups can cause the suction cups lose their power.
Therefore, before installing the shelf on your window, it is best to use clean the surface and the suction cups with a cotton ball dipped in alcohol before pressing suction cups all the way down against the surface. To help the shelf stay in place, you should also not overload the shelf by loading it with items weighing more than 6 lbs.
Want to read some user reviews? At the writing of this article (August 2015), Live Mulch' microgreen kit is still somewhat of a novelty item, and there aren't that many reviews of the kit available on Amazon. However, the Veg-Ledge suction cup shelf is also sold separately, and quite a few people have written about their experiences with the shelf alone. To read their reviews, click here (if you live in the US) or here (if you live in the UK).
How to Use This Microgreen Kit?
Step 1: Attach the Veg-Ledge to a sunny window by pressing the suction cups against the window.
Step 2: Place one of condensed growing medium discs included in the kit into the ceramic growing dish, add warm water, and wait about 15 minutes until the disc expands and fills the dish.
Step 3: Scatter microgreen seeds of your choice over the growing medium.
Step 4: Mist daily with clean water until your miniature greens are ready for harvest in about 10 to 20 days. Clip the greens, and enjoy them in salads, cold soups and smoothies!
Don't Miss This

Microgreens: Health Benefits & Nutrition Facts
Microgreens are not just good for you, they are a real superfood loaded with nutrients.
More to Explore
Sponsored Links / Ads