Farmed Trout: High in Omega-3, Low in Mercury and PCB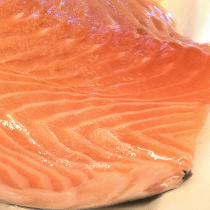 The Environmental Working Group, or EWG, has listed trout as one of the healthiest seafood sources of omega-3 fatty acids, and rightfully so: not only is farmed trout packed with beneficial omega-3 fatty acids, it is also relatively low in contaminants like mercury and PCB which have been raising questions about the safety of seafood. To get the full scoop, keep reading.
Farmed Rainbow Trout is Loaded with Omega-3 Fatty Acids
In many cases, farmed fish contain a higher absolute amount of the beneficial omega-3 fatty acids eicosapentaenoic acid (EPA) and docohexaenoic acid (DHA) simply because they have a much higher total fat content than their wild counterparts. This appears to be particularly true for farmed rainbow trout. A Canadian study published in the journal Food and Chemical Toxicology, for example, found that the total amount of fat and the total amount of EPA + DHA in farmed rainbow trout fillets were 5.9 and 3.2-fold higher, respectively, than in their wild counterparts. In the farmed trout samples, the average total amount of omega-3 fatty acids was around 700 milligrams per a 100-gram portion, an amount that is nearly as high as the amount of omega-3s found in wild salmon. The total amount of omega-3s in the wild trout samples was around 200 milligrams.
More Good News: Farmed Salmon is Low in Mercury and PCBs
Not only is farmed trout a great choice for those who want to increase their omega-3 intake, it is also an excellent choice for those who are worried about too much mercury getting into their bodies. As you may already know, a high exposure to mercury and its derivatives has been linked to a number of diseases and health problems, and unfortunately, fish is one of the main sources of mercury. The good news is that mercury levels can vary significantly from species to species, with farmed trout being particularly low in this toxic heavy metal (see High Omega-3, Low Mercury Fish). In addition, the Canadian study that we referred to in the previous paragraph also found that both farmed and wild trout contained relatively low levels of polychlorinated biphenyls (PCBs), contaminants that have been shown to exert toxic and mutagenic effects.
Note: When drawing conclusions from studies like the Canadian study described above, it is important to keep in mind that omega-3 and mercury levels can fluctuate significantly within a single species depending on a number of factors, including the region where the fish was caught. The rainbow trout samples analyzed by the Canadian researchers originated mainly from Chile, which is a major exporter of trout and salmon to the United States and Canada.
Sponsored Links / Ads
Don't Miss This

Quest for the Best Juicer for Kale & Other Leafy Greens
Not all juicers are created equal when it comes to juicing green leafy vegetables.
More to Explore