Flax Seeds or Fish Oil: Which is A Better Source of Omega-3?
Flax seeds or fish oil, which one is a better source of those famous omega-3 fatty acids that are making headlines for all sorts of health benefits? Let's find out.
Omega-3 Fatty Acid Content of Flax Seeds and Fish Oil
Both flax seeds and fish oil are known for their high omega-3 content: a tablespoon of flax seeds contains about 2.5 grams of omega-3 fatty acids, and flax oil contains even more, about 7.3 grams per tablespoon. The omega-3 content of fish oil, by contrast, depends on the type of fish oil. Cod liver oil, for example, contains 2.4 grams of omega-3 fatty acids per tablespoon, compared with about 1.4 grams in a tablespoon of herring oil. (1, 2)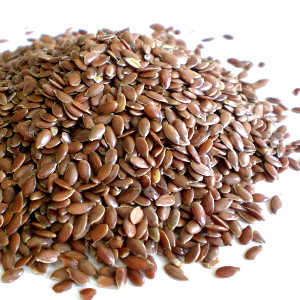 Benefits of Omega-3 from Flax Seeds vs Fish Oil
The omega-3 in flax seeds is alpha-linolenic acid (ALA), a type of short-chain fatty acid, whereas fish oil contains docosahexaenoic acid (DHA) and eicosapentaenoic acid (EPA) which are long-chain omega-3 fatty acids. DHA and EPA have received a great deal of attention from the scientific community, and numerous studies document their health benefits which include healthy fetal development, protection against cardiovascular disease, and protection against Alzheimer's disease [3]. The human body can convert ALA into DHA and EPA, but the rate of conversion is typically very low, which is why flax seeds are not considered a good source of long-chain omega-3 fatty acids. That, however, does not mean the omega-3 fatty acids in flax seeds have no play to role in keeping your healthy!
In fact, research shows that also the omega-3 fatty acid alpha-linolenic acid has health benefits, many of which are not related to its role as a precursor to DHA and EPA. For example, research suggests that a high intake of alpha-linolenic acid from foods like flax seeds or chia seeds might offer at least some protection against cardiovascular disease, but it is worth noting that the evidence is still quite limited (4). ALA has also been shown to lower biomarkers of inflammation just like fish oil (5), which lends credence to the notion that flax seeds are good for psoriasis sufferers and people suffering from other chronic inflammatory conditions.
Cardioprotective and anti-inflammatory properties aside, ALA may also help improve asthma control, reduce the risk of certain types of cancer, keep your bones strong and healthy, and provide some benefits for pregnant women and their babies (6).
Conclusion
Flax seeds and flaxseed oil tend contain more omega-3 fatty acids per tablespoon than fish oil, even if you go for cod liver oil which is one of the best fish-derived sources of omega-3 fatty acids. However, comparing flax seeds with fish oil based on the amount of omega-3 they contain does not make much sense because they contain different types of omega-3 fatty acids, and these different types have different functions and health benefits.
To keep your diet balanced, it is a good idea to include both plant-based and marine-based sources of omega-3 in your diet. In addition to flax seeds and flaxseed oil, good plant-based sources of omega-3 include hemp seeds and hemp oil, camelina seeds and camelina oil, and walnuts and walnut oil.
Fish oil aside, good sources of DHA and EPA include omega-3 eggs, algae oil, and, of course, fatty fish such as salmon, anchovies, mackerel, herrings, trout, and sardines.
Sources:
1. HealWithFood.org (2017). Top 10 Sources of Alpha-Linolenic Acid (ALA)
2. USDA National Nutrient Database for Standard Reference (Release 28, released September 2015, slightly revised May 2016). USDA Database
3. D. Swanson et al (2012). Omega-3 Fatty Acids EPA and DHA: Health Benefits Throughout Life. Advances in Nutrition, 3: 1-7.
4. S. Rajaram (2104). Health benefits of plant-derived alpha-linolenic acid. The American Journal of Clinical Nutrition, 100, Supplement 1, 443S-448S.
5. B. de Roos et al (2008). Identification of potential serum biomarkers of inflammation and lipid modulation that are altered by fish oil supplementation in healthy volunteers. Proteomics, 8(10):1965-74.
6. HealWithFood.org (2017). Health Benefits of Alpha-Linolenic Acid (aka ALA).
BOOK RECOMMENDATION
Created by Chicago-based author and vegan food blogger Kim Lutz,
Super Seeds
provides a slew of
mouthwatering recipes featuring five seeds that pack a serious nutritional punch: chia, flax, hemp, quinoa and amaranth
. Whether you're looking for seed-licious vegan or gluten-free recipes for breads, soups, salads, sides, mains or desserts, this is the book to turn to. Taco-Seasoned Quinoa Stuffed Avocados, Hemp Seed Hummus, Blackberry Chia Jam, Amaranth Cornbread and Lemon Basil Quinoa Salad are just a few of the exciting recipes you'll find in this cookbook. To learn more, or to order a copy through Amazon,
click here
.