10 Apple Varieties That Make Good Dehydrated Apple Chips
Drying sliced apples at home is fun, frugal and easy. All you need is a good electric food slicer or an old-fashioned mandoline, a reliable food dehydrator (preferably one with stainless steel trays) – and most importantly – apples! But what kind?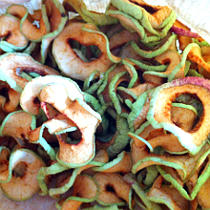 With all the apple varieties out there, it may be difficult to figure out which apple varieties are best for drying. If you're planning on making some healthy dehydrated apple chips or rings and are wondering what type of apples you should go for, there are a number of things you should consider, such as: Do you like sweet or tart apples better? Do you want apple chips with extra-intense flavor or is medium-intense flavor fine? What apple varieties are available this time of year?
To help you find the best apple varieties for you, HealWithFood.org came up with a list of good dehydrating apples – including varieties that are praised by foodies as well as varieties that are used by commercial apple chip producers. Both sweet and tart varieties are covered, so hopefully everyone will be able to pick a favorite dehydrating apple from this list!
1. Gravenstein
In season in July and August, the Gravenstein has an intense apple flavor, making it a great choice if you have a hankering for tart, yet extra-flavorful apple chips. Unlike many other sour apples, this apple variety doesn't keep well, even when stored in a dark and cold place – yet another reason to preserve these goodies by drying them!
2. Gala
If you like sweet apples better than their tart cousins, then Gala may well turn out to be one of your favorite apple varieties for drying. A cross between Kidd's Orange Red and Golden Delicious, this sweet apple variety is wonderfully crisp and juicy, which is why it is also considered one of the best readily available eating apples. It is not recommended for pies or cooking.
3. Fuji
Available year-round, Fuji apples are one of the most popular apple varieties among producers of commercial apple chips (check out the impressive range of Fuji apple chips on Amazon). Crisp yet tender, Fuji apples also make a great snacking apple. Whole Fuji apples also store well in a cool, dark place, so if you're thinking about dehydrating these goodies just because you've got tons of them, you might want to reconsider your plan.
4. Honeycrisp
This relatively new apple variety developed in Minnesota is famed for its exceptionally crisp and juicy texture, which makes it a great snacking apple. But thanks to its firm texture and predominantly sweet flavor, it can also be used to make delicious dried apple chips. Usually sold out fast due to their limited supply and high demand, Honeycrisp apples are typically harvested in mid-September and early October.
5. Granny Smith
Granny Smith is another favorite among companies that produce dried apples (see Granny Smith apple chips available on Amazon). It is also a great choice for home cooks who are looking for a tart apple variety that can be successfully dehydrated at home. Available year-round, these gorgeous green apples with a pleasantly tart flavor are also perfect eaten fresh out of hand.
6. Goldrush
As people get familiar with this relatively new apple cultivar, expect to see this late-season variety pop up on lists of the best apple varieties for drying! The Goldrush is bursting with tart, intense apple flavor, plus it is one of the slowest browning, non-GMO apple varieties grown in the United States.
7. Pink Lady
A late-season apple, the Pink Lady stores extremely well under the right conditions, so if you have a place where you can store whole apples for the winter, go for it! If you don't have a root cellar or another place suitable for long-term storage of apples, or if you like to dehydrate apples simply because they taste so good dried, go ahead and dry your Pink Ladies – their sweet-tart flavor and extra-firm texture make them a good candidate for the dehydrator.
8. Cortland
Slow to brown after being cut, the Cortland – which is a cross between McIntosh and Ben Davis apples – makes a great dehydrated fruit snack. It offers a wonderful sweet flavor with a hint of tartness, so it makes a great eating apple, too. In this U.S., the Cortland is typically available from September through April.
9. Empire
A cross between Red Delicious and McIntosh apples, the Empire has a mild sweet flavor, with a touch of tart overtones. Available in the fall and early winter months, this multi-purpose apple can be sliced and dried in a food dehydrator or oven, eaten out of hand, used in pies and applesauce, or pressed to make delicious sweet cider.
10. Zestar
This crisp apple variety has a distinctive, sprightly sweet-tart taste with a hint of brown sugar, which makes it a very good apple for drying as well as for eating fresh out of hand. Ready for harvest in August and September, the Zestar is one of the earliest fall apple varieties to ripen. Note: This apple variety browns easily after being cut, so it's best to dip the slices in a mixture of water and lemon juice before arranging them on the dehydrator's trays.
You May Also Like

Must-Have: Automatic Soup Maker aka Blender That Cooks
Why get a regular blender that only makes cold meals if you can have one that also cooks?
More to Explore
Book You May Like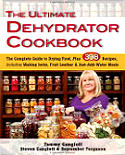 Dried fruits are much more than just standalone foods! In
The Ultimate Dehydrator Cookbook
, Tammy Gangloff brings you
nearly 400 mouthwatering recipes using home-dehydrated foods as ingredients
, covering everything from slow cooker recipes using dehydrated ingredients to dehydrated meals for campers. Recipes aside, this comprehensive guide and cookbook also includes instructions on how to dehydrate various types of foods; how to make tea blends, jerky, instant baby food and fruit leathers; how to select a food dehydrator; and more!
Available here through Amazon
.