Red Lettuce Trumps Green Varieties in Terms of Antioxidant Value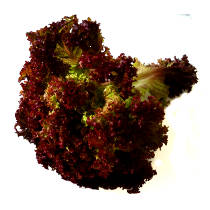 Ironically, the healthiest salad greens in the supermarket may not be green but red, at least if you measure the health value of a plant by its antioxidant capacity. That's right, folks—laboratory studies comparing the antioxidant value of green and red lettuce varieties reveal that the red leaf lettuce varieties consistently show higher antioxidant capacity than the more common green varieties, such as Iceberg lettuce. To get the full scoop, keep reading.
Antioxidant Value of Red vs. Green Lettuce – Insights from Comparative Studies
In a study published in the journal Food Chemistry in 2008, a group of researchers from Spain measured and compared the antioxidant properties of common salad greens including five lettuce varieties (three of which had green leaves and two of which were so-called red leaf cultivars) and one variety of escarole. As each of the in vitro assays that are commonly used to measure the antioxidant capacity of foods comes with its own set of limitations, the researchers decided to use three complementary assays: ABTS, DPPH and FRAP.
Regardless of which method was used, the red lettuce varieties – i.e. Red Oak Leaf and Lollo Rosso – always came out on top in terms of antioxidant capacity, while Iceberg consistently had the lowest values. The red leaf varieties also had the highest total phenolic content, which may explain why they had so much stronger antioxidant properties than Iceberg, Romaine and Continental, the green leaf lettuce varieties included in this study.
Another study, published in the Spanish Journal of Agricultural Research in 2011, echoes the findings of the study published in Food Chemistry. This study, conducted by researchers from the University of Gaziosmanpasa in Turkey, looked at the antioxidant value of four green lettuce varieties (Fonseca, Freckles, Krizet and Filipus) and four red cultivars (Versai, Nation, Paradai and Cherokee). All of the studied plants had grown under the same environmental conditions. Using the popular FRAP and TEAC assays to measure total antioxidant capacity (TAC), the researchers found that all of the tested red cultivars had higher TAC values than the green varieties.
Anthocyanins – The Secret Behind the Strong Antioxidant Properties of Red Lettuce
Red leaf lettuce varieties, such as Lollo Rosso and Red Oak Leaf, get their reddish hues from polyphenols called anthocyanins, which also give foods like red cabbage, blueberries and blackberries their intense colors. In addition to giving many red, blue and black vegetables, berries and fruits their intense hues, anthocyanins also have strong antioxidant properties, at least in vitro. Therefore, it comes as no surprise that some of the world's most famous superfoods, like the acai berry which is known for its extremely high antioxidant capacity, are also among the most concentrated natural sources of anthocyanins.
Studies cited:
1. R. Llorach et al (2008). Characterisation of polyphenols and antioxidant properties of five lettuce varieties and escarole. Food Chemistry 108, 1028-1038.
2. S. Ozgen1 and S. Sekerci (2011). Effect of leaf position on the distribution of phytochemicals and antioxidant capacity among green and red lettuce cultivars. Spanish Journal of Agricultural Research, 9(3), 801-809.
Don't Miss This

Meet the Borner V Power (and Other Dicing Mandolins)
Meet the new generation mandolins that dice veg and fruit in addition to slicing them.
Book You May Like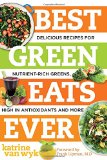 If you're trying to eat more greens but find yourself in a salad rut, be sure to check out Katrine van Wyk's
Best Green Eats Ever
. In this beautifully illustrated cookbook, the model turned nutrition coach shows you how to use healthy leafy greens in everything from snacks, like Brussels sprouts chips, to sauces and dips like green hummus and dandelion pesto. The book even has a section dedicated to green treats to keep your sweet tooth satisfied! To take a peek inside the book, or to order your copy,
head to Amazon
.
Sponsored Links / Ads