Raw Vegan Kale Chips with Nutritional Yeast (Dehydrator Recipe)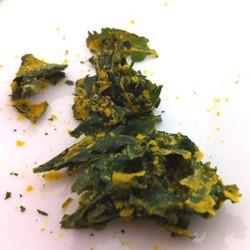 One of the most famous new ways to use kale and to reap its wonderful health benefits is to turn it into crispy vegetable chips, either in a food dehydrator or in an oven. There are tons of recipes for both oven-baked and dehydrated kale chips in cookbooks focused on kale recipes, but you sure don't have to get a cookbook to get a recipe for homemade kale chips.
Below, we provide a simple recipe for raw vegan kale chips that can be made in a food dehydrator. This recipe uses nutritional yeast flakes to boost the health benefits of kale chips, but you can also use the recipe if you like your superfood snack plain – in that case, just skip the step that asks you to add the yeast.
Health Benefits of Dehydrated Kale Chips
Raw kale chips made by drying fresh kale leaves in a food dehydrator are touted as one of the healthiest snacks out there, and for good reason: kale is a real superfood jam-packed with nutrients like carotenoids, vitamin C, vitamin K and manganese, and preparing it in a food dehydrator, instead of an oven, helps protect all those wonderful nutrients.
And, even though plain kale chips are already very nutritious and delicious, some commercial producers of organic kale chips have started to boost the nutritional value of this super-healthy snack even further by coating the chips with nutritional yeast. Also known as "nooch", nutritional yeast is a type of beneficial yeast that is loaded with B vitamins like thiamin, riboflavin, niacin, vitamin B6 and folate. It is also an excellent source of vitamin B12, a nutrient that is often lacking in vegan diets. Besides providing nutrients, nooch also gives kale chips a wonderful, cheesy flavor – perfect for new vegans looking for ways to satisfy their cheese cravings.
Buying Nutritional Yeast Flakes for Vegan Kale Chips
While raw vegan kale chips are readily available both in health food stores and online (you can check out Amazon's selection of kale chips here), you might want to make them at home using your own food dehydrator in order to save some cash. If you like your vegetable chips plain, all you need is some fresh kale and some extra-virgin olive oil and salt. However, if you want to make raw kale chips coated with nutritional yeast flakes in order to take advantage of the broad nutritional profile of nooch and its yummy cheesy flavor, you'll first have to get your hands on this "magical" ingredient. If you have no luck in finding it in your local health food store, fret not – you can always buy nutritional yeast on Amazon.
How to Make the Chips – The Recipe
Once you've gathered all the ingredients – the fresh kale leaves, nutritional yeast, extra virgin olive oil and salt – it's time to take your food dehydrator out of the cupboard. If you don't have a food dehydrator yet, order one right way. Food dehydrators with stainless steel trays are recommended, if you can afford one (they are typically quite pricey compared to the more popular plastic models). Once you've got all the ingredients and equipment you need, it's time to make your first batch of raw vegan kale chips in a food dehydrator. Here's the recipe:
Start by removing the tough midribs and stalks from the kale, and compost them or use them later to make soup stock.
Wash the tender kale leaves and dry them well in a salad spinner or using clean paper towels.
Tear the washed and dried leaves into chip-sized pieces, and toss the pieces in a large bowl with some extra-virgin olive oil, nutritional yeast flakes, and a little bit of salt. Make sure all the leaves are evenly coated with the oil. Of course, you can also skip the nooch and only use a mixture of olive oil and salt to coat the leaves.
Spread the leaves evenly on dehydrator trays in single layers. Avoid over-crowding the trays.
Place the trays in the dehydrator and dry the leaves at 110°F (40°C) for about 5 to 8 hours, or until nice and crisp. Enjoy your superfood snack immediately, or store the chips in an airtight container for later.
Product You May Like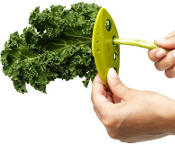 The Chef'n Kale Trimmer (pictured on the right) helps you devein curly kale in a snap! All you have to do is slide a kale stem through one of the eight holes, and this nifty tool will strip all the leaves off in a fraction of the time it would take to separate those leaves by hand. A must-have for all kale fans, this smart little tool is available through Amazon.com

and Amazon.co.uk

.
Sponsored Links / Ads