How to Make Dried Fruit Snacks Using Citric Acid as a Preservative
Drying fruit in a food dehydrator (or an oven) is a great way to make healthy snacks and to preserve seasonal foods for later use. But before you load those trays with sliced and diced fruit and slide the trays into the dehydrator, it is a good idea to pre-treat the cut fruit with an anti-darkening and anti-microbial solution. This will help prolong the shelf life of the dried fruit and prevent cut fruit from oxidizing and developing an unpleasant brownish color during the drying process.
When mixed with water, food-grade citric acid, which is typically made using genetically modified (GM or GMO) corn and occasionally non-GMO corn or sugar cane, makes an effective preservative for cut fruit. Below, we take a look at the steps involved in making dried fruit using a dip made from pure citric acid and clean water as a preservative. In addition, you will learn where to buy pure non-GMO citric acid and what you can use as an alternative to citric acid if you prefer a more natural preservative.
Disclosure: This article contains affiliate links – if you purchase a product or products through these links, the author of this article may receive a small commission, of course without any extra cost on your part.
How to Make and Use a Citric Acid Dip
Step 1: Fill a bowl with 1 quart of clean, filtered water and stir in a small amount of food-grade citric acid. A common recommendation is to use 1 teaspoon of food-grade citric acid per 1 quart of water.
Step 2: Cut the fruit directly into the citric acid solution and allow to soak for 10 minutes.
Step 3: Remove the fruit pieces with a slotted spoon, drain well and dehydrate in the oven, or in a food dehydrator.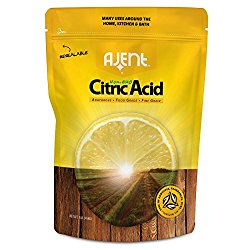 Where to Buy Pure Food-Grade Citric Acid That's Non-GMO
Ajent's 100% pure citric acid contains no additives, and it is food-grade so it makes a good preservative for dried fruit. What's more, it has been derived from sugar cane instead of corn, and it is non-GMO. According to the seller, it has also been approved for use in organic foods. To learn more about this additive-free citric acid, or to order it through Amazon, click here.
Alternatives to Citric Acid Preservatives
Using a dip made of water and citric acid to pre-treat fruit prior to drying is of the easiest ways to prepare fruit for the dehydrator. However, although citric acid occurs naturally in foods like citrus fruit, the purified citric acid derived from corn or sugar cane that you can buy in the stores and online is certainly not the most natural preservative out there. If you want to treat your fruit pieces with something more natural before dehydrating them, you might want to treat the fruit with lemon juice before drying. That, however, only works if you don't mind the fruit absorbing some citrusy lemon flavor in the process. Other alternative include honey dips and syrup blanching, though they are not good options if you are trying to keep your calorie intake in check.
Sponsored Links / Ads
Don't Miss This

Review of the Veggie Bullet Spiralizer
Pros and cons of the Veggie Bullet, a spiralizer created by the makers of the NutriBullet.
More to Explore