Kuvings Vacuum Blender SV-500: Is it Worth Buying?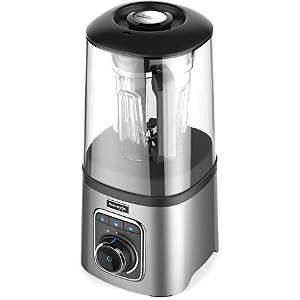 The Kuvings Vacuum Blender SV-500 has a lot of advantages over your average high-speed blender: it uses revolutionary vacuum technology, it comes with a powerful 3.5 peak HP motor and six blades that rotate in three dimensions, and it has a sound enclosure designed to reduce noise caused by high-speed blending. On the downside, the Kuvings SV-500 carries a pretty hefty price tag. In this review, we look at the pros and cons of the Kuvings SV-500 series of vacuum blenders (including the Kuvings SV-500S, SV-500P and SV-500B) to help you decide whether the trendy Kuvings Vacuum Blender is worth the money.
The Pros
More Nutritious Blends
Many nutrients are degraded by exposure to air. One of the main advantages of using a vacuum blender rather than a regular blender is that your smoothies and soups will be more nutritious because the ingredients will not be mixed with air during the blending process. What's more, the Kuvings SV-500 is compatible with a special vacuum-sealable storage tumbler, which sets the Kuvings Vacuum Blender apart from the Tribest Dynapro and many other vacuum blenders available on the market. Thanks to the Kuvings storage tumbler, not only will you minimize nutrient loss during the blending process, you will also be able to store your smoothies, soups and purees in the fridge safe in the knowledge that they will still be full of nutrients when you are ready to enjoy them.
Better-Looking Smoothies
Not only are smoothies made in a vacuum blender more nutritious than smoothies made in a regular blender, they also look better. Thanks to the low-oxygen environment in the blending container, even fast-oxidizing ingredients that typically turn brown fast will retain their colors. What's more, vacuum blending emulsifies ingredients better than traditional blending, so you won't have to worry about water separating from the remaining components of your smoothie when you use the Kuvings Vacuum Blender. By contrast, when you use a regular, non-vacuum blender, the different components start to separate if you let the smoothie rest for a while, with water settling toward the bottom of the container.
Smoother Results
With a 3.5-HP motor, the Kuvings Vacuum Blender is even better than many Vitamix blenders in terms of sheer power. The central power button on the Kuvings SV-500 also functions as a speed dial that allows you to manually select blending speeds up to 20,000 RPM, or to activate the pulse function. These features, combined with its six 3D blades and the vacuum technology, ensure that your smoothies, soups and purees will turn out nice and smooth every time, even when you are blending tough-to-process ingredients like ice, frozen fruit, or green, fibrous vegetables like kale.
Quiet Operation
One problem with many popular high-speed blenders is that they can be very loud, unless you buy an expensive commercial blender that comes with a special sound enclosure designed to dampen the noise created by high-speed blending. Now, that's where the Kuvings Vacuum Blender comes in! It is one of the first non-commercial high-speed blenders that comes with a noise reducing cover that muffles the sound of the blender so you should feel comfortable using it even when you have guests around.
Easy to Use
Featuring a one-touch auto-blend button, the Kuvings Vacuum Blender SV-500 is easy to operate. When you use the auto-blend button, the blender will automatically remove the air from the container, and then blend at the optimal speed and stop when the mixture has the right consistency. You can also use the blender without the vacuum function, or to manually control the speed with the variable speed button.
Available in Different Colors
The Kuvings Vacuum Blender is available in a variety of different colors including silver (Kuvings SV-500S), red (Kuvings SV-500P), and black (Kuvings SV-500B). With many different colors to choose from, it should be easy to find a model that matches your kitchen's decor. Note: As of the writing of this review, the color options are more limited if you buy the Kuvings Vacuum Blender in the UK or Canada.
The Cons
Less Flexibility
One of the main disadvantages of using a vacuum blender, such as the Kuvings Vacuum Blender, is that you cannot pause the blending process to add ingredients, or you will lose the vacuum. For the same reason, you cannot use a tamper with the Kuvings SV-500 to push thicker ingredients onto the blades if the mixture stops circulating. The good news is that thanks to its powerful motor, six stainless steel blades that rotate in three dimensions, and auto-blend vacuum feature, ingredients automatically move towards the bottom of the blending container.
Size Considerations
Weighing 13.5 pounds and measuring 8.5 x 9.5 x 17.4 inches, the Kuvings Vacuum Blender is not a small blender. So, if your kitchen has very limited countertop or storage space, or if you need a vacuum blender that you can easily more around, you might want go for a personal-size vacuum blender instead of buying a full-size countertop blender such as the Kuvings SV-500.
Plastic Container
An increasing number of health-conscious people are looking to buy non-toxic kitchen appliances that are made from glass and other materials that cannot leach controversial chemicals, such as BPA, into their foods and drinks. Although the blending container of the Kuvings Vacuum Blender SV-500 is BPA-free, it is still plastic, which may put some people off. On the other hand, if you are adamant about having a blender with a glass container, you may have to compromise on other things, such as speed. The blending containers of top high-speed blenders are almost always made of Tritan because manufacturers know that this BPA-free plastic is impact- and shatter-resistant, making it a safe material for blenders with fast-spinning blades.
Price
Good vacuum blenders often carry hefty price tags, and the Kuvings Vacuum Blender SV-500 is no exception. However, if you compare the Kuvings Vacuum Blender with other high-speed blenders, you will notice that its price is not out of line with other blenders of this caliber. You can view the current price of the Kuvings SV-500S on Amazon by clicking here.