Zoodles with Mashed Avocado and Mediterranean Herbs
Serves 1
This Mediterranean-inspired recipe pairs zoodles with mashed avocado, garlic and Mediterranean herbs to create a creamy noodle-like dish that's full of flavor, antioxidants and essential fatty acids. Never heard of zoodles? Zoodles are basically just zucchini (courgette) cut into extra-thin, noodle-like strips. Naturally gluten-free, these imitation noodles make a great alternative to pasta for people who react adversely to grains and for those who follow a Paleo diet or another grain-free diet.
Note: This recipe uses yellow zucchini, which looks more like real noodles, but you can also use green zucchini to create this dish.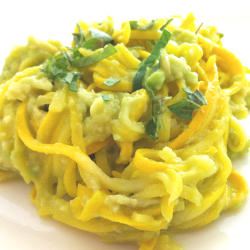 Ingredients
1 clove garlic
Handful of fresh basil and oregano
1 avocado
1 yellow zucchini
1 Tbsp extra-virgin olive oil
1/4 cup water
Salt, to taste
Directions
Peel and chop the garlic, and set it aside while you prepare the rest of the ingredients. Preparing the garlic before the other ingredients helps improve its health benefits as allicin, the key active ingredient in garlic, takes some time to form after peeling and chopping.
Rinse and chop the herbs and set them aside.
Peel the avocado and remove the pit. Place the peeled and pitted avocado in a small bowl and mash thoroughly with a fork. Set aside.
Wash the zucchini under cold running water, and cut it into long, thin noodle-shaped slices (zoodles) using a sturdy vegetable spiralizer, julienne slicer or electric zoodle maker. Set aside.
Heat the olive oil in a skillet and saute the chopped garlic over medium heat for 1 minute. Add the zoodles and continue to saute for another minute or two, stirring frequently.
Add the water and continue cooking for 4 more minutes, stirring occasionally.
Remove the skillet from the heat, and let it cool slightly. Stir in the avocado, chopped herbs and salt, and serve immediately.
Don't Have a Spiralizer, Yet?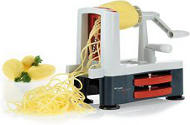 Vegetable noodle makers or spiralizers – such as Westmark's Spiromat pictured here – turn hard veggies like zucchini, carrots and sweet potatoes into thin, noodle-shaped strips. Pleasing to the eye and easy to eat, these long vegetable strips are more likely to be accepted by picky eaters – big or small – than conventionally cut vegetables. If you want to learn more about the benefits of using a spiralizer or get tips on where to get one, check out HealWithFood.org's in-depth article on vegetable 'pasta' makers.
Cookbook You May Like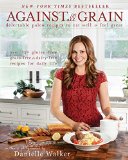 Made of 100% whole food vegetables, spiralized veggies are particularly popular among the Paleo folks who refrain from eating grains. If you're interested in learning how to cook mouthwatering Paleo meals, check out Danielle Walker's Against All Grain: Delectable Paleo Recipes to Eat Well & Feel Great. One of the most popular and best-rated Paleo books on Amazon, this truly fascinating cookbook is available here for US customers and here for UK customers.