Product Reviews & Comparisons
Breville BJB840XL Juicer and Blender Combo
Meet the Breville BJB840XL – a dual-purpose juicer and blender combo! Instead of just making smoothies or juices, this ingenious machine lets you create everything from nutritious green smoothies and fresh fruit juices to blended drinks and cold soups. All you have to do is insert one of the two interchangeable attachments, the centrifugal juicer or the blender attachment, and your Breville BJB840XL is ready to whip up your favorite healthy drink, whether it's a smoothie pick-me-up or a detoxifying juice drink! Below, we provide an overview of some of the key features of this mighty kitchen companion.
One Base, Two Heads
In most kitchens, countertop space is at a premium, which is why multi-purpose appliances – such as the Breville Smoothie & Soup Maker, Secura 6-in-1 Multi-Cooker and Omega 8006 Nutrition Center – have been gaining fans across the United States and Canada. Now, for those who have been looking for a multi-purpose gadget to get their smoothie and juice needs satisfied, take note: Breville has designed an ingenious juicer-blender combo that shares a common base but that can be turned from a juicer into a blender, and vice versa, simply by changing the head. The blender head, which comes with a large 51-oz pitcher, features five variable speeds with ice-crush, smoothie and pulse settings, while the juice extractor head lets you choose from five different speeds.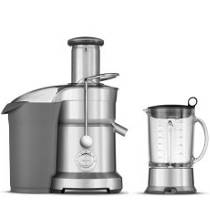 Easy Cleanup
Not only is it easy to operate, the Breville BJB840XL is also easy to clean. After using the juice extractor, clean the fine mesh holes of the filter with a brush under running water, or wash it in the dishwasher. If you forget to clean the filter basket immediately after use and the holes are blocked, soak the filter basket in hot water with 10% lemon juice to loosen the food residue. The cleaning of the blender is equally easy, if not easier, as you can wash most of the parts in the dishwasher (for detailed instructions on how to do this, check out the user manual). However, many people don't even bother putting the parts in the dishwasher; instead, they use the self-clean function by filling the blender jug halfway with a mixture of warm water and add 1-2 drops of dishwashing liquid, and then running the blender for 10 to 20 seconds at "1/MIX" speed. This will loosen most of the food residue, so all you have to do to complete the clean-up process is remove the jug and discard its contents, rinse it with warm water until clean, and then let it dry thoroughly before placing it on the motor base.
Wide-Mouth Juicer
Equipped with extra-wide feeder tubes, the so-called whole fruit juicers are all the rage these days, and for good reason: they can chew up large pieces of fruit and vegetables, in many cases even whole fruit, which means you can spend less time prepping the ingredients and more time with your family and friends. And, jut like these new-generation juicers, the juicer head of the Breville BJB840XL comes with an extra-wide mouth that allows you to simply drop whole fruits directly into the machine, even whole carrots and small apples and oranges.
Good Reviews on Amazon
At the time of writing, the Breville BJB840XL dual-purpose juicer and blender is one of the best rated all-in-one juicer / blender / smoothie maker combos available on Amazon, and it has received a lot of good reviews from Amazon customers. It may not be the cheapest juicer-blender out there, but its solid die-cast metal construction and excellent performance record have made it a popular choice among people who are looking for a sturdy blender-juicer combo available on Amazon.