Weekly Smoothie Challenge
Blackberry & Raspberry Smoothie with Chia Seeds
2 Servings
This smoothie recipe calls for blackberries and raspberries, both of which are famous for their potential anti-aging, anti-cancer, and cardioprotective properties. Cooled blackberry leaf tea, which has shown strong antioxidant and anti-cancer properties in test tubes, is used as the liquid base (if you have trouble finding blackberry leaf tea, you can also use another mild-tasting herbal infusion, or plain water, as the liquid base for this smoothie). Chia seeds – which are loaded with omega-3 fatty acids, fiber and protein – are added to the mix to further boost its nutritional profile.
You can make this blackberrry and raspberry smoothie with either fresh or frozen berries. If you're using frozen berries, omit the crushed ice the recipe calls for and let the frozen berries thaw for 15-25 minutes before using them.
Tweak It!
To keep things interesting, tweak the basic recipe by replacing the banana with one of the other ingredients provided in the Tweak It! box at the bottom of this page. The Tweak It! box contains seven ingredients, one for each day of the week.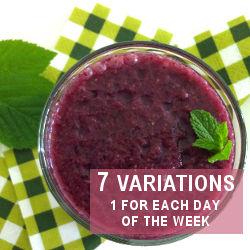 Ingredients
1 small organic banana (Day 1)
3/4 cup blackberries
3/4 cup raspberries
1 tsp chia seeds
1/2 cup crushed ice
1 1/2 cups cooled blackberry leaf tea
Directions
Soak the chia seeds in water for 10 minutes. Peel the banana and rinse the berries thoroughly under cold running water. If you are using another ingredient from the Tweak It! box below to replace the banana, wash, peel, pit and chop the ingredient as needed.
Place all the ingredients in a large-capacity blender or food processor, and process until smooth.
Pour into glasses, and garnish as desired. Serve immediately.
Tweak It!
Day 1
Day 2
Day 3
Day 4
Day 5
Day 6
Day 7
1
small banana
1
avocado
3
fresh figs
4
apricots
2
nectarines
1
apple
1
pear