Blueberry, Spinach and Chia Smoothie
Makes 2 servings
If you are having a difficult time eating enough vegetables, fruits and berries, consider consuming them in the form of smoothies! Drinking fresh plant-based smoothies is one of the easiest ways to up your intake of health-boosting nutrients and antioxidants.
In this vegan smoothie, nutrient-packed baby spinach comes together with antioxidant-rich blueberries. To maximize the antioxidant properties of this smoothie, use wild blueberries if you can get them—in-vitro studies suggest that wild blueberries have even stronger antioxidant properties than their cultivated counterparts.
In addition to baby spinach and frozen blueberries, this recipe calls for a ripe banana, which lends creaminess and sweetness to the blend, as well as chia seeds, which are loaded with anti-inflammatory omega-3 fatty acids. Chia seeds, which are relatively new to the world food market, may not be available at your local grocery store, but you can usually find them at health food stores or other shops that sell so-called superfoods, or you can buy them online.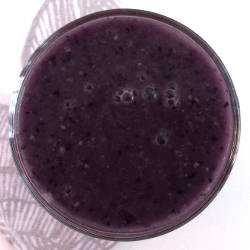 Ingredients
About 1 ⅔ cups water
1 large ripe banana, peeled and sliced
1 cup organic baby spinach, rinsed
1 cup frozen blueberries, rinsed
1 Tbsp chia seeds
Directions
Add 1 ⅔ cups water to a large-capacity blender, followed by the remaining ingredients.
Blend until thoroughly combined, turning off the blender and pushing down on the ingredients with a spatula as needed to help the blending process.
Check the consistency. If the mixture seems too thick, add more water, and blend for a few more seconds.
Book You May Like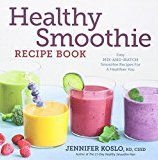 In
The Healthy Smoothie Recipe Book
, registered dietician Jennifer Koslo delivers tons of easy
mix-and-match ideas for crafting super-healthy smoothies
that also taste good. With chapters on detox smoothies, inflammation fighters, digestive aids, anti-aging concoctions, immune boosters, weight loss smoothies and more, there's something here for everyone. To learn more, or to order your copy today, head to:

Amazon.com

Amazon.co.uk

Amazon.ca
Sponsored Links / Ads