Chia Seeds: Where to Buy Them and What to Look For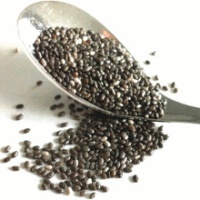 If you've ever bought chia seeds, you know that these tiny edible seeds are not the cheapest on the nut and seed market. However, if you consider how much nutritional value chia seeds offer (these little goodies are loaded with fiber, omega-3s, vitamins B1 and B3, and an impressive array of minerals), they seem like a real bargain. Ready to go shopping for chia seeds? Here are a few tips on where to buy chia seeds and what to look for in order to make sure you get the most out of your chia seed purchase.
Tip 1: Buy whole seeds (instead of ground chia)
Although both whole and ground chia seeds are available, from a nutritional point of view it makes sense to buy whole seeds. The omega-3 fats and vitamins are better protected in whole seeds, leading to longer product shelf-life. If you like to use ground chia seeds rather than their whole counterparts, you can always grind them yourself before using them in recipes. A good trick is to fill a clean and empty hand-held pepper mill with whole chia seeds, and then twist the mill to grind the seeds – the same way you'd grind pepper.
Tip 2: Buy chemical-free chia seeds
For best quality, look for organic or chemical-free chia seeds marketed by reputable companies from countries that have high food safety and quality standards. You can start your search at a local health food store – an increasing number of health food stores in the US and UK are now stocking organic or chemical-free chia seeds.
If you like the convenience of online shopping and live in the US, try The Chia Co chia seeds available from

Amazon.com. These seeds are grown in a natural environment under the Australian sun, using sustainable farming methods that are good both for you and the environment. These seeds have also been tested and accredited by third-party laboratories to ensure that every batch is clean, pure, and chemical-free, and that each batch meets high nutritional standards. This means that a 15-gram portion of The Chia Co chia seeds (corresponds to about 1 ½ tablespoons) always delivers 5.6 grams of dietary fiber, 2.9 grams of omega-3 fatty acids, and 3.1 grams of protein.
If you live in the UK, try Sevenhills' organic chia seeds which have been certified by the Soil Association and which can be bought through

Amazon.co.uk.
Tip 3: Buy larger quantities to save money
Buying chia seeds in bulk can save you quite some cash, but be sure not to buy too much: these powerhouse seeds can lose a fair share of their nutritional value if stored for a long time, so you want to buy a quantity that you and your family will be able to eat before the sell-by date. If you want to save money by buying larger quantities but don't have a big family to feed, ask your friends or colleagues if they'd be willing to share the bulk purchase.
If you buy your chia seeds from a small, local health food store, ask the shop owner whether discounts are available on bulk purchases. If you're purchasing from a larger chain, negotiating a discount price may be a challenge.
Online retailers commonly sell chia seeds in packages of various sizes to cater to the varying needs of online shoppers. For example, Amazon sells The Chia Co chia seeds in handy 5.3-ounce bags but also in larger 35.3-ounce tubs.