Carrot & Mango Smoothie with Turmeric Powder
Makes 2 servings
In this beautiful smoothie, carrots and mango are paired with frozen banana which lends sweetness and texture to the blend and eliminates the need to use ice cubes or shaved ice. In addition to mango, carrots, carrot juice and banana, this alluring recipe also calls for turmeric powder and fresh ginger, which not only add a touch of Indian flair to this vegan smoothie but also supply your body with anti-inflammatory compounds (both of these Asian spices frequently pop up in anti-inflammatory diet books). Furthermore, it has been suggested that turmeric might have some fat-burning properties; however, further research is still needed before any conclusions about the potential weight loss benefits of turmeric can be made.
Note: When you freeze bananas for this or any other smoothie, there are a few steps you will want to follow in order to avoid ending up with a brick of frozen banana chunks that no blender will be able to handle: First, peel the banana and cut it into bite-size pieces. Next, arrange the pieces in a single layer on a parchment-lined baking pan, and place the pan in the freezer. When frozen firm, transfer the pieces to freezer-safe bags.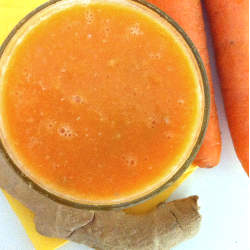 Ingredients
1 ½ cups carrot juice
1 large mango, peeled and diced
1 cup grated carrots
¼ tsp pure turmeric powder
1 tsp grated fresh ginger
1 banana, peeled, sliced and frozen
Directions
Place all the ingredients in a high-powered blender in the order listed above. Blend until smooth and creamy.
Pour into glasses and serve immediately.
Tip: If you have a lot of smoothie recipes that call for carrot juice or other vegetable juices, you might want to consider getting one of the clever all-in-one juicer-blenders, such as the Breville juicer blender combo, or the popular Oster juicer-blender. Ideal for small kitchens where cabinet and countertop space is at a premium, these smart dual-purpose gadgets can be turned from juicers into blenders, and vice versa, simply by changing the head of the machine.
Book You May Like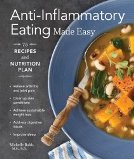 Michelle Babb is a registered dietitian and certified nutritionist, and she holds a master's degree in nutrition from Bastyr University. In
Anti-Inflammatory Eating Made Easy
, this Seattle-based nutrition expert showcases 75 easy anti-inflammatory recipes, so whether you're an accomplished cook or a complete beginner, you'll be able to create healthy meals that are loaded with anti-inflammatory ingredients. With chapters on Breakfast Dishes, Soups & Stews, Salads and Sides, Vegetarian Mains, Pescatarian Mains, Hint-of-Meat Mains, and Sesserts, there's something here for any time of the day. To learn more, click
here
.
Sponsored Links / Ads
More from HealWithFood.org