Carrot, Mango and Turmeric Smoothie
Makes 2 servings
This recipe pairs fresh mango with carrot juice to create a luscious, brightly-colored smoothie. The frozen banana this recipe calls for is added to give this vegan blend a creamy texture, while the turmeric powder ensures your body will get a generous dose of anti-inflammatory compounds.
Cook's Note: When making smoothies that use frozen bananas, there are a few steps you will want to follow in order to make sure your blender will be able to handle the frozen fruit with ease: First, peel the banana and cut it into bite-size chunks. Next, arrange the chunks in a single layer on a sheet pan lined with parchment paper, and place the sheet pan in the freezer. Once the chunks are frozen, transfer them to freezer-safe bags and store the bags in the freezer until you need the banana chunks for your smoothies.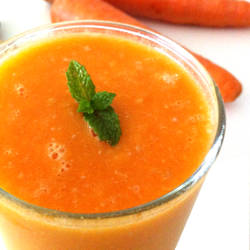 Ingredients
1 ⅔ cups carrot juice
1 ripe mango, peeled and pitted
1 ½ tsp pure turmeric powder
1 Tbsp chia seeds
1 banana, peeled, sliced and frozen
Water, as needed
Directions
Add the carrot juice to a large-capacity blender, followed by the remaining ingredients.
Blend until thoroughly combined, stopping to scrape down sides and to check the consistency. If the smoothie seems too thick, add some water.
Pour into tall glasses, and serve right away.
Book You May Like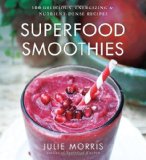 Stuck in a smoothie rut? There's no better place to look for inspiration than Julie Morris'
Superfood Smoothies
! Morris gives her vegan smoothies an extra health kick by using some of the most nutrient-dense natural ingredients on Earth. Hemp seeds, camu camu powder, maca, açai berries, chia seeds, chlorella, and goji berries are a few examples of the trendy superfoods that frequently pop up in this fascinating cookbook. Available from

Amazon.com
and

Amazon.co.uk
.
Sponsored Links / Ads