Recipe
Chocolate-Free "Chocolate Pudding"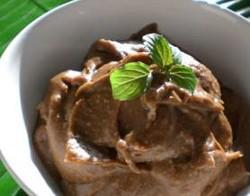 Ingredients
3/4 cup water
1/3 cup dates, chopped
1/8 tsp. salt
1/2 tsp vanilla
2 tbsp carob powder
1 1/3 cups hot cooked millet
Directions
Mix water and dates in a food processor, and process until smooth. Transfer to a saucepan and bring to a boil.
Remove from heat, and add rest of ingredients.
Blend until smooth. Chill and serve.