Kale, Pea and Avocado Soup (Dairy-Free)
Yields about 6 cups
This velvety green soup gets its creaminess from puréed avocado. In this super-nutritious dairy-free soup, creamy avocado is paired with kale, green peas and zucchini. Both kale and green peas are packed with beta-carotene, vitamin C and vitamin K, while zucchini provides texture and more vitamin C. Lemon juice is added to the soup to give it depth—and even more vitamin C!
Tip: Use unsalted or low-sodium vegetable stock for this soup, and let taste buds help you season it in the end. That way, you'll have more control over the flavor profile and sodium content of the soup.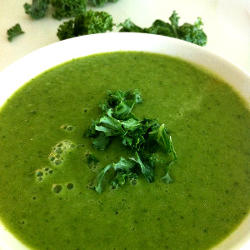 Ingredients
1 Tbsp olive oil
1 onion, chopped
1 1/3 tightly-packed cups shredded kale leaves
2 cups frozen sweet peas
1 small zucchini
2 cups all-natural vegetable stock
2 cups water
2 Hass avocados, peeled
Juice of 1 lemon
Salt, to taste
Directions
Chop the onion, and rinse the kale leaves, frozen peas and zucchini. Cut the zucchini into chunks.
In a medium saucepan, sauté the chopped onion in 1 tablespoon of olive oil.
Add the stock and water, and bring to a boil.
Add the kale, peas and zucchini, and cook for 3 to 5 minutes. Remove from the heat, and let cool slightly. Peel and pit the avocados.
Transfer the soup to a blender, and add the avocados and lemon juice. Puré until smooth and creamy. Depending on the size of your blender, you may have to do this in batches.
Garnish as desired, and serve warm. This recipe yields about 6 cups of soup.