Product Reviews
4 Great Nut Milk Bags You Can Buy Online
The great thing about making nut milk at home is that you don't necessarily need any special equipment. All you need are a few ingredients, a good blender that can handle nuts, and a clean cheesecloth or kitchen towel. However, if you plan on making non-dairy milks on a regular basis, you may want to get a good reusable nut milk bag that is easy to use and that won't rip or tear like a cheesecloth. Even the best nut milk bags are usually quite cheap, and you can buy them in many natural food stores in big cities like New York, Los Angeles, Toronto and London. You can also buy nut milk bags online, for example through Amazon. Below are four great reusable nut milk bags that you can buy on Amazon and that have received great reviews from the online retailer's customers in North America and/or the UK.
1. Ellie's Best Pro Quality Nut Milk Bag
Ellie's Best reusable nut milk bag has been advertised as the #1 top-selling large nut milk bag on Amazon, and it is available both from the online retailer's global store and its local stores in the UK and Canada. Made from fine-mesh nylon cheesecloth, this commercial-quality nut milk bag gets points for its wide opening and rounded corners which help eliminate food waste and messy pouring. In addition to straining nut-water mixture, it can also be used as a fine all-purpose strainer or a cold brew coffee filter. Check it out on Amazon here if you live in the US or Canada, or here if you would like to buy it in the UK.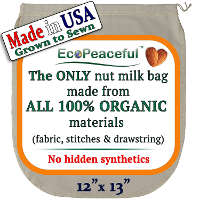 2. Organic Cotton Nut Milk Bag by EcoPeaceful
EcoPeaceful's nut milk bag hasn't been available on Amazon as long as many of the competing products, but it has managed to get a lot of great reviews from the online retailer's customers, and it's easy to see why. Unlike many other nut milk bags on the market, this one is 100% cotton, meaning that not only the fabric but also the stitches and the drawstring are cotton. And, the cotton used is certified organic! The main downside is that cotton is not naturally anti-bacterial, which is why this nut milk bag is not recommended for sprouting. If you are looking for a nut milk bag made of all-natural materials that also has anti-bacterial properties, you might want to get a nut milk bag made of hemp and linen instead (see below). Those who prefer a cotton nut milk bag can buy EcoPeaceful's cotton nut milk bag here.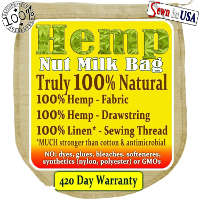 3. Hemp Nut Milk Bag by EcoPeaceful
Here's another nut milk bag from the family-owned, Nevada-based EcoPeaceful. Just like their organic cotton nut milk bag (see above), this product is made from all-natural materials: the fabric, drawstring and loop are made of unbleached hemp, and the sewing threads are linen (flax). Hemp is rougher than cotton, and hemp nut milk bags are generally considered better than cotton nut milk bags in terms of strength and durability. An added bonus is that this bag is also suitable for sprouting because of its anti-bacterial properties. The only thing you might find unappealing about this bag is that it has a hempy smell, but luckily the smell will disappear after a few washes. To learn more about this eco-friendly nut milk bag, click here.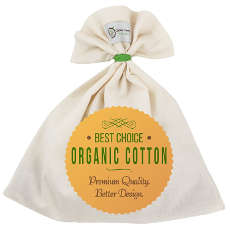 4. Drawstring-Free Nut Milk Bag by Organic Family Products
If you are looking for a reusable nut milk bag made from organic cotton, here's another one you might to consider. This one has an innovative drawstring-free design, which makes it easy to close and open, even when it's wet or hot. What's also great about this nut milk bag is that it has a seamless bottom, so you can squeeze without having to worry about busting a seam on the bottom. Thanks to its drawstring-free design and seamless bottom, and the high-quality materials used to make the bag, this nut milk bag has received tons of excellent reviews which you can read here.