Sage Tea for Sweating and Menopausal Hot Flashes
Herbalists have been recommending sage tea for women suffering from excessive sweating and hot flashes for years, and now also Dr. Oz, America's most famous TV doctor, has given his thumbs up for sage extract as a natural remedy for night sweats and hot flashes. For the millions of women plagued with hot flashes caused by hormonal changes occurring in the woman's body during the menopause, this certainly gives hope. But is there any actual scientific proof to back up the claims made about the anti-perspirant (anti-sweating) effects of sage tea or sage extracts? In this article, we review the results of scientific studies that have focused on the potential of sage (Salvia officinalis) to fight excessive sweating and hot flashes.
Study 1: Effects of Sage and Alfalfa in Menopausal Women
In the late 1990s, a team of Italian scientists conducted a study to evaluate the effects of a product containing sage leaf extract and alfalfa (Medicago sativa) in menopausal women. During the three month study period, hot flushes and night sweating completely disappeared in 20 of the 30 women who participated in this study. In addition, four of the remaining women showed "good improvement", and even the other six were reported to experience a reduction in symptoms. This study was published in the May 1998 issue of the Italian journal Minerva Ginecologica.
Study 2: Effects of Pure Sage on Hot Flashes in Women
In a groundbreaking study conducted in Switzerland, menopausal women with at least five daily hot flushes were treated with a daily tablet containing fresh sage leaves for eight weeks. The results were impressive: on average, the total number of daily hot flushes decreased significantly each week, from week 1 through week 8. Furthermore, the average number of hot flushes classified as mild, moderate, severe, and very severe decreased by 46%, 62%, 79%, and 100%, respectively, during the eight-week trial period. This study appeared in the June 2011 issue of the journal Advances in Therapy.
Study 3: Efficacy of Sage in Controlling Hot Flashes in Prostate Cancer Patients
Sage tea has been widely touted as a natural remedy for women suffering from night sweats and hot flashes, but this powerful herbal remedy may also offer some interesting benefits for men. A single-centre prospective pilot study published in the February 2012 issue of the journal Phytotherapy Research found that prostate cancer patients going through androgen deprivation therapy (ADT) experienced a significant drop in the number of hot flashes when the men were treated with Salvia officinalis extract. Furthermore, the treatment, which consisted of three daily doses of the extract, caused no side effects in the study participants.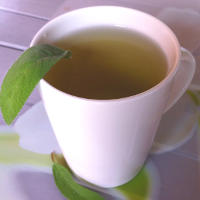 How to Use Sage to Reduce Sweating and Hot Flashes?
If night sweats and hot flashes are bothering you and you would like to give sage a try, check out the tips below on how you can use this medicinal herb. Note, though, that sage contains thujone, a substance that may cause side effects and adverse reactions if ingested in high amounts. Therefore, you should never exceed the dosage recommendations provided by the supplement manufacturer (in case you're using sage in supplemental form). If you're planning to use sage as a medicine or if you have an existing medical condition or are taking any medications, you should also talk to your doctor before using sage.
Use it in cooking: If you have a warm and sunny spot on your balcony or in your garden, get a sage bush from the local nursery, and use the fresh leaves in your culinary creations. With its savory taste, fresh sage blends particularly well with foods like anchovies, capers, citrus fruit, cranberries, beef, poultry, seafood, garlic, green beans, mushrooms and nuts.
Get sage tea: This is one of the easiest and most natural ways to reap the health benefits of sage, including its anti-perspirant effects. Amazon's US branch has an impressive range of sage leaf teas available here , while the online retailer's UK branch caters to the shopping needs of sage tea fans here .
Make a foot bath for sweaty feet: Do you suffer from excessively sweaty feet? Some herbalists recommend soaking sweaty feet in a large container filled with warm water and chopped fresh sage.
Book You May Like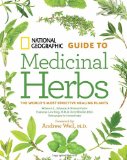 Looking for a well-researched guide on medicinal herbs from qualified botanical and medical experts?
This compelling book published by
National Geographic
provides invaluable information about the health benefits of 72 of the world's most common and powerful medicinal herbs, covering both information about their traditional medicinal uses and findings of modern scientific studies.
Available from Amazon
.