10 Ways to Use Mesquite Powder: Recipes and Ideas
Mesquite powder (or mesquite meal, as it's sometimes called) is made from the sweet pods of the mesquite tree. Mesquite powder has a sweet, molasses-like flavor with a hint of caramel, which makes it a great ingredient for both sweet and savory recipes. From healthy beverages to delectable desserts, here are 10 tasty ways to use mesquite powder:
1. Add Mesquite Powder to Homemade Nut Milks
With its sweet yet complex flavor, mesquite powder makes a great addition to any homemade nut milk, whether it's hazelnut milk or almond milk, or any other type. So, next time you make nut milk, stir in a bit of mesquite powder at the end of the process, after you have strained the mixture through a nut milk bag.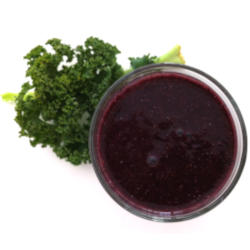 2. Mix it into (Green) Smoothies for Added Sweetness
One of the easiest ways to use mesquite powder is to sneak it into homemade smoothies. Especially green smoothies, which pair fruit with vegetables, can benefit from the slightly sweet flavor of mesquite powder because they are typically not as sweet as smoothies that only contain fruit. Here's a recipe for a mesquite-enriched superfood smoothie that pairs kale with blueberries and pomegranate to ensure you get your daily dose of superfoods:
Add 1 cup of water, 1 ripe banana, 1 cup of shredded kale leaves, 1 cup of frozen blueberries, 1/2 cup of pomegranate arils, and 2 teaspoons of mesquite powder to a blender.
Process until smooth, adding more water to thin it out if needed.
3. Use it as a Gluten-Free Substitute for Wheat Flour
Mesquite powder is naturally gluten-free, and it can be used to reduce the amount of gluten in baked goods. When baking with mesquite, try substituting up to 25 percent of the wheat flour your recipe calls for with mesquite powder. Since mesquite is naturally sweet, you may also want to consider reducing the amount of regular sugar and other sweeteners in your recipe.
4. Incorporate it into Casseroles and Stews
Casseroles and stews are the ultimate one-pot meals, and adding some mesquite powder to these one-pot dishes can give your meal a boost of nutrition and flavor. Whether you are cooking for a potluck or just the family dinner, it's hard to go wrong with a casserole or stew seasoned with a bit of nutrient-dense mesquite powder.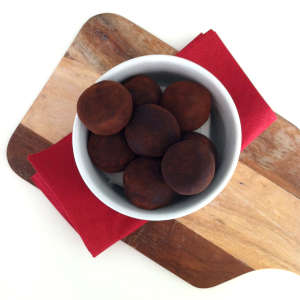 5. Pair Mesquite with Cacao Powder
Mesquite and cacao form a great flavor pairing, and mesquite powder makes a nice addition to everything from hot chocolate to raw food energy balls and power bites. Here's an easy recipe for "raw" chocolate mesquite energy balls:
In a small but powerful food processor, puree 1 cup of soaked and drained cashews or other similar nuts, 1 cup of pitted Medjool or regular dates, 1/4 cup of unsweetened raw cacao powder, and 2 teaspoons of raw mesquite powder until smooth.
Lightly dampen your hands and roll about a tablespoon of the mixture between your palms to form a bite-size ball. Repeat this step until all the mixture is gone.
Dust the balls with cacao powder, and refrigerate for at least an hour prior to serving.
6. Make Cacao-Free "Hot Chocolate" Using Mesquite Powder
Not only does mesquite powder pair well with cacao, it also makes a good substitute for cacao powder in some recipes. Next time you're craving a hot, comforting drink, try making cacao-free "hot chocolate" using mesquite powder instead of cacao powder. Simply dissolve some mesquite powder into hot water or milk, and add a bit of vanilla for added flavor. If the drink is not sweet enough to your liking, add some honey, or sweeten with a low-calorie sweetener such as monk fruit or stevia.
7. Sprinkle it on Roasted (or Grilled) Vegetables
Try sprinkling some mesquite powder on roasted (or grilled) vegetables. Especially roasted winter squashes and root vegetables like carrots and beets can get a real lift from a bit of mesquite powder sprinkled on top of them. If you need information on how long it takes to roast different vegetables in an oven, here's a chart that shows the ideal roasting times for different vegetables.
8. Use Mesquite Powder in Salad Dressings
With its molasses-like flavor, mesquite powder adds sweetness and complexity to salad dressings. As mesquite contains a good amount of protein, adding a bit of mesquite powder to a salad dressing is also a great way to boost the protein content of salad dressings, which typically contain very little, if any, protein. Here's a simple recipe for an oil- and vinegar-based salad dressing that features mesquite powder:
Pour 6 tablespoons of extra-virgin olive oil and 2 tablespoons of red balsamic vinegar into an empty Mason jar.
Add 1 teaspoon of Dijon mustard, 2 tablespoons of chopped sun-dried tomatoes, 2 teaspoons of minced garlic, 1 teaspoon of mesquite powder, and salt and freshly-ground black pepper to taste.
Screw on the lid and shake well to combine the ingredients. Refrigerate for at least 1 hour.
Shake well before pouring the dressing over your favorite salad.
9. Add Mesquite Powder to Homemade Nut Butters
Still need more ideas on how to use mesquite powder? Why not try adding some mesquite powder to homemade nut butter for that hint of caramel and molasses flavor? Of course, you can also use mesquite powder to add flavor to store-bought nut butters, but homemade nut butters are just so much better than their store-bought counterparts. Plus, if you have a good blender that can turn nuts into nut butter, making a batch of nut butter at home is a cinch.
10. Consider Freezing Mesquite Powder for Later Use
Mesquite powder keeps just fine at room temperature. But if you have a lot of mesquite powder in your pantry and you fear you won't be able to use it all up before it expires, you can always freeze some of it for later use. To freeze mesquite powder, simply put it in an airtight freezer bag, removing as much air as possible, and pop the bag into the freezer for storage.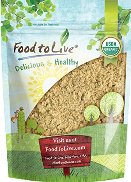 Can't wait to start using mesquite powder?
If you got inspired by our mesquite powder recipes but don't have this versatile ingredient in your pantry yet, you can buy Food to Live's top-rated, certified organic mesquite powder through Amazon here (affiliate link).