Small Glass Blenders – Top Picks
Small blenders, such as those personal blenders that make single-serve smoothies, are popular among smoothie lovers who have limited space in their kitchen. While most of these blenders come with plastic cups, there are also some small blenders with glass jars. If you are looking for a small glass blender, here are some great choices: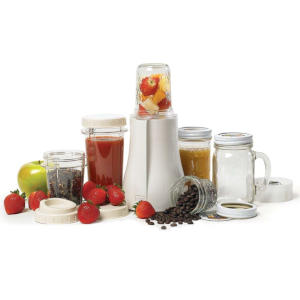 1. Tribest PB-350 Mason Jar Blender
If you are looking to buy a single-serve blender with a glass jar, you should definitely check out the Tribest PB-350. With this small, mason jar compatible blender, you will be able to blend directly into glass mason jars, which means less hassle and fewer cups to wash. And, thanks to the screw-top lids, you can also store your smoothies in the same glass jars. What's more, as the Tribest PB-350 is compatible with most regular-mouth Mason jars and mugs, spare glass jars are cheap and readily available, and you can turn them into to-go cups with protective mason jars sleeves!
2. Tribest PBG-5050 Personal Glass Blender
TribestLife has been one of the fastest companies to respond to the increasing consumer demand for glass blenders, and also the second blend on this list of top small glass blenders comes from this California-based company focused on healthy kitchen gadgets. The Tribest PBG-5050-A is a simple, small blender that features a variable speed dial and 1-touch pulse button, which make it easy to use. It comes with 8-oz, 16-oz and 24-oz glass jars plus fitting lids, so you can also store your smoothies in the jars. Available from Amazon.
3. Kacsoo S610 Cordless Blender with a Glass Bottle
If you are looking for light, portable blender with a glass bottle, this cordless mini blender from Kacsoo might be a good choice for you. The bottle is made of borosilicate glass, and it should fit most car cup holders. The battery of this portable personal blender can be charged via USB. This compact blender is available here through Amazon.
4. Hamilton Beach 58161 with Glass Pitcher
If you are on the market for a compact but powerful countertop blender with a glass pitcher, be sure to check out the Hamilton Beach 58161 Blender. This small but mighty 700-watt blender comes with a 40-oz glass blending container, as well as a 20-oz blend-and-go plastic cup. With 12 blending functions including Pulse and a motor that is strong enough to handle ice cubes, the Hamilton Beach 58161 is inarguably one of the most versatile small glass blenders out there. Check it out on Amazon.
5. Tribest PBG-5001 Vacuum Blender
Here's yet another great Tribest blender you might want to consider if you are looking for a small glass blender. To our knowledge, the Tribest PBG-5001 is the first glass vacuum blender available in North America, and even though it does not have as much power as some of the top vacuum blenders, such as the Kuvings Vacuum Blender SV-500 or the Tribest Dynapro, this small blender is capable of handling a wide variety of ingredients. If you are thinking about getting this blender primarily because of the benefits of vacuum blending, you should note, though, that the vacuum pump is only compatible with the 42-ounce tempered glass pitcher, not with the smaller glass jar that is included as a bonus.