Single Serve Blender with Glass Containers: Tribest PB-350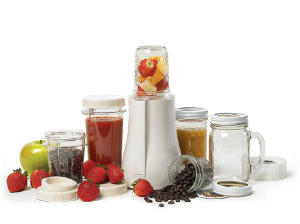 Tribest's PB-350 single serve smoothie maker with glass Mason jars is definitely one of the most interesting machines we've seen in the mix-and-serve category in the blender industry in recent years. While nearly all single serve blenders out there feature plastic containers – some of which may be BPA-free, some of which are not – this extraordinary blender uses real Mason jars made of glass which, or course, are naturally BPA-free.
BPA-free alternative to blenders with plastic containers
BPA, which is short for Bisphenol-A, is a toxic chemical that is frequently found in small amounts in foods and drinks prepared or stored in kitchenware made of regular hard plastic. BPA is a known endocrine disruptor (a substance that can interfere with the production and function of hormones within your body), and studies have linked excessive exposure to BPA to everything from asthma, polycystic ovary syndrome (PCOS), fertility problems, cancer, diabetes, and neurological disorders. While all sorts of products made of presumably BPA-free plastic are today marketed across the US and UK, the best way to protect yourself and your family from BPA – and other similar endocrine disruptors – is to use kitchenware made of materials that are naturally BPA-free, such as glass or stainless steel. And that, of course, is where the Tribest PB-350 with its glass jars comes in!
Blend, serve, and store your smoothies in the same glass container
In addition to providing a great naturally BPA-free alternative to single serve blenders that feature plastic containers, the Tribest PB-350 smoothie maker also gets points for its simplicity: your fruit smoothies and shakes will be mixed, served and stored in the same glass containers. No pouring from the blender container into a serving jug, bottles, or glasses, no pouring of leftover smoothies into storage containers! And all of that, of course, means less waste, less dishwashing and less hassle.
Compatible with most regular-mouth Mason glass jars
Tribest's PB-350 single-serving blender is compatible with most regular-mouth Mason jars and mugs, including regular-mouth glass jars from the Ball and Kerr brands, the two most common US brands of Mason jars. This means that you will have no trouble finding new containers should any of the original containers ever break, or if you simply want to have more blending/serving containers in order to be able to make smoothies for more people. And the best thing is, you don't have to break a bank to get additional containers as Ball and Kerr Mason jars are widely available in the US and Canada!
Great for singles and couples – but also for families and party hosts
The Tribest PB-350 is a single-serve blender, which means that you can only blend one drink (for one person) at a time – perfect for people who live alone! But Tribest's PB-350 model is also great for couples and families: as the machine is compatible with most regular-mouth Mason jars, you can get a bunch of Mason jars and create even a larger number of blend-and-serve smoothies and shakes in a jiffy! And as every drink is blended directly into the serving cup, you have a lot less to clean up, which makes this compact glass jar blender perfect also for party hosts and busy parents!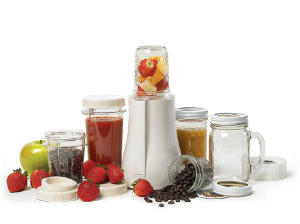 Why and where to get Tribest's PB-350 smoothie maker?
In addition to all of the more practical benefits described above, smoothies served in traditional Mason jar mugs will add rustic charm to any breakfast or brunch table, so there's also an esthetic aspect. With its BPA-free glass containers, Tribest's PB-350 also makes a unique and health-promoting gift for friends and family. If you live in the US or Canada, you can buy the Tribest's PB-350 blender or learn more about it through the following link:

Price information & reviews on Amazon

Note for UK customers: This product has been built to North American electrical standards. If you are looking to buy a blender with a glass container built to meet the British electrical standards, check out these blenders.