Product of the Week:
Silicone Sleeve for Mason Jars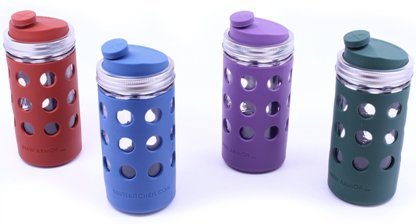 With their airtight screw-on lids, mason jars are perfect for storing foods both in the fridge and the pantry, and some mason jars can even be put in the freezer. But did you know that you can turn these glass jars that usually stay in your kitchen into portable jars that you can throw in your bag and take along when you leave home? By getting a silicone sleeve designed to fit mason jars you can transform an unassuming mason jar into a trendy and durable on-to-go companion that is perfect for taking your favorite beverage or a light lunch to the office, school or gym. As silicone is heat resistant, you can even hold and transport hot coffee in a mason jar encased in a silicone sleeve!
Below, we take a look at Brute Kitchen's Brew Armor silicone sleeves which have been designed to fit around 16-oz and 24-oz wide-mouth Mason glass jars from the Ball and Kerr brands, the two most common U.S. brands of mason jars. (Note: There are also sleeves for regular-mouth mason jars, but the Brew Armor sleeves discussed here are for wide-mouth mason jars.)
5 Reasons to Use a Silicone Sleeve to Turn a Mason Jar into a Portable Bottle
1. Glass does not absorb or impart funky odors or off-flavors
If you're fed up with cheap plastic bottles and lunch boxes tainting your drinks, lunches and snacks with funky odors and off-flavors, you should definitely consider transforming a mason jar into a portable glass bottle with a silicone sleeve. Silicone-encased glass jars are durable and portable just like their plastic counterparts, but unlike plastic bottles and containers, they won't absorb or impart odors and off-flavors.
2. Glass is naturally BPA-free
BPA, which stands for Bisphenol-A, is a controversial chemical that is frequently found in small amounts in foods and drinks that have been prepared or stored in kitchenware made of regular hard plastic. BPA is a known endocrine disruptor (a chemical that can mimic, or block, hormones), and some studies suggest excessive exposure to BPA may be linked to asthma, polycystic ovary syndrome (PCOS), fertility problems, diabetes, cancer, neurological disorders—the list goes on and on. While you can today buy all sorts of products made of presumably BPA-free in the US and UK, the best way to protect yourself and your family from BPA—and other similar endocrine disruptor—is to use bottles and containers made of naturally BPA-free materials, such as glass.
3. Replacement "bottles" are cheap and readily available
For the two reasons listed above, many consumers have switched to using silicone-wrapped glass water bottles and silicone-protected glass lunch boxes. However, buying a replacement glass bottle or container for these trendy products can be expensive in case you break the original one. Plus, it may be difficult to find replacement bottles, depending on the brand. The great thing about mason jars is that in case you break one, replacements are readily available, and you won't have to break a bank to get one!
4. Freezer-safe jars and silicone sleeves are a winning combo for busy people
Preparing drinks and soups ahead of time and freezing them until you need them is a great way to save time. And, if you freeze your drinks and meals in Ball's 16-ounce freezer-safe wide-mouth jars, which are compatible with Brew Armor silicone sleeves, you can simply take a jar out of the freezer, let it thaw a bit in the fridge, and then slip it into its silicone sleeve and take it to the office or school, or wherever you're going. Perfect for busy people on the go!
5. Silicone-encased mason jars are an eco-friendly alternative to plastic bottles
Disposable plastic bottles and containers create a tremendous amount of plastic waste each year and contribute to the expansion of our already overburdened landfills. The glass used for making mason jars, on the other hand, is 100% recyclable and can be recycled over and over without ever losing its quality.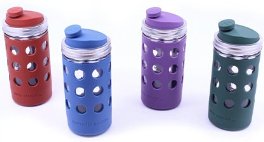 Where Can You Buy These Sleeves?
Can't wait to get one of these ingenious silicone sleeves for your wide-mouth mason jars? You can buy sleeves for 16-oz jars here (sold in packs of 2), or if you prefer the bigger version, then go ahead and buy a sleeve for a 24-oz jar here. By purchasing through these Amazon affiliate links, not only will you benefit from Amazon's attractive prices but you will also help support this site (without any extra cost on your part).