Product Spotlight
Mason Jar Insulator Sleeve for Regular-Mouth Jars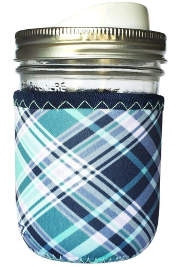 Made of synthetic rubber, the Koverz Mason Jar Insulator Sleeve has been designed to fit both regular-mouth and wide-mouth Mason jars. It is available in many different prints on Amazon.
Naturally free of controversial chemicals like BPA, glass Mason jars are perfect for storing foods both in the fridge and the pantry, and some Mason jars can even be put in the freezer. But did you know that you can turn these glass jars that are usually stay in the kitchen into portable beverage bottles and lunch boxes? Several shops are now selling silicone sleeves for Mason jars so you can take your drinks and meals to go without having to worry about the jar breaking right away.
Unfortunately, however, many of these protective sleeves have been designed for wide-mouth Mason jars, and those looking for a silicone sleeve or another protective cover for their regular-mouth Mason jars may have exited the stores empty-handed. The good news is that protective sleeves designed to fit regular-mouth Mason jars do exist! So, if you're looking for a sleeve for a regular-mouth Mason jar, it's time to get acquainted with the brand Koverz!
The brainchild of the "Mommy Inventor" Lindsay Wegesin, Koverz Mason jar sleeves fit pint size (16 oz) Mason jars, both regular-mouth and wide-mouth. In addition to providing impact protection, these sleeves keep warm drinks warm and cold drinks cold because they are made of neoprene, a synthetic rubber that provides thermal insulation. Mason jar sleeves made of silicone, by contrast, are not good insulators. What's also great about the Koverz Mason jar covers is that there are many prints to choose from, so everyone should find something they like. Also the colorful trim around the top of the sleeve adds a nice touch, plus it helps prevent fraying/wear along the edges. An added bonus is that these Mason jar sleeves are machine-washable.

Check out the Koverz Sleeves on Amazon.com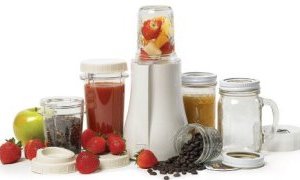 Perfect-Combo: Mason Jar Blender + Sleeve for Regular-Mouth Jars
Have you already heard of the Tribest PB-350, a Mason jar blender that lets you blend directly in Mason jars, saving you time and hassle? This smart blender is compatible with most 16-oz regular-mouth Mason jars, both Ball and Kerr jars, which means replacement and spare jars are cheap and readily available. It also means that if you want to take your smoothie to-go, all you have to do is dress your Mason jar with a fitting Koverz sleeve! To learn more about the Tribest PB-350, visit Amazon.com or Amazon.ca.
Sponsored Links / Ads
Don't Miss This

Bee's Wrap: An Alternative to Plastic Wrap
Looking for a toxin-free, eco-friendly alternative to plastic wrap? Look no further!
More to Explore