Smart Kitchen Tools
Silicone Baking Mat That's BPA-Free, Oven-Safe, and More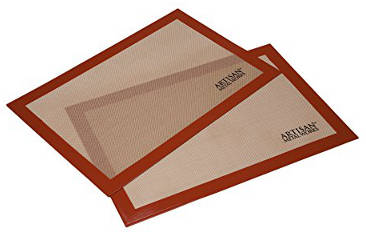 Some kitchen tools have uses beyond what they are sold for, which makes them extremely valuable compared to those single-purpose tools that you seldom use. If you are on a mission to smarten up your kitchen by stocking it with some of these multi-purpose tools, buying a good non-stick baking mat made of high-quality silicone should definitely be on your to-do list. A good silicone baking mat that withstands both high and low temperatures is one of the most versatile kitchen tools out there, and it can save you a lot of time and money in the long run.
While all non-stick baking mats make a great surface for rolling out dough, oven-safe and freeze-safe silicone baking mats are good for much more than that! If you've been looking for a multi-purpose silicone baking mat that can be used both in the oven and the freezer, be sure to check out Artisan's BPA-free silicone baking mats which are available through Amazon.com, Amazon.co.uk and Amazon.ca.
5 Uses for an Oven-Safe, Freezer-Safe Baking Mat
Kneading and rolling out dough on the kitchen counter means you have to use a lot of flour to prevent the dough from sticking to the counter. Non-stick baking mats eliminate this problem, plus it's much easier to clean a baking mat than a kitchen counter.
These durable mats replace rolls of parchment paper, and can be used over and over to bake cookies, breads and pizza in the oven. And, as they are non-stick, you won't have to worry about greasing pans or scrubbing off burnt-on bits of food.
Baking aside, you can also use these non-stick mats for roasting and dehydrating foods in the oven, often without the help of cooking sprays or oils. Just bear in mind that the temperature in the oven should not exceed 480°F (249°C).
Not only can Artisan's silicone baking mats be used in the oven, they can also be used in the microwave (note that not all oven-safe baking mats are suitable for use in the microwave, so make sure you read the product description carefully before purchasing if you choose another brand).
Freezing is a great way to preserve surplus food until you're ready to use it, but some foods tend to stick together when you freeze them. To avoid this, freeze sliced fruits and berries in a single layer on a baking sheet lined with a freezer-safe silicone baking mat or parchment paper first, and once they are frozen, transfer them to Zip-lock bags or containers for long-term storage in the freezer. While both parchment paper and a freezer-safe baking mat work for this trick, using a baking mat which you can use over and over again can save you money if you frequently freeze fresh produce.
BPA-Free Non-Stick Baking Mat
These non-stick baking mats are BPA-free. For those who missed the memo, BPA stands for bisphenol-A. Some experts believe excessive exposure to this chemical may lead to health problems due to its ability to affect the human hormonal system. However, the U.S. Food and Drug Administration (FDA) continues to allow the use of BPA in kitchen tools claiming that there is no scientifically significant evidence showing that normal use of products containing BPA poses a health risk. However, despite the FDA's stand, there's growing consumer concern over the safety of products containing BPA, and companies have responded by rolling out everything from BPA-free lunch boxes to BPA-free ice cube trays to BPA-free baking mats.
Easy Clean-Up
The non-stick properties of these silicone baking mats make clean-up a snap! Just was them with some soap and warm water, and let them air-dry. They are also dishwasher-safe (provided that you place them on the top rack), so you can also pop them into the dishwasher for a more thorough clean-up anytime you want.