In the Spotlight:
BPA-Free Ice Cube Trays (including Non-Plastic Molds)
If you still think that the ice cube tray that sits in your freezer is just for water, then you'd better think again. These unassuming molds are one of the most underrated kitchen tools – they can be used to make everything from regular ice cubes to frozen baby food, coffee and stock cubes! If you are looking to buy a new ice cube tray or mold and want to use it for more than just freezing water, get an ice cube tray that's of good quality, perhaps a plastic-free tray that's made of high-quality stainless steel, which is naturally BPA-free, or another non-plastic material.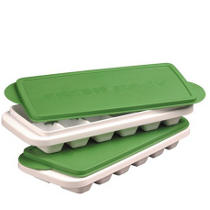 Search for a Non-Toxic Ice Cube Mold
Plastic molds may contain BPA (bisphenol-A), a controversial chemical that can act as an endocrine disruptor. Some scientists believe excessive exposure to these disruptors of the hormone-secreting endocrine system may play a role in the development of attention deficit disorder, asthma, learning disabilities, impaired brain development, breast cancer, prostate cancer, reproductive disorders such as polycystic ovary syndrome and infertility, behavioral problems, and a number of other diseases and health problems.
However, as of early 2015, the U.S. Food and Drug Administration (FDA) maintains that studies using standardized toxicity tests have shown BPA to be safe at the current low levels of human exposure. It did, however, end its authorization of the use of BPA in baby bottles and sippy cups in 2012, but according to the FDA, the basis for the ban was abandoned use, not safety.
Despite the FDA's stand on the issue, there's growing consumer concern over the safety of BPA, especially when used in containers that may be used to cook or store food for babies and small children. As a result of the growing consumer demand for BPA-free plastic products, you can today find everything from BPA-free ice cube trays to BPA-free electric steamers to BPA-free lunch boxes.
But according to a study published in the journal Environmental Health Perspectives in 2011, a BPA-free label on a plastic product does not guarantee that the product is free of endocrine disruptors. The scientists responsible for this groundbreaking study tested over 20 baby bottles and more than 450 plastic food and beverage-packages – many of which were BPA-free – and found that more than 90 percent of the tested products leached chemicals that can act as endocrine disruptors – just like BPA. Given the results of this study, it is not surprising that some extra-cautious consumers now refuse to buy plastic products altogether and are now looking for naturally BPA-free products made of non-toxic, non-plastic materials such as eco-friendly bamboo, glass and stainless steel.
If you're looking for a non-plastic ice cube tray made of a naturally BPA-free material, consider getting a stainless steel ice cube tray. Also many silicone ice cube trays are BPA-free, but to be on the safe side, look for a BPA-free label on the product – some colorants used in silicone molds are BPA-based.
3 BPA-Free Ice Cube & Frozen Baby Food Trays Worth Checking Out
Below, we take a look at three BPA-free ice cube and baby food trays available in the US, Canada and the UK. Note that this article contains affiliate links, which means that if you buy a product using any of those links, the author of this article will receive a small commission (without any extra cost on your part).

Fresh Baby's Single Serving Cube Tray
Made of BPA-free plastic
These phthalate-free and BPA-free trays made of eco-friendly biodegradable plastic are primarily marketed to moms looking to freeze baby food or breast milk in single-serving cubes, but they are also perfect for making ice cubes! Stackable and dishwasher-safe, these ice cube trays are made in the USA, and in addition to being free of BPA and phthalates, they are also free of latex and PVC. These baby food / ice cube trays also come with lids which help ensure your baby food and ice cubes remain hygienic in the freezer. For detailed information about the Amazon price and shipping costs for this product within the US, Canada or the UK, click on one of the following links:

Get it here

Get it here

Get it here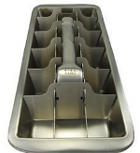 Onyx' Container's Ice Cube Tray
Made of stainless steel
This non-plastic ice cube tray is made of 18/8 stainless steel, the same metal that is used to make pans and other cookware and that is considered one of the safest materials for kitchenware that come in contact with food. Like other kitchenware made of stainless steel, this ice cube tray does not contain BPA, phthalates or PVC. Whether you want to buy one of these non-plastic trays, or whether you are simply interested in learning more, check out the following links:

Buy it here

Buy it here

Buy it here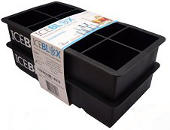 Multi-Functional Silicone Ice Cube Molds
Made of silicone
Also many silicone ice cube molds are labeled BPA-free. In addition, many of them are dishwasher-safe, and some of them are even safe to use in the oven and/or microwave (up to a certain temperature), which makes these trays extremely versatile. Silicon ice cube molds are also much more flexible than ice cube trays made with plastic or metal, which means frozen cubes of baby food, liquids and herbs pop out with ease. Check out the following links if you are interested in getting a BPA-free silicone mold:

Click here

Click here

Click here