4 Bread Machines That Make Normal, Long-Shaped Loaves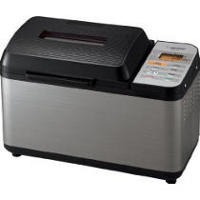 There's nothing better than a beautifully-shaped loaf of homemade bread. And now you can make nicely shaped, long, horizontal loaves even in an automatic bread machine. That's right – the days when bread machines only produced funky-looking tall loaves are long gone! Today, a number of bread machine manufacturers sell models that produce beautiful, horizontal loaves – the kind of loaves we also find in the grocery stores and bakeries. And the best thing is, you don't have to break the bank to get one as many of the modern bread machines designed to produce "normal shaped" loaves are today available at affordable prices. Below, we take a look at four modern bread machines all of which have been designed to produce long, horizontal-shaped loaves. Two of the machines included in this review have been built to meet the US/Canadian electrical standards, while the other two models have been designed for British homes.
Comparison of Top Breadmakers for Making Long, Horizontal-Shaped Loaves
The North American models covered in this review include Zojirushi's Virtuoso BB-PAC20 (a high end breadmaker) and Black and Decker's B6000C Deluxe Breadmaker (for lower budgets). For those living in the UK we've included two models: Breville's Twin Paddle breadmaker and Unold's 68511 Backmeister. All of these models are dual paddle bread machines, so you can be sure that all of the flour and other ingredients you place into the long, horizontal pan get incorporated into the dough. Furthermore, all of the bread machines included in this review feature a delay start timer (which allows you to delay the baking process by several hours – great if you want to have freshly baked bread when you wake up in the morning), crust color control (which gives you the choice of light, medium, or dark crust), viewing window (which allows you to look into the pan without lifting the lid), and keep warm function (which keeps your bread warm for up to an hour after the baking process is complete). In addition, all of the models included in the comparison chart below offer a gluten-free program for making gluten-free bread, as well as a special program for making jam.
1. Models built to North American electrical standards
Zojirushi BB-PAC20
Black & Decker B6000C
Paddle system
Dual
Dual
Custom program(s)
Yes
No
Preset programs
10
10
Jam program
Yes
Yes
Gluten-free program
Yes
Yes
Other cycles
See manual
See manual
Crust settings*
Light
Medium
Dark
Light
Medium
Dark
Loaf size options*
2 lb
1.5 lb
2 lb
3 lb
Viewing window
Yes
Yes
Delay start function*
Up to 13 hours
Up to 13 hours
Keep warm function*
Up to 60 min
Up to 60 min
LCD display
Yes
Amazon price
Click here
Click here
Click here
Click here
*May be available on select cycles/programs only (see user manuals for details)
2. Models built to meet British electrical standards
Breville Twin Paddle
Unold 68511 Backmeister
Paddle system
Dual
Dual
Custom program(s)
Yes
Yes
Preset programs
12
9
Jam program
Yes
Yes
Gluten-free program
Yes
Yes
Other cycles
See manual
See manual
Crust settings*
Light
Medium
Dark
Light
Medium
Dark
Loaf size options*
900 g
1,200 g
1,400 g
750 g
to
1,800 g
Viewing window
Yes
Yes
Delay start function*
Up to 15 hours
Up to 13 hours
Keep warm function*
Up to 60 min
Up to 60 min
LCD display
Yes
Yes
Amazon price
Click here
Click here