NutraMilk vs Vitamix Blenders
Published: February 1, 2019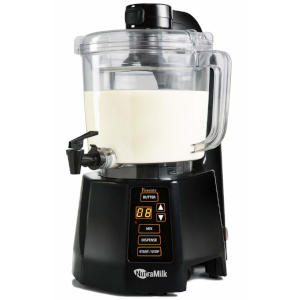 Do you love the idea of making your own almond and peanut butters? Or perhaps you are fed up with the store-bought nut milks that contain hardly any nuts, and would like to start making your own non-dairy milks?
The great thing is that there is no shortage of blenders and other kitchen appliances that promise to turn nuts into non-dairy butters and milks in a matter of minutes.
However, with so many options out there, choosing the best nut butter maker for your family's needs can be a daunting task.
Should you go for Vitamix, which creates some of the best blenders for making nut butters? Or, should you perhaps get the highly-praised NutraMilk, which has been marketed as the world's first dedicated nut butter and milk maker.
If you are on the fence about getting a Vitamix or the NutraMilk for making nut butters and milks, read on to get to the bottom of the NutraMilk vs Vitamix debate.
The Key Difference
If you like to make your own nut milks, the most important difference between the NutraMilk and a Vitamix blender is that the NutraMilk comes with a built-in filter, whereas a Vitamix blender does not.
Therefore, when making nut milk in a Vitamix, you will have to strain the nut-water mixture through a nut milk bag or cheesecloth if you want your nut milks come out nice and smooth every time.
Leftover Pulp
Because the 100 Mesh stainless steel filter of the NutraMilk only filters out the skins of the nuts, your non-dairy milks will be crammed with fiber and other beneficial nutrients. And, there will be virtually no leftover pulp.
By contrast, when you make nut milks using a Vitamix and a nut milk bag, you may be left with quite some nut pulp. Of course, that's not necessarily a bad thing as there are tons of delicious ways to use leftover nut pulp (check out, for example, these almond pulp recipes or our article about the best ways to use hazelnut pulp).
Dry vs Soaked Nuts
Blender experts very often recommend that you soak the nuts overnight or at least for several hours before processing them into non-dairy milks in a blender.
By contrast, when making nut milk in the NutraMilk, you should use dry, un-soaked nuts. If you want to soak the nuts, you can do so, but you will need to ensure they are completely dry by allowing the soaked nuts to dry for at least 8 hours.
Versatility
While the NutraMilk has been specifically designed to make nut butters and non-dairy milks, it can also make dips, spreads, smoothies, and more.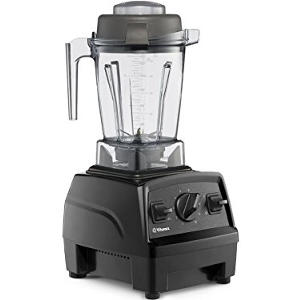 With a 2-HP motor and a compact 48-oz container, the Vitamix E310 Explorian Blender processes nuts with ease. Check it out on Amazon (affiliate link).
However, with a 500-watt motor the NutraMilk is not as powerful as the Vitamix blenders which have been designed to process a wide variety of ingredients, including ice cubes and tough, fibrous vegetables like kale and collards. If you want to use the NutraMilk to whip up a smoothie using frozen fruit, you will have to let the fruit thaw a little and then cut it into small pieces.
So, as far as power and versatility go, Vitamix wins hands down.
BPA-Free
Chances are you have already heard about the potential harmful effects of BPA. But, in case you missed the memo, BPA – which stands for bisphenol-A – is a controversial chemical that may cause health problems because of its ability to mimic estrogen in the body.
BPA is found in many consumer products, but the good news is that both the modern Vitamix blenders and the NutraMilk nut processor come with blending containers that are made from Tritan copolyester, which is BPA-free.
Price
The best Vitamix blenders for making nut butters and milks can be quite expensive, with the latest models carrying price tags of several hundred dollars.
But the NutraMilk is not a cheap gadget, either. Check the current price of the NutraMilk directly on the manufacturer's website, or check out the NutraMilk on Amazon.