NutraMilk: The Machine That Makes Non-Dairy Milks and Butters
The NutraMilk is a game-changing machine that simplifies the process of making non-dairy milks (aka mylks) and nut butters at home. A brainchild of engineer Brewista president Brian Gross, it processes nuts and seeds into non-dairy drinks and butters in just minutes, and is now available both in the US and the UK. Here, we review the pros and cons of the NutraMilk machine, plus provide tips on where to buy one.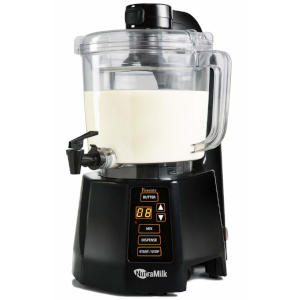 Homemade Non-Dairy Milks—without the Hassle
Making homemade non-dairy milks from nuts has traditionally been a cumbersome process that involves overnight soaking, blending, straining in a nut milk bag or a cheesecloth, and figuring out what to do with all that leftover nut pulp in order to avoid food wastage. The NutraMilk turns this once-tedious process into a fun activity for the whole family. Equipped with a heavy-duty motor and a built-in strainer, the NutraMilk processes nuts, seeds and grains into fresh alternative milks in minutes.
No pre-soaking required. When making nut milk in the NutraMilk, you won't have to pre-soak the nuts for hours or overnight—in fact, NutraMilk recommends using dry, un-soaked raw nuts and seeds! If you wish to pre-soak your nuts or seeds, you may do so, but before using them, you should ensure they are completely dry by allowing the soaked nuts or seeds to dry for at least 8 hours. The mixing function of the NutraMilk may not work properly with the added moisture from soaking.
No messy straining. When you make nut milk in a blender or food processor, you will usually have to strain the mixture using a cheesecloth or a nut milk bag if you want your non-dairy milk to have a smooth texture. Because the NutraMilk processes nuts and seeds into butter first, then mixes and emulsifies it with water, and finally filters out the skins of the nuts, your alternative milks will come out extra-smooth without messy straining. That's probably the most important difference between the NutraMilk and blenders like Vitamix.
The (almost) whole nut is used. Because the 100 Mesh stainless steel filter of the NutraMilk only filters out the skins of nuts and seeds, your non-dairy milks will be loaded of fiber and other nutrients. Plus, there will be virtually no leftover pulp, which is a great thing if you just want to make nut milk and don't want to spend your time looking for almond pulp recipes or trying to figure out what to do with that leftover hazelnut pulp.
How to Make Non-Dairy Milk (Mylk) in the NutraMilk
Nut and seed milks: Here's how to make non-dairy milks from nuts or seeds in the NutraMilk. For more detailed instructions, please refer to the user manual.
Put 1 to 3 cups of dry tree nuts, peanuts or seeds or grains in the inner container of your NutraMilk machine, and process them into butter.
Once the buttering process is complete, add 3 cups to 8 cups of cool water. Note that NutraMilk generally recommends using 1 cup of nuts or seeds for every quart (4 cups) of water.
Select the MIX cycle, and start the program. When the cycle is complete and your alternative milk is ready to drink, use the DISPENSE and the START/STOP buttons to dispense the milk.
Oat and rice milks: As explained above, the first step in the process of making alternative milks in the NutraMilk is to turn the nuts or seeds into butter. As oats and rice cannot be ground into butter, the process for making oat and rice milks is a little bit different. To make oat milk, process dry oats for 1 minute on the BUTTER cycle, and then follow the mylk making instructions above. To make rice milk, process dry rice for 2 to 3 minutes on the BUTTER cycle, and then follow the above instructions.
How to Make Nut Butters in the NutraMilk
Making nut butter in the NutraMilk is even easier than making nut milk. All you have to do is place 2 to 3 cups of dry nuts of your choice in this nut butter making machine, press the BUTTER cycle, and then start the machine. The default butter cycle time is 16 minutes, but you can adjust the desired time by pressing the UP or DOWN button.
In fact, if you are making almond butter in your NutraMilk, or almost any other nut or seed butter (with the exception of hazelnut butter and sesame seed butter), NutraMilk recommends adjusting the default butter cycle time. Here's a chart that shows you the ideal processing times for different types of nuts and seeds:
| Ingredient (2 cups) | Time |
| --- | --- |
| Almonds | 12-13 min |
| Brazil nuts | 2 min |
| Cashew nuts | 5-6 min |
| Hazelnuts | 15-16 min |
| Hemp seeds | 5-6 min |
| Macadamia nuts | 4-5 min |
| Peanuts | 2-3 min |
| Pecans | 3-4 min |
| Pistachio nuts | 5-6 min |
| Pumpkin seeds | 10-11 min |
| Sesame seeds | 15-16 |
| Sunflower seeds | 14-15 min |
| Walnuts | 5-6 min |
More Than a Non-Dairy Milk and Butter Maker
While the NutraMilk has been branded as the machine for non-dairy milks and butters, it is a multi-functional kitchen appliance that can do much more than just make alternative milks and butters. For example, you can use it to make dips and spreads, smoothies and smoothie bowls, and milkshakes. For ideas on what to do with your NutraMilk, check out the recipe section on the NutraMilk website.
The Cons
You've now learned about the pros of getting the NutraMilk, but what about the cons? Here are a few negatives you should be aware of:
You cannot make soy milk in the NutraMilk because making soy milk requires heating the beans, and the NutraMilk does not heat ingredients.
The mixing container is not designed to be placed into the fridge. Once the milk or nut butter is ready, you will have to transfer it into a separate container that you can put in the fridge.
The NutraMilk is not as good at processing frozen ingredients as some high-speed blenders. When making smoothies with frozen fruit, make sure the fruit are cut into small chunks before freezing. Or, if you are using store-bought frozen fruit, allow the fruit to thaw slightly, and then cut into small chunks.
Where to Buy
Once you have weighed the pros and cons of the NutraMilk and decided this non-dairy milk and butter making machine deserves a spot in your kitchen, you can buy it through the NutraMilk website and benefit from free ground shipping (to continental-USA destinations only).
You can also buy the NutraMilk through Amazon, whether you live in the US or the UK (subject to availability). For those who are still unsure about whether they should get the NutraMilk, Amazon is also a great to place to read some NutraMilk reviews.