Tribest Sedona Dehydrators – Also Available in the UK
If you're thinking about buying a Tribest Sedona dehydrator in the UK but don't know which model is best for you, or where to get one of these high-end dehydrators, you've come to the right place. In this article, we take a look at some the key features of Tribest's Sedona Classic, Sedona Combo and Sedona Express dehydrators so you'll have a better idea of which model offers the features you're looking for.
Please note that this article focuses on Tribest Sedona dehydrators you can buy in the UK. If you live in North America, check out the article on Sedona dehydrators sold in the US and Canada.
Sedona Classic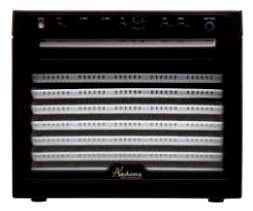 Highlights: 9 trays, 99-hour timer, 2 fans
With nine BPA-free trays, the Tribest Sedona Classic dehydrator provides plenty of drying space for your favorite vegetables and fruits. Like other Sedona dehydrators available in the UK at the time of writing, this model has a 99-hour timer, convenient pull-down glass door and adjustable thermostat with settings ranging from F30°C to 68°C. In addition, this model has two fans which can be used either simultaneously or independently, so you can save energy and reduce noise by turning off one of the fans when you are dehydrating a smaller batch of food.
Sedona Combo
Highlights: 9 trays, 2-stage timer, 2 fans
The Tribest Sedona Combo dehydrator offers many of the same features as the Sedona Classic, including 9 BPA-free drying trays, 99-hour timer, dual fan and temperature control. But unlike the Sedona Classic, the Sedona Combo uses Two-Stage Sequential Temperature (TST) technology, which means you can program your Sedona to start at a specific temperature to kick-start the dehydration process (FAST mode), and the unit will later switch to a lower temperature of your choice (CRUDE mode) to finish off the job.
Sedona Express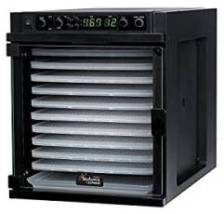 Highlights: Compact design, 2-stage timer, broad temperature range
Equipped with only one fan, the Tribest Sedona Express is more compact than the other two Sedona dehydrators sold in the UK at the time of writing, and it might be a good choice for you if you have a small kitchen. The Sedona Express dehydrator has a wider temperature range than the other two models, with settings ranging from 25°C to 75°C. With such as a wide range, it gives you even more control over the drying temperature than some of best Excalibur dehydrators sold in the UK. And, like Sedona Combo, the Sedona Express uses TST technology.
October 2016