Quest for the Best Excalibur Dehydrator Sold in the UK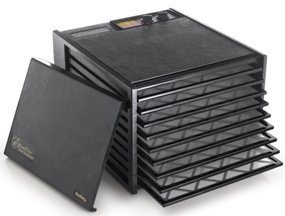 If you are looking for a spacious dehydrator with a timer, the 9-Tray Excalibur with a Timer might be a good choice. You can check the current Amazon price or read reviews of this model here.
If you are looking to buy an Excalibur dehydrator in the UK but don't know which model is best for you, sit back and keep reading. In this article, we take a look at a number of factors you should take into consideration when shopping for an Excalibur in the UK so you will have a better idea of which model is the right one for you. At the end of this article, you will also find links to relevant pages on Amazon's UK site so you can read some user reviews and compare prices before making a final decision.
Please note that this article contains affiliate links, which means that if you buy a product through those links, the author of this article may receive a small commission, without any change in price for you.
Finding the Best Model for You – A Few Things to Consider
Drying space
Unlike some other dehydrators sold in the UK, Excalibur's rectangular tray dehydrators have a fixed number of trays, so you will not be able to increase the drying space by adding more trays on top. This means it is important think about how much food you want to be able to dehydrate at once when shopping for an Excalibur dehydrator. If you decide to get one of their popular 9-tray dehydrators, you will get around 1.3 square metres of drying space, compared with around 0.74 square metres if you go for one of Excalibur's 5-tray models. For very small kitchens, there is also the Excalibur 2400, a compact no-frills model that provides about 0.37 square metres of drying space.
26-Hour Timer vs No Timer
Some Excalibur dehydrators available in the UK have a built-in timer with a maximum setting of 26 hours and an automatic shut-off function. These models might be a good choice for those who tend to forget things because they can be programmed to run for up to 26 hours, after which they will automatically shut themselves off. If you think you need a timer with an even higher maximum setting, check out the Tribest Sedona Dehydrators sold in the UK – these high-end dehydrators share many of the same features as Excalibur dehydrators, but they come with a 99-hour timer.
Plastic vs Stainless Steel Trays
Many Excalibur dehydrators sold in the UK have plastic trays, but you can also buy models with stainless steel trays. While it may be easier to remove sliced fruits and other sticky foods from plastic trays, stainless steel trays are typically more durable than their plastic counterparts. Along with glass, high-quality stainless steel is also considered one of the safest materials for items that come in contact with food.
Reading Reviews & Comparing Prices on Amazon's UK Site
Once you have an idea of which Excalibur dehydrator best suits your requirements, you will probably want to read some reviews and do a little bit of research to find the best price on the Excalibur dehydrator you are thinking about buying. To get you started, here are some affiliate links to popular Excalibur models on Amazon's UK site:
Models with Plastic Trays
Models with Stainless Steel Trays

5-Tray Excalibur (comes with a built-in timer)

9-Tray Excalibur (comes with a built-in timer)