Dehydrator Reviews
TSM Dehydrators with All Stainless Steel Cases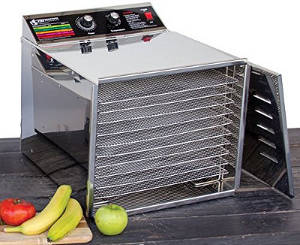 If you are on the lookout for a stainless steel food dehydrator that doesn't cost a fortune like those commercial-quality dehydrators that professional raw food chefs use, you should definitely check out TSM Products' D5 and D10 dehydrators. Both the inside and outside walls of these sturdy units are made of high-quality stainless steel, and the shelves are available in stainless steel or chrome-plated metal. Keep reading to learn more.
Spacious Trays
If you are looking for a family-sized dehydrator made of stainless steel, the TSM D10 Dehydrator might be a good choice. This large-capacity TSM dehydrator provides a whooping 16 square feet of drying space, which is equivalent to the drying space you get if you buy the 10-Tray Excalibur. TSM Products' D5 model provides half of that, or 8 square meters, which is not bad, either. What's more, as the trays of the D10 and D5 are rectangular rather than round, you will have plenty of space to dry long pieces of food as well.
All Stainless Steel Case
If you are looking for a food dehydrator with stainless steel trays, one of the popular Excalibur or Sedona dehydrators should fit the bill. However, if you want a dehydrator that not only has stainless steel trays but that also has a stainless steel case, both inside and out, most Excaliburs and Sedona dehydrators won't fit the bill as their cases are heavy on plastic (the Excalibur EXC10EL with its all stainless steel case and glass door is an exception). One of most important differences between Excalibur and TSM dehydrators, and Sedona and TSM dehydrators, is that the entire case (exterior and interior) of the TSM D10 and D5 dehydrators is made of stainless steel. Also the drying trays are made of stainless steel, or in some cases chrome-plated metal.
Horizontal Airflow
TSM Products' stainless steel dehydrators have back-mounted fans, just like their commercial-grade models, which results in horizontal air flow. Many experienced dehydrator users prefer dehydrators that provide horizontal airflow over models with bottom-mounted fans because horizontal airflow means hot air is distributed more evenly across the trays. Dehydrators with bottom-mounted fans, by contrast, promote uneven airflow, and you will have to manually rotate the trays to get good results. Another benefit of getting a dehydrator with a fan in the back is that you won't have to worry about drippings from foods soiling the fan.
Adjustable Thermostat
Unlike some cheaper dehydrators out there, every new stainless steel TSM dehydrator you can buy on Amazon at the time of writing comes with an adjustable thermostat. Having control over the drying temperature is important because different types of foods have different optimum drying temperatures. For example, meat should be dried at a relatively high temperature, while vegetables and fruits are best dried at lower temperatures.
Stainless Steel TSM Dehydrators vs Excaliburs (5- and 10-Tray Models)
The following chart allows you to compare TSM Products and Excalibur's 5-tray (or 8 sq. ft.) and 10-tray (or 16 sq. ft.) models side by side. Note, though, that dehydrator manufacturers can change product specifications without notice, and there is no guarantee that the information and the links below are still accurate. Contact the manufacturer/seller to get the latest information.
1 P=Plastic; SS=Stainless steel
2 There are two versions of this model: D500SHD, which comes with a stainless steel door, and D500CDSHD which has a see-through door made of clear plastic. The links in the comparison chart above take you to the Amazon product page for the model with the stainless steel door; if you are interested in the model with the clear door instead, click here.