Health Benefits of Black Elderberries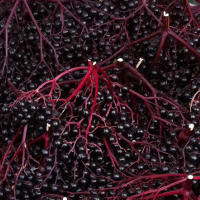 Elderberries, the tart black berries of the elder tree (Sambucus nigra), are highly valued for their medicinal properties in many European countries. Whether consumed in the form of jam, juice, syrup, or wine, these super-berries can enhance your health by boosting your immune system, providing copious amounts of antioxidants, and supplying your body with fiber. To get the full scoop on the health benefits of black elderberries, keep reading.
Proven Immune-Boosting and Flu-Fighting Properties
If you're prone to catching colds and the flu, consider incorporating some elderberries into your current cold and flu prevention diet. Elderberry juice and elderberry tea are age-old remedies for the common cold, sinus infections, and other illnesses caused by a weak immune system, and modern scientific research seems to validate the use of elderberries as a natural immune-booster.
In 1993, a placebo-controlled, double blind study investigating the flu-fighting effects of a standardized elderberry extract (Sambucol) was carried out during an outbreak of influenza B in Panama. A significant improvement in influenza symptoms, including fever, was seen in 93.3% of the cases in the elderberry-treated group within two days, and by the third day, nearly 90% of the patients had been completely cured. In the placebo group, a complete cure was achieved within at least six days. This study appeared in The Journal of Alternative and Complementary Medicine in winter 1995.
In another study, sixty Norwegian adults suffering from influenza-like symptoms for 48 hours or less were enrolled in a randomized, double-blind, placebo-controlled trial during the influenza season of 1999-2000 in Norway. The participants received either 15 milliliters of elderberry syrup or placebo syrup four times a day for 5 days. In the elderberry group, the symptoms were relieved on average 4 days earlier than in the placebo group. This study was published in the April 2004 issue of the Journal of International Medical Research.
Elderberries Are One of the Best Sources of Antioxidants on Earth
When it comes to the best natural sources of antioxidants, black elderberries are right up there at the top of the list. In the berry and fruit category, only aronia berries have been reported to exert stronger antioxidant effects than elderberries. The antioxidant properties of elderberries have been attributed to their high concentration of phenolic compounds (particularly anthocyanins), but also the high levels of vitamin C in these tart black berries may play contribute to their exceptionally strong antioxidant properties.
Foods rich in antioxidants are believed to protect against many age-related diseases and conditions, including cardiovascular disease, cancer, macular degeneration, and Alzheimer's disease. Antioxidant-rich foods such as elderberries are also among the best anti-wrinkle foods due to the ability of antioxidants to neutralize free radicals, unstable oxygen molecules that can cause sagging skin, fine lines and wrinkles.
Shopping Tip
Can't find elderberry products in the health food stores in your area? The online retailer Amazon has a wide range of elderberry products available
here
(

for US customers) and
here
(

for UK customers).
Elderberries Are Packed with Fiber
Elderberries are supercharged with fiber, with 100 grams (3.5 ounces) of elderberries providing a whopping 28% of the daily value for this vital nutrient. As you may already know, a diet rich in fiber may provide you with a number of interesting health benefits, including healthy bowel movements and overall improved intestinal health, lower cholesterol levels, improved insulin sensitivity, and weight loss (when combined with regular exercise and an overall healthy weight loss diet).
Note: Only whole and powdered elderberries (fresh or dried) contain fiber in significant quantities. Liquids derived from elderberries, such as elderberry juice, syrup, tea, and wine – are not a good source of fiber.
Book You May Like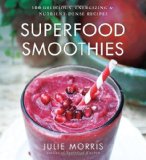 Stuck in a smoothie rut? There's no better place to look for inspiration than Julie Morris'
Superfood Smoothies
! Morris gives her vegan smoothies an extra health kick by using some of the most nutrient-dense natural ingredients on Earth. Hemp seeds, cacao nibs, maca, lucuma, açai berries, chia seeds, maqui berries, camu camu fruit, chlorella algae, and goji berries are a few examples of the newly rediscovered superfoods that frequently pop up in this fascinating cookbook.
Available from Amazon
.
Sponsored Links / Ads
More from HealWithFood.org