Salad Recipes for Treating Migraine Headaches
If you've been looking for salad recipes that can help bring relief from migraine headaches, look no further! This section provides a bunch of mouthwatering salad recipes featuring some of the best migraine-treating foods, including salmon, carrots, apples, ginger and goji berries. Bon appetit!
Tip: Before you set free the culinary prodigy in you and peruse the salad recipes below, make sure you have had a look at the section The Best Anti-Migraine Diet Tips and the section List of Foods for Preventing Migraines which focus on providing more general information about migraine headaches and nutrition.
Romaine and Smoked Salmon Salad
Serves 2
Salmon is rich in omega-3 fatty acids which have been shown to reduce the frequency of migraine attacks in some people. The body uses omega-3s for building strong cell membranes and nerve cells and to maintain elasticity of blood vessels. They are also known to have strong anti-inflammatory properties, which may also contribute to ability to prevent migraine episodes. Also the radishes featured in this salad have inflammation fighting activity. Note: Because of the smoked salmon it contains, this salad is not suitable for people whose migraine headaches are linked to tyramine intolerance.
Ingredients
1 small head organic romaine lettuce
5 ounces smoked salmon, thinly sliced
2 tomatoes, diced
4 radishes, thinly sliced
1 organic carrot, diagonally sliced
1/2 cucumber, peeled and diced
Juice of half a lemon
1 tsp fresh ginger root, peeled and minced
1 tbsp canola oil
Directions
Arrange romaine lettuce on two plates. Top with salmon, tomatoes, radishes, carrots, and cucumber.
Shake lemon juice, canola oil, and minced ginger in tightly covered jar. Pour over salad.
Apple and Carrot Salad with Goji Berries
Serves 4
Goji berries, apples and carrots are loaded with vital nutrients. Goji berries are particularly rich in magnesium, which has been shown to reduce headaches. Also the ginger featured in this salad can bring relief: In Ayurvedic medicine, ginger has been popularly used as a remedy for headaches, and anecdotal evidence supports the use of ginger to alleviate migraine headaches.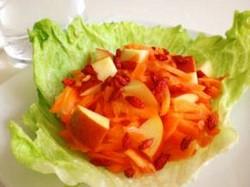 Ingredients
2 cup apples, diced
2 cup organic carrots, grated
1/2 cup Tibetan goji berries, soaked
8 tbsp apple juice
2 tsp fresh ginger, minced
4 tbsp extra-virgin olive oil
Lettuce leaves
Directions
Combine apple dices, carrots, and goji berries in a small bowl.
Mix apple juice, ginger, and olive oil in a separate bowl and drizzle over salad mixture. Toss gently and serve on lettuce leaves.
Want More Recipes?
For more recipes that can help you prevent migraine headaches, visit the main recipe directory of HealWithFood.org's Guide to Preventing Migraines.