Migraines & Diet: Soup Recipes for Severe Headaches
Are you eager to learn how to rustle up nutritious soups that can also help fight that throbbing pain associated with migraine headaches? The soup recipes presented below call for foods that have shown promise in migraine prevention.
Now, before you set free the foodie in you and get down to the headache-combating soup recipes below, you may want to take a look at the section The Best Anti-Migraine Diet Tips and the section List of Foods for Preventing Migraines which provide more basic information about diet and migraines.
Simple Sweet Potato Ginger Soup
6-8 servings
For those who suspect their migraine attacks are caused by certain foods this recipe provides a relatively safe option for a delicious soup. Sweet potatoes are one of the vegetables that are least likely to cause allergic reactions, such as migraine attacks, and ginger is well known for its ability to inhibit platelet aggregation.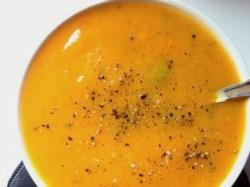 Ingredients
1 Tbsp canola oil
2 medium yellow onions, chopped
3 large sweet potatoes (pink, orange, or yellow variety), peeled and chopped
1 inch piece fresh ginger, peeled and finely chopped
6 cups low-sodium vegetable broth
Salt and pepper, to taste
Directions
Heat oil in a medium saucepan over medium heat. Add onions and sauté until golden.
Pour in the broth and bring to boil over medium-high heat. Add sweet potatoes and ginger, and reduce heat to medium-low. Simmer until sweet potatoes are easily pierced with a fork (about 20 to 25 minutes).
Working in batches, purée soup in a blender or use an immersible hand blender to blend soup until smooth. Season with salt and pepper to taste. Serve hot.
Swiss Chard and Thyme Soup
4 servings
This delicious, vibrant green soup draws on the health benefits of Swiss chard. The nutritional profile of Swiss chard makes it an excellent health food and an important vegetable for people who suffer from frequent migraine attacks thanks to its high concentration of magnesium. Ingredients
10 oz fresh Swiss chard
2 tbsp olive oil
1 yellow onion, chopped
4 cups vegetable stock
3 tbsp corn starch
1/4 tsp dried thyme
Salt to taste
Optional: fresh thyme sprigs, for garnish
Directions
Wash Swiss chard thoroughly. Drain and chop coarsely.
Heat olive oil and sauté onion in a large saucepan until golden brown.
Add stock and Swiss chard, and bring to a boil. Cook until chard is tender. Blend with a hand held blender until smooth.
Put two tablespoons of flour into a small bowl and add just enough warm to dissolve the flour. Use a small whisk to mix flour with water until you have a runny paste. Add half a cup of warm water to the bowl and mix. Pour mixture into saucepan and whisk to blend thoroughly.
Let simmer on low to medium heat for a few minutes, until thickened. Season with dried thyme and salt. Remove from heat.
Pour soup into serving bowls and garnish with fresh thyme sprigs, if desired. Serve immediately.
Want More Anti-Migraine Recipes?
For more recipes that can help you prevent migraine heasaches, visit the main recipe directory of HealWithFood.org's Guide to Preventing Migraines.