Blood Orange Juice: Calories and Nutrition Facts
Blood orange juice is supercharged with vitamin C and anthocyanin (anthocyanin is a health promoting nutrient that is also abundant in blueberries). This articles reveals how much vitamin C a 100-milliliter serving (corresponds to 0.42 cups) of blood orange juice contains. It also provides other nutrition facts, including information about the calorie, carbohydrate, fiber, sugar, protein, and sodium content of blood orange juice. As you will see, blood orange juice is practically fat-free, and it contains no cholesterol.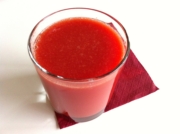 How many calories does blood orange juice provide?
Blood orange juice has about the same number of calories as regular orange juice: 100 milliliters of blood orange juice provides about 42 calories. This covers about 2% of a person's daily energy needs. Virtually all calories in blood orange juice come from carbohydrates, more specifically from sugars. Although vitamin-rich blood orange juice is certainly good for you, you should only consume it in moderation as too much sugar (even fruit sugar) is never good.
How much vitamin C does blood orange juice contain?
Blood orange juice is a good source of vitamin C: 100 milliliters of juice made from Italian blood oranges contains about 12 milligrams of vitamin C. The U.S. Recommened Daily Allowance for vitamin C (ascorbic acid) is set at 75 milligrams for women (90 milligrams for men). This means that drinking just one 8oz glass of blood orange juice fulfills almost 40 percent of a woman's daily requirement for vitamin C. Vitamin C is an important antioxidant, but it also known for its ability to stimulate collagen production. Vitamin C also plays an important role in the development and maintenance of bones and teeth.

Blood Orange Juice: Nutritional Information
Serving Size:
100ml (about 100g)
Note: The following nutrition fact lists for blood orange juice are not complete. Information about several vitamins (such as thiamin and folate), minerals (such as potassium), and other nutrients (such as anthocyanins) is excluded due to unavailability of accurate data.
Amounts
Kilocalories (kcal): 43
Protein: 0.5g
Total Fat: 0g
Saturated Fat: 0g
Carbohydrates: 10g
Fiber: 0.5g
Sodium: < 1.0mg
Cholesterol: 0mg
Vitamin C: 12mg
% Daily Value
Kilocalories (kcal): 2%
Protein: 1%
Total Fat: 0%
Saturated Fat: 0%
Carbohydrates: 3%
Fiber: 2%
Sodium: < 0.0%
Cholesterol: 0%
Vitamin C: 16% (women), 13% (men)
Methodology for calculating nutrition facts for blood orange juice:
The above amounts are averages calculated by HealWithFood.org based on data provided by various sources. The Percent Daily Values (% DV) shown were calculated using the Daily Values for Nutrients provided by USDA. The Daily Values are based on a 2,000 calorie diet. Your daily values may be higher or lower depending on your calorie needs.
Although we strive to make the nutrition data on this website helpful and accurate, we make no representation or warranty of any kind regarding it. HealWithFood.org assumes no responsibility for anyone's use of the information provided on this website.