Almond Meal, Blueberry and Vanilla Muffins (Grain-Free)
Makes 8 muffins
Almond meal made from unblanched almonds is low-glycemic, nutrient-dense and readily available. And you can even make your own almond meal from whole almonds using a countertop grain mill or a food processor. Almond meal is also Paleo-friendly and naturally gluten-free, which has contributed to the recent surge in its popularity as an alternative to wheat flour.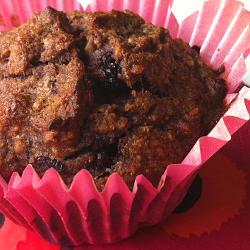 In this grain-free muffin recipe, almond meal comes together with antioxidant-rich blueberries and pure vanilla powder to create scrumptious muffins that are sure to please. Unlike vanilla extract which contains alcohol, pure vanilla powder contains nothing but dried, ground vanilla beans. When buying vanilla powder, make sure it is pure and natural* – many vanilla powders also contain sugar and/or synthetic extracts.
Other key ingredients in these grain-free muffins include black raspberry powder, honey, overripe bananas and eggs. The black raspberry powder is used to add flavor and antioxidants to these muffins, while the honey and mashed bananas add sweetness. As these muffins do not contain any other sweeteners, it is important that you use overripe bananas which are much sweeter than their unripe and ripe counterparts. As the bananas you find in the supermarkets are usually unripe or just ripe, you might have to buy the bananas for this recipe a few days in advance and let them ripen on the countertop. Best results are obtained when the bananas have already developed black spots on their skins – a sure-tell sign that they are overripe and extra-sweet!
When making these grain-free blueberry and vanilla muffins, it is important that you handle the eggs right, or you may end up with a batch of hard, dense muffins instead of scrumptious, fluffy treats. As this recipe uses no chemical leavening agents, you'll have to separate the egg whites and yolks, and then whip the whites into a light, airy foam before adding them into the batter. This airy egg white foam is what gives these flour-less blueberry and vanilla muffins their soft, moist texture.
Ingredients
3 eggs
1 ½ ounces (40 grams) walnuts, roughly chopped
7 ounces (200 grams) unblanched almond meal
2 Tbsp coconut oil
2 overripe bananas, peeled
1 ½ Tbsp honey
1 tsp pure vanilla powder*
1 ½ tsp black raspberry powder*
½ tsp cinnamon
4 ½ ounces (130 grams) blueberries
Directions
Separate the egg whites and yolks and set aside.
In a medium bowl, combine the egg yolks, chopped walnuts, unblanched almond meal, coconut oil, bananas, honey, vanilla powder, black raspberry powder and cinnamon to form a smooth batter. Gently mix in the blueberries.
Using a mixer, whisk the egg whites until they turn into fluffy white peaks, Then, gently fold the egg white foam into the muffin batter.
Spoon the mixture into into a muffin tin lined with paper liners, and bake in a pre-heated oven at 350°F (Gas Mark 4, or 175°C) for about 25 to 35 minutes You can test for doneness by inserting a toothpick in the center of one of the muffins – if the toothpick comes out clean, the muffins are done.
*Ingredient Finder
This muffin recipe calls for one or more ingredients that may be difficult to find at regular grocery stores. If you have trouble finding them in the stores in your area, you can always order them online:
Pure vanilla powder


Buy it on Amazon.com

Buy it on Amazon.co.uk

Black raspberry powder


Buy it on Amazon.com

Buy it on Amazon.co.uk
Note: By purchasing ingredients through the affiliate links provided in this section you can help keep HealWithFood.org up and running as HealWithFood.org may receive a small commission for purchases made through these links (of course without any extra cost on your part).
Book You May Like

Looking for a
cookbook dedicated to almond meal recipes
? In her debut cookbook,
The Gluten-Free Almond Flour Cookbook
, recipe developer Elena Amsterdam delivers
99 mouthwatering gluten-free recipes that use almond flour
instead of ready-made gluten-free flour mixes. Her focus is on family-friendly classics – such as pancakes, muffins, cakes, pies and burgers – which she then adapts to gluten-free almond flour. To learn more, go to
Amazon.com
,
Amazon.co.uk
or
Amazon.ca
.
Sponsored Links / Ads