Low Glycemic, Gluten-Free Recipes Featuring Almond Flour
Almond flour or meal is low-glycemic, nutrient-dense, easy to use, and readily available. And you can even grind your own almond flour from blanched whole almonds if you have a countertop grain mill at home. Almond flour is also naturally gluten-free – provided that it hasn't been cross-contaminated – and a popular choice among home cooks and bakers who are looking for gluten-free alternatives to wheat flour or other gluten-containing flours. In her debut cookbook The Gluten-Free Almond Flour Cookbook, wellness expert and gluten-free guru Elana Amsterdam issues a tempting invitation to gluten-free cooks and bakers who have longed for a cookbook dedicated to almond flour recipes. To learn more, keep reading.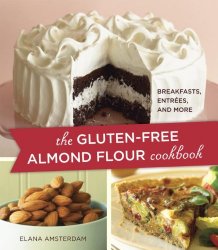 A Must-Have: The Gluten-Free Almond Flour Cookbook by Elana Amsterdam
For the millions of people suffering from some form of gluten intolerance, gluten-free cookbooks can be a real help and source of inspiration in the kitchen. Unfortunately, however, many of these cookbooks feature expensive and obscure gluten-free flour mixes. In her debut cookbook, The Gluten-Free Almond Flour Cookbook, recipe developer Elena Amsterdam delivers 99 mouthwatering gluten-free recipes that use simple almond flour instead of pre-packaged gluten-free flour mixes. Her focus is on family-friendly classics – such as pancakes, muffins, cakes, pies and burgers – which she then adapts to gluten-free almond flour. Although there are also entrees in this cookbook, much of the book is dedicated to gluten-free baking and sweet treats.
Still need convincing? How do these sound:
Vanilla Cupcakes with Raspberry Fig Filling
Date Pecan Muffins
Elana's Chocolate Chip Cookies
Cinnamon Apple Muffins
Black Bean Burgers
Muesli Bread
Pecan-Raisin Bread
Zucchini Bread
Broccoli Pizza
Savory Vegetable Quiche
Salmon Dill Burgers
Almond Macaroons
Kale Tart with Cranberries
Who Should Get This Cookbook?
The Gluten-Free Almond Flour Cookbook is a great option if you are looking for easy, low-glycemic gluten-free recipes that use simple ingredients such as almond flour. In addition to being gluten-free, most of the recipes are also vegetarian and dairy-free, and about 30 of them are vegan. The focus of the book is on lightly-sweetened desserts, breakfast dishes and baked goods, but you will also find a number of recipes for savory entrees. With simple recipes and gorgeous full-color photographs peppered throughout, this book also makes an attractive gift, not only for gluten-intolerant home cooks and baking enthusiasts but for anyone interested in creating filling, low glycemic desserts, breakfast dishes and meals that are high in protein and fiber and low in carbs, dairy and saturated fats. To snag a copy of this fascinating gluten-free almond flour cookbook, head to Amazon.com, Amazon.co.uk or Amazon.ca.
What Else You Should Know
In her gluten-free almond flour recipes, Amsterdam uses flour made of blanched almonds (almonds that have had their skin removed) and does recommend using unblanched almond flour for her recipes. What's more, she recommends selecting brands like Honeyville (available through Amazon here) or Lucy's Kitchen Shop rather than the popular Bob's Red Mill almond flour which has a rather coarse texture and is not well suited for her recipes.
Sponsored Links / Ads
You May Also Like

Omega-3 Content of Wild vs Farmed Salmon
How farmed salmon compares to its wild counterpart in terms of omega-3 fatty acid content.
More Cookbooks