Weekly Smoothie Challenge
Berrylicious Purple Sweet Potato Smoothie
2 Servings
All of the key ingredients in this week's smoothie – purple sweet potato, blueberries and aronia berry juice – are supercharged with anthocyanins, flavonoid pigments with strong antioxidant and health-protecting properties. To maximize the antioxidant properties of this "berrylicious" smoothie, use wild blueberries if you can find them – wild blueberries have been shown to possess even stronger antioxidant properties than their cultivated cousins.
The basic recipe below uses banana for creaminess, but you can also replace the banana with any of the other ingredients in the Tweak It! box provided at the end of the recipe (this box allows you to create 7 variations of the basic recipe, one for each day of the week).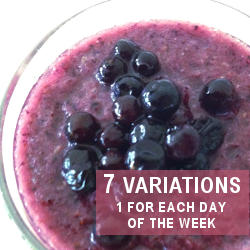 Ingredients
4 oz purple sweet potatoes
1 banana, peeled (Day 1)
1 1/4 cups blueberries, fresh or frozen
1 Tbsp sunflower seeds
1/2 cup crushed ice
1 1/2 tsp aroniaberry juice concentrate (buy it)
1 1/2 cups freshly-pressed orange juice
Directions
If you are using frozen blueberries, rinse them and put aside to allow them to thaw slightly while you prepare the other ingredients. If you are using fresh blueberries, simply rinse them briefly under cold running water.
Peel the sweet potatoes, and cut them into large chunks. Cook the chunks in a steamer until soft, about 12 minutes, depending on the size of the chunks. Transfer them to a plate and let cool compeletely.
Toss the cooked and cooled sweet potato chunks, banana, 1 cup of blueberries, sunflower seeds, crushed ice, aronia berry juice concentrate and orange juice into a Vitamix or another high-powered blender. If the blender you're using can handle whole ice cubes, you can also replace the crushed ice this recipe calls for with eight ice cubes.
Secure the lid, and puree until smooth, about 1 minute.
If the mixture is too thick for your liking, add 1/2 cup cold water and blend again.
Pour into glasses, garnish with the remaining blueberries, and serve.
Tweak It!
Day 1
Day 2
Day 3
Day 4
Day 5
Day 6
Day 7
1
banana, peeled
2
fresh figs
1/2 cup
organic yogurt
1/2 cup
cooked, cooled quinoa
3/4 cup
raspberries
1
avocado, peeled & pitted
4 oz
fresh pineapple