Weekly Smoothie Challenge
Blueberry and Aronia Berry Smoothie
2 Servings
This smoothie recipe combines aronia berry juice and fresh blueberres, both of which are famous for their extremely powerful antioxidant properties. To maximize the antioxidant properties of this power-berry smoothie, go for wild blueberries if you can find them – wild blueberries have even stronger antioxidant properties than their cultivated counterparts.
The basic recipe below uses banana for creaminess, but you can also replace the banana with any of the other ingredients in the Tweak It! box provided at the end of the recipe (this box allows you to create 7 variations of the basic recipe, one for each day of the week).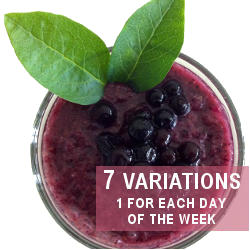 Ingredients
1 small banana
1 1/2 cups blueberries, plus extra to serve
1 small orange
1/2 cup crushed ice
1 1/2 cups water
1 1/2 tsp aroniaberry juice concentrate (buy it)
Directions
Peel, pit and rinse the ingredients, as needed.
Toss everything into a Vitamix or another high-powered blender. If the blender you're using has been designed to handle whole ice cubes, you can also replace the crushed ice this recipe calls for with eight whole ice cubes.
Secure the lid, and puree until smooth, about 1 minute.
Check the consistency. If the smoothie is too thick, add a little bit of water, and blend a few more seconds.
Pour into glasses and garnish with fresh blueberries. Serve immediately.
Tweak It!
Day 1
Day 2
Day 3
Day 4
Day 5
Day 6
Day 7
1
banana
1
avocado, peeled & pitted
2
fresh figs
1/2 cup
organic yogurt
1/2 cup
cooked, cooled oatmeal
3/4 cup
raspberries
5 oz
fresh pineapple