Gingery Carrot Juice for Psoriasis Sufferers
Serves 1
Got extra carrots lying around in the fridge? Juicing is one of the easiest ways to use up a lot of carrots, and there's nothing like the fresh flavor of homemade carrot juice! Plus, fresh carrot juice can bestow some interesting health benefits. Some juicing experts, for example, believe that carrot juice is good for psoriasis sufferers. The potential psoriasis-fighting effects of carrot juice can be attributed, at least in part, to the high concentration of beta-carotene in carrots.
As you may already know, beta-carotene is a strong antioxidant that helps neutralize free radicals. Free radicals, in turn, are unstable molecules that can damage DNA and cell membranes, thereby contributing the development of a wide range of health problems, including inflammation in people with psoriasis. According to a research paper published in the British Journal of Dermatology, for example, people with psoriasis often have decreased levels of antioxidant nutrients like beta-carotene, vitamin E and selenium. On the basis of this evidence, the author of the paper suggests that psoriasis sufferers might benefit from upping their intake of antioxidant nutrients such as beta-carotene. Her conclusions are consistent with the findings of an Italian case-control study which found an association between a high intake of carrots and beta-carotene, on one hand, and a lower risk of psoriasis, on the other hand. This study involved 316 psoriatic patients and 366 controls, and was published in the British Journal of Dermatology.
The following juicing recipe for psoriasis sufferers combines fresh carrots with ginger, another food you should definitely look into if you suffer from psoriasis. Practitioners of herbal medicine believe that ginger is good for psoriasis sufferers due to its strong anti-inflammatory properties, and anecdotal reports seem to support the use of ginger as a natural remedy for psoriasis. Also The Everything Juicing Book suggests that you may benefit from adding ginger to your diet if you suffer from psoriasis.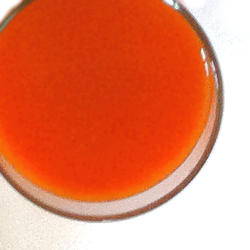 Ingredients
8 organic carrots
1 ½ inch slice fresh ginger
Directions
Scrub the carrots under cold running water and trim their tops. Peel the ginger.
Pass the carrots and ginger through a juicer. Clean the juicer right after use.
Tip:
If you don't have a juicer yet, you might want to consider getting one of the ingenious
all-in-one juicer and blender combos
which allow you to create
both
juices and smoothies. Great for small kitchens where space is at a premium!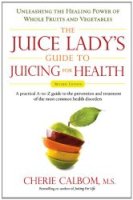 Inspiration and Juicing Recipes for People with Psoriasis
Looking for kitchen-tested juicing recipes designed for people with psoriasis? In The Juice Lady's Guide To Juicing for Health, nutritionist and juicing expert Cherie Calbom, M.S., provides a bunch of inspiring recipes that are ideal for psoriasis sufferers, including:
Morning Energizer
Beautiful-Skin Cocktail
Colon Cleanser
Liver Life Tonic
The Ginger Hopper
Spring Tonic
Allergy Relief
Beet-Cucumber Cleansing Cocktail
Immune Builder
Super Green Sprout Drink
Wheatgrass Light
In addition to providing juicing recipes to tackle psoriasis and more than 50 other conditions, this 400-plus page book also contains diet-related tips on how to fight each condition, helpful guidelines for buying and using a juicer, and more! To take a look inside the book, or to order your copy today, head to

Amazon.com
,

Amazon.co.uk
or

Amazon.ca
.